There had to be a way to say goodbye, some satisfying ritual. Light a candle? Bury a time capsule in the back yard?
For three years, my brother and two sisters and I had been readying the family house in Silver Spring to sell—holding yard sales and coordinating repairs while helping our eightysomething parents adjust to assisted living.
Now we stood for the last time in the split-level Mom and Dad had owned for 53 years. Last chance to take what we wanted before the rest was picked up by an antiques store.
My parents' shelves had already been emptied of hundreds of books, sold to a secondhand dealer. Several remaining boxes of my father's Russian texts were destined for the book-sale drop-off at Stone Ridge School, where my mother once taught.
We were here to deal with the miscellaneous. The coffee set I'd probably never use but that Mom bought in Italy before she was married—maybe I wanted it after all. My older sister decided to take the garish giraffe painting done by a coworker of my father's as a gift when she was born. I filled a bag with blank note cards and stationery. (Who would I write all these letters to?)
We'd previously divided the items that meant the most to us. I'd chosen a hand-painted Bavarian cabinet from the two years we lived in Germany when I was a baby. It had stood in our kitchen my entire life, holding Mom's prized objects—dishes brought out on Thanksgiving, glass teacups in silver sleeves that she ladled spiced tea into—as well as more exotic items: candied violets, pot de crème cups she used maybe once. Much of it came from the Georgetown shop Little Caledonia, where my mother worked briefly when she moved to Washington in the early 1950s. It remained her favorite store till it closed in 2002.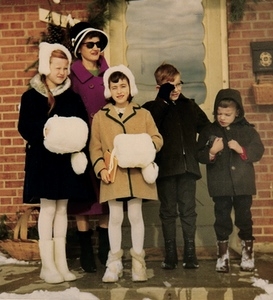 The German cabinet was a bottomless treasure chest to me. I'd ask her about the stories behind all the lovely things. Tell me again where this brass trivet came from, these cut-glass bowls. Now it stands in my living room, still filled with treasures.
As the four of us ate takeout pizza, we raised cups of soda to the house we'd always called simply "417." I added: "To Mom and Dad."
The last night they were there together was January 31, 2008, when my father fell. He spent months in rehab while we cared for our mother, who has dementia. Then she moved into assisted living; Dad followed.
For the first year or so, Mom talked about going back to 417. "I don't live here," she'd say. She now resides in the memory-care wing. My father has dementia as well but for now remains in assisted living. He has occasionally announced he owns a four-bedroom house he can return to anytime he wants.
Not only are their memories gone, but most of their words are, too. Mom was a Latin teacher, Dad a linguist and Defense Department analyst. Now mostly incoherent, she says "I love you" as clearly as the ping of sterling on crystal. Dad, who once could converse with anyone, is quiet and hermit-like.
That final day in the house with my siblings, I couldn't think of a meaningful rite short of hugging the walls, so I took out my cell phone and snapped pictures in each room.
The kitchen where we ate together every evening. The bedroom where my brother and I listened to Radio Mystery Theater. The piano in the living room—Every Good Boy Does Fine. The screened porch on a late-summer night when smoke trailed in from the hibachi and lightning bugs dotted the sky.
This article appears in the September 2011 issue of The Washingtonian.
Subscribe to Washingtonian
Follow Washingtonian on Twitter
More>> Capital Comment Blog | News & Politics | Party Photos