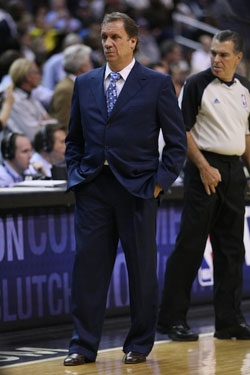 Usually when you're told you've been relieved of your duties, it's just a nicer way of being told you're fired. In this case, Flip Saunders should be truly relieved.
Relieved that he won't have to listen to Andray Blatche complain about shooting the 17-foot jumpers for which he so readily settles. Relieved that he no longer has a front-row seat to the latest episode of the Nick and JaVale Show. Relieved that a "little league" mom won't be able to question his abilities while anointing her son the future of the NBA. He's free from this mess (although his son remains on the coaching staff), and he's getting paid, to boot.
Saunders was never the right man for this job. That's because this is not the team he was hired to coach. When he signed a four-year coaching contract in 2009, the Wizards were a veteran-laden team looking to get themselves back to the playoffs following a down year. Since then, Abe Pollin passed away, Ted Leonsis took over, and general manager Ernie Grunfeld was tasked with dismantling the roster. All of a sudden the Wizards were one of the youngest teams in the NBA, headed down a long road of rebuilding.
It's hard to blame Saunders for what's become of the Wizards, now the losingest team in the NBA, but it's easy to see why he was let go. His message was lost on these players—a fact that one player openly admitted. Whether interim coach Randy Wittman fares any better is anyone's guess. My money is on "not much."
Wittman's job is to stop the bleeding. If he can keep the team from doing anything too embarrassing from this point forward, it will be considered a job well done. Then he, too, will be sent on his way to make room for a new coach, who will be tasked with turning this franchise into a winner.
Idealistic (read: crazy) Wizards fans are already kicking around the idea of John Wall's college coach, John Calipari, making his return to the NBA. I'd expect a far less splashy hire. Not a retread, but instead some experienced assistant who is ready to take the helm of a team and make it his own. Whoever he is, I wish him nothing but luck.