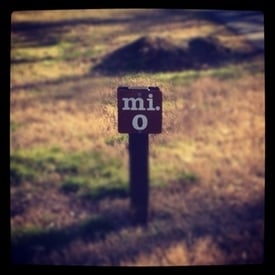 Well folks, this is it. My month-long quest to lose weight has come to an end. Even though I had slip-ups throughout the month, I have never been so strict and in control of myself. I've been trying to get in shape since I graduated from college, and I can proudly say that for the first time in five years, I weigh less than 160 pounds.
Now the question is how to adapt and reconcile my month-long desire to eat Chipotle without sacrificing all the work I've accomplished.
Given that it was my last week on this challenge, I was determined to go out with a bang. With that in mind, I biked the Mount Vernon trail—twice. On Saturday I biked 20 miles. On Sunday I decided to do the full 36 miles from Key Bridge to Mount Vernon and back.
Frankie's Weight Tracker:
Starting: 168 pounds
Current: 158 pounds
Goal: 155 to 158 pounds
Admittedly, the main reason I went all out on Sunday was that I ate a small pepperoni pizza on Saturday night. I know, I know—I still have my work cut out in front of me when it comes to curbing my bad eating habits. My goal going forward is to turn my workouts into a stand-alone positive habit and not just a tool to fix food indulgences.
Looking back, these are the three major tips I can give you if you're tackling your own weight loss journey.
1) Pit Your Friends Against You
The best motivation throughout this month was the public scrutiny from my friends and coworkers, who constantly asked me about the blog and my progress. On nights out, they'd call me out if I ordered a beer, which made me switch to gin and soda immediately. My advice to folks who want to lose a couple of pounds is to start a private Facebook page with your closest friends, where they can keep track of your weekly progress. But make it interesting: For every pound you gain, you have to put in $10 into the "weight loss jar"; for every pound you lose, your friends have to add a total of $10 to the jar. By the end, hopefully your friends will have forked over most of the money, and you can all celebrate your weight loss with a healthy night on the town.

See Also:
2) "Pretend to be completely in control and people will assume that you are." —Nolan Bushnell, founder of Atari
Starting this journey, I honestly had no idea how I was going to lose ten pounds in one month. Luckily, Will Noel from Mint DC gave me the tailored advice that guided and kept me active throughout the month. It's all about improvising and slowly tinkering with your diet and workouts until you see results. I recommend that even if you can't afford a trainer, at least go for a consultation with one so you can have a foundation on which to build a weight loss and workout routine.
3) Have Fun, and Diversify
Like many Washingtonians, I bought a bike in October to commute to and from work. With all the new bike lanes and the crazy warm winter weather, it has been relatively easy to add cardio on top of the daily gym workouts. That's why I recommend you find your own "guilty" workout pleasure, be it swimming, running, biking, or hiking. But at the same time, don't get stuck with one thing; nights that I was tired of biking, I would go running, and vice versa.
Good luck to everyone on your 2012 goals and ambitions. I hope the blog posts were helpful and that 2012 turns out to be a great year for all.
Frankie's workouts of the week:
Wednesday: 25 minutes of high-intensity interval running and 30 minutes of weight training
Thursday: 20 minutes of high-intensity interval running and 30 minutes of core exercises
Saturday: 20-mile bike ride
Sunday: 36-mile bike ride
Monday: 50 minutes of weight training and core exercises