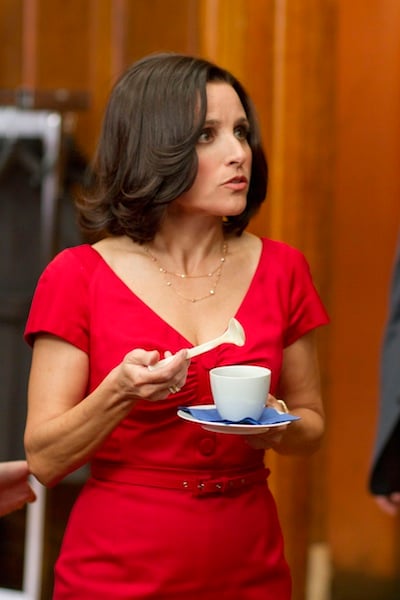 "People say satire is dead," said Robin Williams during the George W. Bush presidency. "It's not dead; it's alive and living
in the White House." Or in the case of
Veep, which premiered on HBO last night, it's thriving quite nicely, thank you, at Number One Observatory Circle. Written by native
Brit
Armando Iannucci, and boasting
Frank Rich as an executive producer, the show stars
Julia Louis-Dreyfus as Selina Meyer, whose
proximity to the nuclear codes should strike fear into the heart of any
American. Not because she's
ridiculous on the scale of an Elaine Benes, say, or a Christine
Campbell, or even a Sarah Palin; but because the casual incompetency
and professional chaos that surrounds her is just too close for
comfort.
Warning: This post is going to contain more f-bombs than that scene in season one of
The Wire where McNulty and Bunk solved a murder purely
through deduction and repeated utterances of the same four-lettered
profanity.
As we first meet Selina, she's preparing for a meeting with
senators to discuss her platform of green jobs and cornstarch
utensils. "If I can get cornstarch utensils in every federal
building by fall," she tells her staffer Mike (played by
Arrested Development's
Tony Hale), "well, then, the Veep has landed."
"Like a big, beautiful eagle," Mike replies.
Things, naturally, don't go according to plan. Despite assurances from Selina's chief of staff, Amy (My Girl's
Anna Chlumsky), that 50 to 60 people are
expected, only a handful show up, causing Selina to throw a minor fit
when Amy instructs her to
mingle ("How do I mingle with this few people? Did Simon
'mingle' with Garfunkel?"). Amy, in turn, calls for backup: "Mike,
talk to me. I'm in a room with three people and a fuckload of
quiche." And Selina's beloved cornstarch spoon gets too close
to a cup of hot coffee, causing it to wilt like a pitifully
phallic, woefully bendy boomerang. "What am I supposed to do with
this?" Selina asks. "Eat around corners?"
In other antics, Selina meets with a senator (Kate Burton), whom she hopes can help her make
nice with Big Oil after an ill-phrased tweet from one of her staffers
pisses off the plastics
lobby. "Did you fire your tweet monkey yet?" asks Burton's
character. "You've really been hoisted by your own retard . . .
." And naturally Selina repeats this joke at a fundraising
dinner the President forces her to attend, which lands her on the
front page of the
Washington Post style section the following day. While certain staff members are horrified, Mike (Matt Walsh) insists it may not be that bad–the whole incident could totally blow over if Tom Hanks dies.
At the beginning of the show, Selina asks if Senator
Reeves is dead yet. "Mostly intravenous," replies Amy. "So many tubes
he looks like a pair of bagpipes." When the elderly senator
does shuffle off the mortal coil, someone asks Selina if he was
full of wisdom. "He was full of bourbon," she replies. "And he
grabbed my left tit." Later, a card is passed around for the
senator's widow by an obsequious presidential aide, Jonah (Timothy Simons), who utters the following words of wisdom: "Guys, when a sexual harasser dies, we sign his wife's card. That is how Washington
works."
What's remarkable about Selina's staff, for the most
part, is that a group of people so blindingly incompetent it's a wonder
they can manage to put their own shoes on in the morning
actually have jobs, let alone work for the second most powerful person
in the country. Only, as
Veep shows, the office of the vice presidency is a joke, a lark, an empty shell. "Sue, has the President called?" Selina asks
her assistant, unfailingly (he hasn't). Dan (Reid Scott), a ruthlessly egotistical press
secretary, wangles his way into Selina's employ by telling her what she
did wrong in the
primaries (spend too much time in New Hampshire and run attack
ads too early). Thoughtful, Selina asks Mike what mistakes
he thinks she made. "You were tired a lot, and the hat," is his
reply.
In fact, compared with her staff, Selina's a veritable
Machiavelli, hampered only by her inability to remember people's names,
and her brilliantly offensive turns of phrase. "Glasses make me
look weak," she tells a staffer early on in the episode. "They're
like wheelchairs for the eyes." But it rapidly becomes clear
that she's as clueless at figuring out exactly what her job should
entail as everyone else. Clad in a surprisingly sexy red dress
for much of the episode, and either manipulated or ignored
by most of her colleagues, she's more like a pompous figurehead
than a Hillary-esque power player. When she tells the incredulous
Amy that she's hired Dan to work in her communications office,
she describes it this way: "He's shitty me. I need a shit.
I need a shit!" Or in other words, she needs a seasoned
Washingtonian.
What were your thoughts on last night's episode of
Veep? Let us know in the comments.