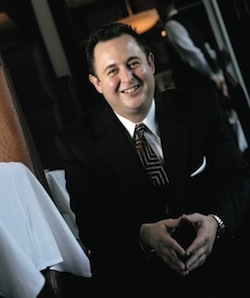 Fickleness?
Uh uh: editing.
So says restaurateur Michael Landrum of his latest project–a do-over of a restaurant he opened suddenly and with no fanfare last November, then promptly shuttered a month later.
Nice 'n' Greasy, Steak 'n' Cheesy will open Monday in Arlington, in the space previously called Ray's Hell Burger Too.
Which was the space previously called Steak and Cheese.
Such caprice has become as typical of Landrum, the iconoclastic owner of Ray's the Steaks and Ray's Hell Burger, as the bare walls of his dining rooms, the prime beef on his menus, and the lack of a sign out front.
In
January, Landrum reopened a restaurant, Ray's the Steaks at East River,
that he had previously closed three months earlier. Last September he
opened Ray's to the Third a mere six hours after making a public
announcement, and with no signage out front to alert customers to a new
business. Meanwhile, a coffeehouse concept in Mt. Vernon Square to be
called Ryse, which Landrum announced with great excitement in November
2010, remains in development, with no timetable set for opening.
Landrum
was quick to defend Nice 'n' Greasy, Steak 'n' Cheesy against the
growing perception of him as "fickle, disorganized, or inconsistent."
"I
see it as 'How fortunate to be able to edit my work and rewrite,'" he
wrote via text message. "I mean, who didn't ever rewrite a paper or
retake a test (or wish the professor would have allowed them to)?"
Steak
and Cheese didn't fail, he said. The failure was his own—in not
listening to his audience at Ray's to the Third, where he had introduced
a flat-top-griddled burger. Diners came expecting the Hell Burger,
which is grilled, and complained when they received the same ten-ounce
prime beef burger sans char and grill marks.
"I
should've just put a charbroiler in to the kitchen at Ray's to the
Third, but I decided to stick it out and let people adapt. I was wrong.
So now we've got a charbroiler, and we're doing the grilled burger at
Ray's to the Third," he says.
In
effect, Ray's to the Third has replaced Ray's Hell Burger Too as an
overflow space for Ray's Hell Burger, which Landrum explained "allows me
to do something different with the overflow space I had before."
Which was Steak and Cheese before it became–again–Ray's Hell Burger Too.
Got all that?
Another
complaint of Steak and Cheese patrons was the cost–$10.99 for a
half-pounder. This time around, Landrum will be offering a third-pound
steak and cheese for $7.99. Intrepid eaters will be able to double the
meat and cheese by asking for the Phat Bomb or the Phat 'n'
Greasy–Landrum isn't sure which name he prefers.
Nor
did he remember the name of his Little Tavern "homage":
buy-'em-by-the-bag burgers on potato rolls and available in orders of 3,
6, 9, and 12.
"I forget what I'm calling them–'snacksters' or something?"
The
fact that Landrum already had a name in mind for the place, he implied,
was a pretty big deal for him. As was the fact that he would have a
sign out front, possibly by next week–a rarity for a restaurateur who
forces would-be diners to hunt and peck through neighborhoods to find
him.
"Nice
'n' Greasy, Steak 'n' Cheesy," he said, reveling in the arrangement of
the words and imagining how they would look out front. "How are you
gonna drive past a sign that says that and not stop in?"