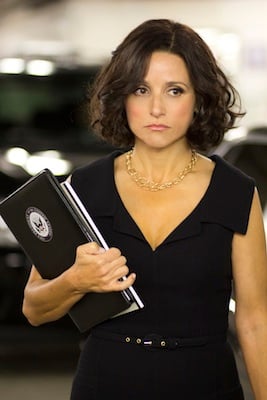 If you're a regular viewer of
Veep, you might be forgiven for thinking that the
show's writers spend a good deal more time coming up with creative ways
to incorporate
the F-word than they do thinking about the intricacies of
storylines and plot structure. Last week's episode,
"Baseball,"
offered a notable exception to this rule when Selina found out
she was pregnant—the type of emotional, predictably angst-ridden
development you'd expect to see on, say,
Girls.
But guess what? We did see a pregnancy storyline on
Girls, and it ended it the same way Selina's baby
scare did: with the kind of convenient miscarriage TV writers love
because it
allows them to keep their characters static while injecting
some drama into a situation that lasts one episode, tops. In last
night's episode of
Veep, "Full Disclosure," we were barely two minutes in
when Gary revealed to the rest of Selina's team that her pregnancy was
no more. Their typically self-serving reactions ("This is good
for us!" said Dan), combined with Selina's own flippancy about
the whole thing ("It was like a heavy period. Don't worry about
it") made the whole episode seem like a lazy way for the
Veep team to remind us about Selina's ovaries without actually having to delve into the idea of having an unmarried, pregnant,
female Vice President in any kind of inconvenient detail.
And it's annoying, because otherwise the writers did a
pretty good job of illustrating the complexities of Selina's character
this week. Maybe it was the hormones, or maybe it was because
she's finally cottoning on to the fact that her team are beyond
cretinous, but it was a joy to see the Veep's ruthless and
manipulative side emerge. One minute she's forcing the ever-loyal
and competent Gary to break up with Ted for her (in the neutral
anonymity of his sweetly decorated rowhouse, no less), and
the next she's icily conning Amy into taking the pregnancy fall
for her in order to keep her job. The breeziness with which
Selina dismisses Amy while summoning Dan into a meeting
("Should I stay?" "Did I ASK you to stay?") was the Veep finally showing
the kind of cojones she needs to be a successful politician.
And I'm sorry, Mike fans, but McClintock needs to go.
He is without a shadow of the doubt the biggest liability on Selina's
staff, and it's slightly depressing to think that someone so
impossibly lazy and clueless would have ascended to the role
of press secretary for the Vice President. Mike's one
responsibility this week was going to the home of the ousted Secret
Service agent and attempting to persuade him to back off.
Instead, he was his usual awful self. "I'm looking after my uncle
who has dementia," says Collins. "He ever say anything funny?"
is Mike's response, shortly before likening Collins to an ape.
Selina may have enough smarts to see how invaluable Gary is to
her, but it's entirely improbable she'd ever think of canning
Amy (who is, after all, hard-working and fairly competent) over
Mike.
This episode had some moments of genius—Jonah's grimy
rowhouse with beige leather couches and a gazillion other roommates,
all on laptops; Gary's Fig Newton; Selina's "backne"—but the
general plot, or lack of it, is starting to wear thin. Yes, her
team is brilliant at crafting dick jokes and leaking them to
the media, but when it comes to running the office of the second
most powerful person in the country, they're about as useful as
penis cake, and it's hard to see how this puerile kind of
incompetence can be spun into a second season.
Best lines from last night's episode:
"He's supposed to be Secret Service. Secret, as in, shut the fuck up, and Service, as in, you work for me, so shut the fuck
up." (Selina)
"It's partial-disclosure-light." (Mike)
"Suckup isn't going to fix a fuckup, Dan." (Selina)
"Three is better than two." (Mike) "Not with testicles." (Amy)
What did you think of last night's episode of
Veep? Let us know in the comments.