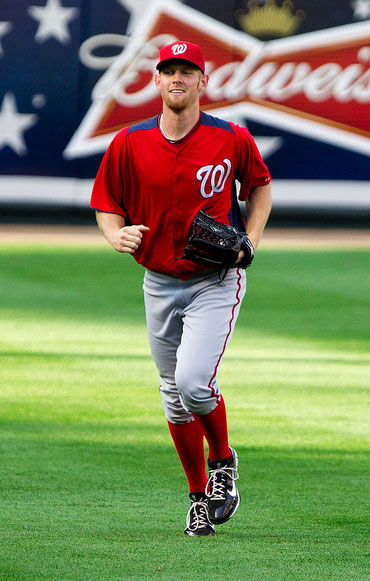 An innings limit for Stephen Strasburg? That's hardly
sufficient. Not nearly enough of a safeguard to protect Washington's
most sacred and fragile possession. Just to make sure we keep
him hale and hearty, let's roll up the right-hander in a giant
cocoon of bubble wrap before he leaves his house for the
ballpark each day. Let's have one of the bat boys taste his food
to ensure he hasn't unwittingly let his dairy products pass
their expiration date. I mean, if we're going to protect the guy,
let's not check our swing.
The notion that the Nationals—or anyone else—can
guarantee Strasburg's long-term health is insupportable. They can't. He
can't.
Nobody can. The unsavory truth is that Tommy John surgery is a
crapshoot. Some pitchers recover fully; others regain only
partial arm strength; still others can never pitch at the Major
League level again. Strasburg appears to be on the good end
of that equation, but the totality of his comeback will not be
measurable for years. In the meantime, the Nats are about to
make the playoffs for the first time, and have a reasonable
chance to do some damage in October. Isn't that why the team drafted
Strasburg in the first place? It certainly wasn't so he could
pitch in April.
The Nationals are talking about a limit of 160 to 170 innings for Strasburg. They slammed the brakes on
Jordan Zimmermann after 161 innings last
season—his first following Tommy John surgery. As of this moment,
Strasburg has thrown 99 innings.
If he pitches one in tonight's All-Star Game, it will be an
even 100. Assuming his activity continues at the current pace,
Strasburg would get shut down by the Nats right around
September 10, or three weeks before the end of the regular season.
Talk about a tease.
Here's what would be asked of Strasburg if he were
allowed to continue through the duration of a postseason run: roughly
four
more starts in the regular season, then six starts in the
playoffs (two each in the division series, LCS, and World Series).
Assuming Strasburg averages six innings per start, that's
another 60 innings on top of his team-prescribed limit. Is it worth
the risk for a possible deep postseason run? For a possible
world championship?
The 60 extra innings cited above assume the Nats go the distance. Subtract 12 innings for each level of the postseason the
team fails to reach. The figure could be further lowered if
Davey Johnson and pitching coach
Steve McCatty arrange their rotation with Strasburg as the second or third starter. In that configuration, if the Nats are able to close
out any of the three postseason series in fewer than six games, Strasburg would make just one start, not two.
But where is it written that Strasburg has to pitch
continuously between now and October? Why not give him a four- to
six-week
vacation starting in late July? The Nats could bring him back
for the stretch run, and that way everyone is happy: The team
and its fans get their ace when it matters most, and the Nats
adhere to their innings limit.
Opponents of this midseason break will say it's risky
to shut down Strasburg for an extended period and then ramp him up
again.
The thing is, teams do it all the time. Players routinely go on
the disabled list and come back in the same season. The Nationals
just did it with pitcher
Henry Rodriguez. He missed a few weeks, went down to the minors for a rehab assignment, and now he's back in the majors (however dangerous
that might be for batters in the on-deck circle).
If the Nats had given this a little more forethought,
they could have avoided the need to give Strasburg a midseason break
by delaying the start of his season in the first place. If
Strasburg had stayed in Viera for extended spring training and
not pitched his first Major League game until mid-May, this
entire conversation would be unnecessary. Surely the team could
have managed without him for the first six weeks of the season
to ensure his availability for October. The fact that Nats
upper management never considered this option reflects that
even they were caught off-guard by the team's success this year.
Counting innings is a futile exercise in the first
place. Between spring training, bullpen sessions, side workouts, and all
the other miscellaneous throwing a pitcher does over the course
of a season, the actual arm stress he endures is effectively
immeasurable, making a strict innings limit somewhat arbitrary.
Hard to imagine 40 to 60 innings could be the difference between
perfect health and abject structural disrepair. If Strasburg is
going to break down again, that eventuality has been preordained.
It's in his skeleton. It's in his DNA. It's going to happen or
not happen irrespective of what he does this September and
October.
The fact is this: Strasburg is healthy until he isn't.
The Nats brought him back last September for the expressed purpose
of accelerating his full readiness for 2012. By the time this
September rolls around, he will have been back pitching in the
bigs for a year. It's time to take the training wheels off.
It's laudable that Nats management is looking out for his long-term
future. But for all we know, Strasburg's long-term future could
be with another team. His present is in Washington, and we
have a chance to win now.