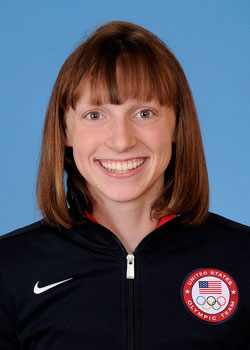 While at times it may have felt like they would never end, the 2012 Olympics will,
in fact, wrap up this Sunday night with a closing ceremony that tries to match the
quirky but lavish opening extravaganza. Then all eyes turn to Rio de Janeiro, host
to the 2016 summer games. While we can't absolutely forecast who will compete, we
know one person who plans to be there: 15-year-old Katie Ledecky of Bethesda, who
won the gold medal in the 800-meter women's freestyle. She returned home this week
to much fanfare—at Dulles airport, on the street where she lives, at her neighborhood
pool and in the local media—to have a short bit of down time before beginning her
sophomore year of high school at Stone Ridge School of the Sacred Heart.
According to her mother, Mary, Ledecky had been on the road for a month—including
a week at training camp in Tennessee and a stint in France for more camp and to get
acclimated to the time difference—before heading to London. The whole family was with
her in London: mother, father, and brother.
Ledecky may be only 15, but she interviews with the skills of a seasoned veteran.
We talked with her by phone this morning.
What mementos did you bring home from London, other than your gold medal?
Lots of clothing from the Olympics. Nike stuff, Ralph Lauren, and Speedo.
So you're set for a while?
Exactly.
You were given a bouquet with your medal. What did you do with that?
We kept it. We're keeping it. My mom made sure we had some water in a little baggie,
and we took it on the plane, and it's now in our living room.
Runners talk about the different feel of tracks. Do Olympic-size pools have a feel,
or are all pools the same?

They are all a little different. The atmosphere at the Olympic pool was very exciting.
That pool was fast. But a pool being fast is more of a mental thing, knowing it's
your race, and you just have to go in and make the best of your race.
Do you have a preferred water temperature?
I guess somewhat cold but not too cold. The Olympic pool was, like, 78. You don't
want a hot pool.
Do you like the pool or the ocean better?
Pool. I have not done any open-water swimming.
Where do you train in the local area, and do you have a favorite pool?
My club team trains at Georgetown Prep. That's where I train, and also sometimes at
American University. My summer league pool is Palisades, and I love it.
Did you have any Olympic crushes in London?
No. I mean, I had fun with all my teammates. We all bonded really well.
Who's cuter, Michael Phelps or Ryan Lochte?
I'm not going to answer questions like that.
Do you think Phelps is really hanging up his Speedo for all time?
Yeah. I think he definitely is. I guess there's a chance he'll come back, but very
unlikely, he says.
Have you ever had to swim against guys?
I train against guys. I have trained with some of the best male swimmers in the country.
Did you beat them?
Sometimes, yeah.
Typically, how often do you practice?
Pretty much every day of the week this past year. I barely took a break. I would swim
on average eight times a week.
What kind of break will you take before you begin practicing again?
I'm taking a quick break. I'll get back in when school starts [August 27], and get
right back into it and keep going for a full four years. I won't take much of a break
for the next couple of years. The World Championships are next year, and I want to
qualify for that.
How long can you go without a workout?
Not too long. They say that in swimming, [missing] one day is like a few weeks. I've
been sick a few times where I missed three days, and that's sometimes hard to get
back. This break right now won't be that bad. I won't be up to full speed when I get
back. It will take a few weeks. I'll be patient.
Your parents are understandably proud of you. How do you feel about them and their
support?

I'm so thankful for all their support and what they've done for me. They are up at
the break of dawn quite a few times a week. They haven't been pushing me hard. They've
let me do what I wanted to do and just been extremely supportive.
Your parents said they practiced what they would say to you if you didn't medal. Did
you have to prepare yourself for that possibility, also?

Yeah, but then again, I really didn't feel like I needed to medal. I didn't put that
pressure on myself. I was just so thankful to be on the Olympic team and to make finals.
I was happy when I made finals. So really, going into finals I knew a medal would
be awesome, but if I didn't medal, I would have been totally fine.
Did you meet or see the royals? [Prince William and Kate Middleton were at her race]
No. I saw on TV watching my race over again that they were there. I didn't have time
to look for that. I didn't need to.
The opening ceremony was almost two weeks ago. What do you remember about that experience?
It was pretty surreal. It was a long walk to get to the stadium, but when we entered
it was so amazing. There were lights on all the seats. You couldn't see anybody, really,
but all these lights, and walking around and being there is something I'll never forget.
What will you be looking for as you watch the closing ceremony on Sunday, and will
you miss being there?

I will look for my friends, the swimmers on the team. I'm fine with not being there.
I decided I just wanted to get home. I wanted to come back home and share the moment
with my family and friends and have some down time before school starts.
Other Olympic athletes have mentioned an emotional letdown after the games. Are you
concerned about that?

No. I've really enjoyed swimming. I don't think anything will take away from that.
I'll get back to training and continue to have a lot fun and enjoy the competitive
aspect. I guess that after the Olympics other things could feel small, but everything's
the same to me, and I'm going to continue to do what I love.