After reading yoga instructor Christine Saladino's food diary, we were dying to try her secret weapon for healthy vegetarian eating at parties. It's an edamame dip packed with addictive flavors—soy sauce, ginger, peanuts, and Sriracha—that make it easy to dodge the potato chips or cheese and crackers at a gathering.
It's perfect as a companion for snow peas and other veggies. Compared with ranch dip, it has less than half the calories and a fraction of the fat, and it provides fiber and protein. We can also attest that it goes phenomenally with Trader Joe's salt-and-pepper rice crisps.
Yield: 8 servings
Per 2-tablespoon serving: 65 calories, 4 grams protein, 4 grams fat, less than 1 gram saturated fat, 4 grams carbohydrates, 210 milligrams sodium, 1 gram fiber, 1 gram sugar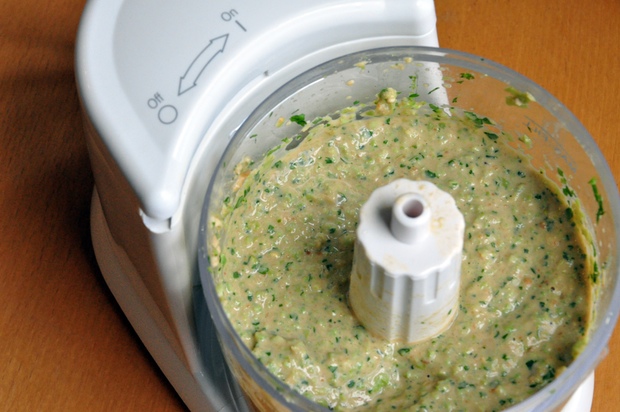 Ingredients
1 cup frozen shelled edamame
1 tablespoon fresh ginger, minced
1 clove garlic
½ cup silken tofu
1 cup cilantro leaves
3 tablespoon peanut butter
2 tablespoon low-sodium tamari soy sauce
2 tablespoon fresh lime juice
½ teaspoon Sriracha or chili-garlic sauce
Directions
1) Bring a small pot of water to a boil. Add edamame and cook 10 minutes. Drain.
2) Place ginger and garlic into food processor; process until garlic is minced. Add edamame, tofu, cilantro, peanut butter, tamari, lime juice, and Sriracha. Process until dip is chunky-smooth. Refrigerate in a sealed container several hours to allow flavors to develop.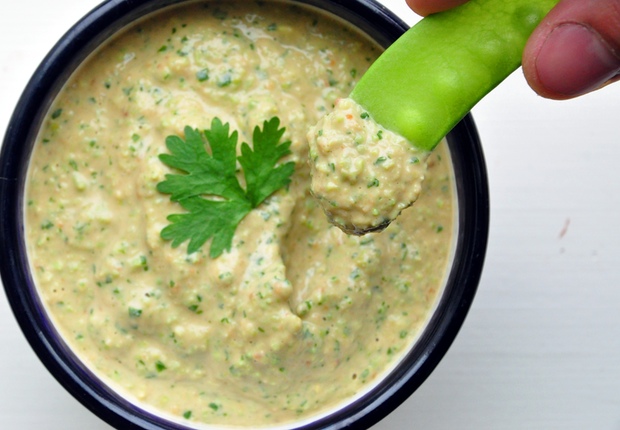 Are you a locally based registered dietitian with a delicious, healthy recipe? Share it with us at wellbeing@washingtonian.com.
For more healthy recipes, visit Well+Being's Healthy Recipes page.