Vegetarian cooking can be intimidating for those of us who usually rely on meat to bulk up a meal. Pasta is too predictable, you can only have pizza so many times a week, and sometimes a salad just won't cut it.
Registered dietitian Melissa Musiker shows us that a vegetarian dinner can be easy and satisfying with a recipe for stuffed eggplant that's so hearty you don't miss the meat.
She was inspired by an Epicurious recipe, but we don't even want to know how much fat is in the original deep-fried version. "What a waste of calories!" she says. She lightens it up considerably by baking instead of frying, replacing the bread-and-milk stuffing binder with extra eggs, and swapping half the rice stuffing for extra veggies. The result is healthier—and easier to prepare.
Yield: 4 servings
Per-serving nutrition: 343 calories, 15 grams fat, 6.5 grams saturated fat, 203.8 milligrams cholesterol, 35.7 grams carbohydrate, 8 grams fiber, 1 gram sugar, and 17.3 grams protein.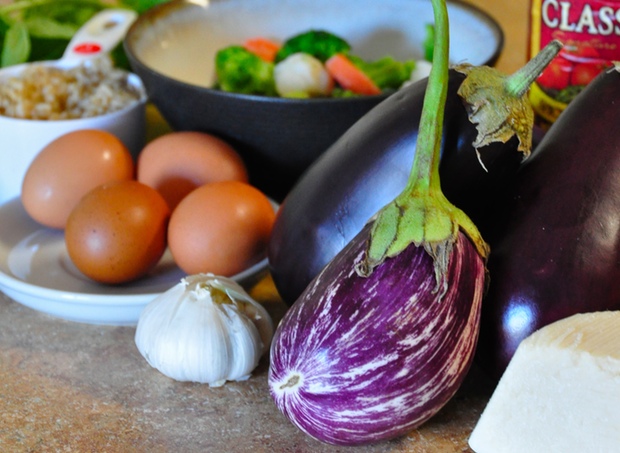 Ingredients:
16 ounces of marinara sauce
4 small Italian eggplants, halved
1 cup cooked brown rice* (make your life easier by using microwavable rice)
1½ cups frozen chopped vegetables
3 garlic cloves, minced
4 large eggs, lightly beaten
3 ounces finely grated Pecorino Romano (1¼ cups)
1⁄3 cup chopped fresh flat-leaf parsley
1⁄3 cup chopped fresh basil
1 teaspoon salt
1 teaspoon black pepper
Directions:
1) Preheat oven to 375 degrees.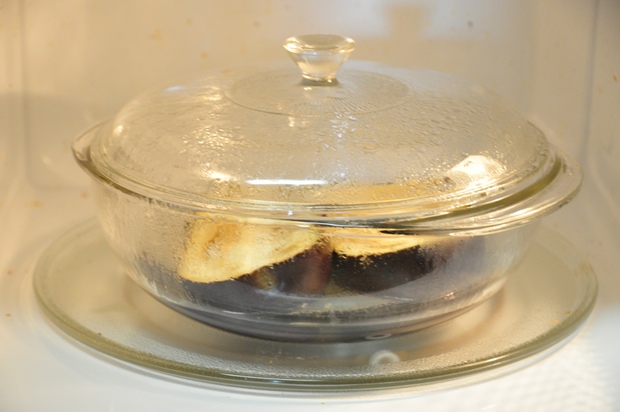 2) Steam eggplants in microwave until tender when pierced with a knife. The amount of time necessary will vary based on your microwave and the size of the eggplants. (I steamed them one at a time for about 2 minutes each.)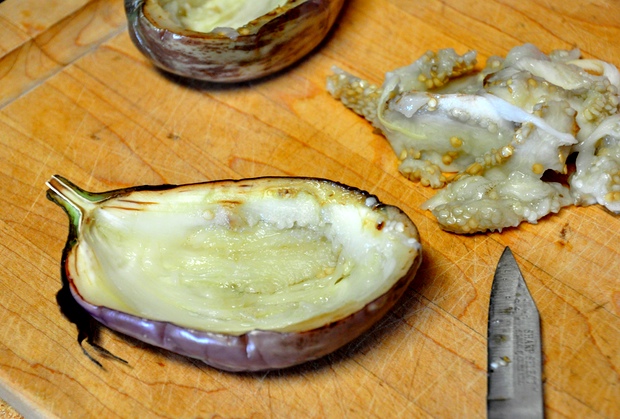 3) With a small, sharp knife, scoop out and reserve flesh, leaving quarter-inch-thick shells.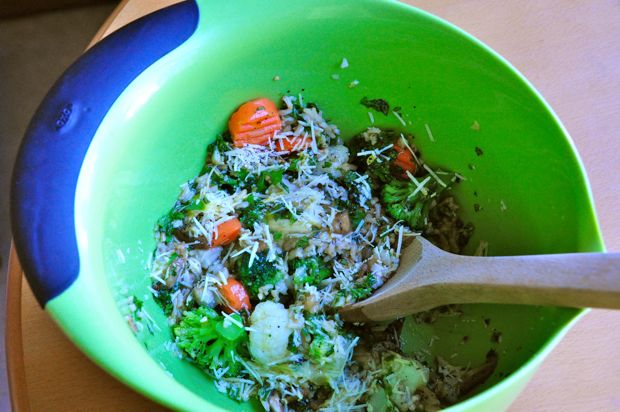 4) Chop flesh finely and transfer to a large bowl. Add rice, frozen chopped vegetables, garlic, eggs, cheese, herbs, and half the salt and pepper.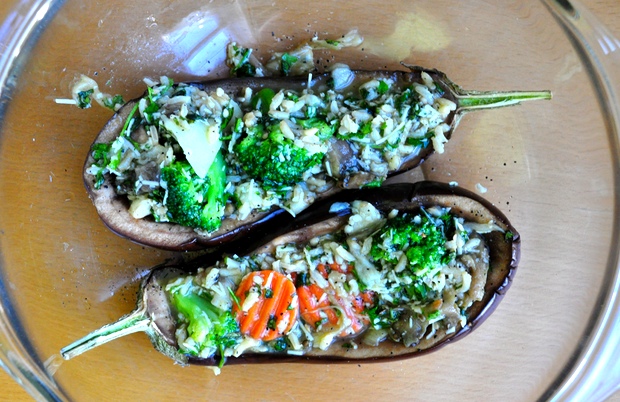 5) Arrange eggplant shells in baking dish, and sprinkle inside of eggplant shells with remaining salt and pepper. Firmly pack the stuffing evenly into each eggplant shell.
6) Pour marinara sauce over and around the eggplant.
7) Cover and bake until the sauce is bubbling, about 30 to 45 minutes.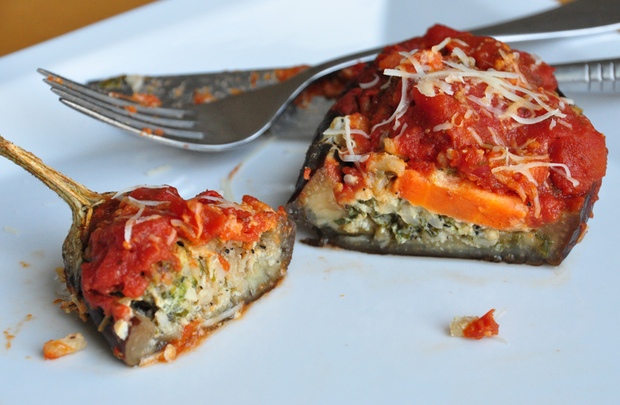 Melissa Musiker is a registered dietitian and a strategic consultant on food and nutrition policy for APCO Worldwide.
For more delicious recipes, visit Well+Being's Healthy Recipes page.
Are you a nutrition expert with a delicious and healthy recipe? Share it with us at wellbeing@washingtonian.com, and we may feature it on Well+Being!
*Worried about the recent reports of arsenic in rice? Read more about it.