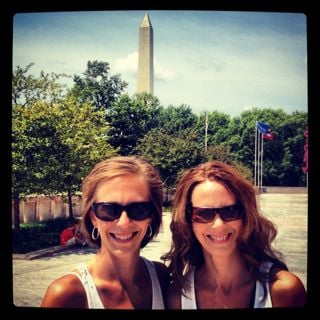 Three days after her 35th birthday, Kara Gorski found a lump in her breast.
"I immediately thought, 'This is very bad,'" she says. She is no stranger to the disease—her mother died of breast cancer when Kara was seven years old. She immediately went to her gynecologist and had a mammogram. Results from a biospy showed that the lump was probably benign, and her doctor gave her the okay to go on a family vacation.
As Kara and her family were walking up to Animal Kingdom on the second day of their trip, she received a call from her doctor. The lump was breast cancer.
"It kind of ruined our vacation," Kara, now 37, says with a laugh. From that moment, she was thrust into what she calls "a vortex of doctors" and began her journey to recovery at the hands of a team at Johns Hopkins and Georgetown University hospitals. Kara was diagnosed with stage one triple negative breast cancer, one of the most aggressive forms of the disease, which is diagnosed in one out of ten women with breast cancer. Her plans to grow her family were soon replaced with doctor visits, surgeries, and extensive chemotherapy.
After Kara's life-changing discovery, her older sister, Kristin, 42, decided to take the precautions the two had been avoiding. Before her diagnosis, doctors had urged the sisters to get tested for the BRCA gene mutation, which has been linked to increased risk of ovarian and breast cancers. Because of their mother's early diagnosis and death, it was believed the two were at risk for the mutation and ultimately cancer.
"When my sister found the lump, at first I was in denial," Kristin says. "When they said she had the cancer because of the BRCA gene, that pulled me back into it, because it meant I could have cancer and our kids could have it."
Eight weeks after Kara was diagnosed, Kristin underwent genetic testing and discovered there was an 87 percent chance she would develop breast cancer and a 48 percent chance she would develop ovarian cancer. She decided to have a double mastectomy and a hysterectomy in an effort to prevent the disease from popping up, making her a "previvor."
After months of treatment and surgery, including reconstructive surgery, Kara and Kristin found themselves facing another dilemma—finding a comfortable bra.
"We opted for reconstruction thinking we'd be able to get up and put on a regular bra and go, but that did not happen," says Kara, who lives in Alexandria.
When the two tried wearing regular bras, there was a gap between their breast and the bra, and the straps were too tight. Kristin went to a certified mastectomy bra fitter who outfitted her with wide-strap bras complete with pockets for an external implant, used to make their breasts look more natural. Calling the fitting "ridiculous," the sisters were inspired to develop a bra they could feel comfortable wearing—without having to wear an implant outside of an existing implant.
"We just wanted to be able to feel good again, feel comfortable, and get closer to a sense of normalcy," Kara says.
The two sought out a designer, got their idea patented, and began developing the braGGs bra.
Using the health-care crowd-funding website MedStartr, the two have been able to get their message out to the masses and raise funds for the first round of manufacturing, set to begin by early 2013.
Unlike a mastectomy bra, the braGGs bra has a built-in insert to fill out the gap between an implant and a bra, to provide a natural look and coverage for reconstructed nipples. The fabric is stretchy and comfortable, there is no underwire, and it's designed to move with a woman's body.
"It's not the sports bra thing that looks like what your grandma would have worn 20 years ago," Kara says. "We want to have something functional, something comfortable, and something pretty."
The bras will also come with inspirational messages to keep survivors and previvors encouraged as they prepare for each day.
"We just want to make it better for women who have gone through this," Kristin says. They don't need to stop and think about what bra they're wearing—it's just another negative reminder about what they've been through. We just want women to feel better."
"Beyond the bra, what we hope to do for women is nurture their sense of beauty, comfort, confidence, and survivorship," says Kara. "Our goal is to help women in this new phase of breast cancer, which is moving beyond the disease."
Be sure to check back with Well+Being each week for profiles on breast cancer patients and survivors in honor of National Breast Cancer Awareness Month.