Washington circa 1972 was not nearly the cosmopolitan city it is in 2012. The mode
was still decidedly post-Camelot, but heightened by the anti-Vietnam protest movement.
It was the Nixon era, pre-Watergate. Henry Kissinger was the city's reigning playboy.
Frank Sinatra was the celebrity to spot, usually ensconced at what was then the city's
highest-end hotel, the Madison. There was no Four Seasons, no Ritz-Carlton. There
wasn't a baseball team, either, but Washington did have the Redskins at RFK. The Verizon
Center didn't exist. Penn Quarter, Adams Morgan, Navy Yard, Logan Circle, West End,
and much of 14th Street were considered no man's land. The restaurant scene was provincial
and unimaginative—old-school French was the prevailing "sophisticated" cuisine—but
it was also discreet. A high-profile official could drink himself into a stupor, possibly
with his mistress, and the press would give him a pass.
That's the world the Palm DC greeted in November 1972, when it opened its doors on
19th Street, in what was then considered the heart of Washington's downtown (now Dupont
Circle). Across the street was the Embers; a few blocks in either direction were the
testosterone-fueled standards Duke Zeibert's, Paul Young's, Harvey's, and Blackie's.
Nearby was the Gaslight Club, a key-club for men, a neo-speakeasy with flapper-clad
"hostesses" that inspired the Playboy Club. It may have been the '70s, rife with youthful
liberation, bra-burning, and war protest, but Washington was still an old boys' town.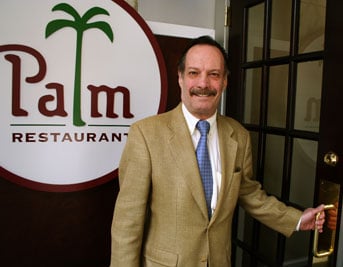 The Palm, a famous New York steakhouse, took a gamble by opening its second location
in the nation's capital, a gamble that has continued to pay off and has since spawned
29 other Palms across the country. When it opened, a four- or five-pound lobster cost
$17, a New York strip was $9.75, and creamed spinach cost $2. Today the restaurant's
surf-and-turf special starts at approximately $50.
"My brother asked me to come down here and help him out for a few weeks. Forty years
later I'm still here," says the Palm's executive director,
Tommy Jacomo, 68, referring to his older brother Ray, who was manager when the restaurant opened.
"I built the place myself. Hammer and nail. All we could afford was plywood and stain."
Jacomo left behind a job at a ski lodge in Manchester, Vermont. Earlier he had worked
the bar circuit on New York's Upper East Side and at the New York Hilton.
The idea for the Washington Palm, according to Jacomo, came from former President
George H.W. Bush, who at the time was ambassador to China, a patron of the New York
Palm, and a friend of cofounder Wally Ganzi. "He told Wally he wanted a Palm in DC,"
Jacomo says. From there the idea was put in the hands of Mark Sandground, a local
lawyer, and businessman Wyatt Dickerson. They put together a group of 20 investors—"mostly
local businessmen"—who paid $10,000 a piece. It took just two years to buy out the
original investors, and by 1975 the restaurant was fully owned by the Palm.
Jacomo recalls the Palm DC being "basically a hit" when it opened. "The big lobsters
were what got the attention," he says. Early patrons included Sinatra, George Hamilton,
and Charlton Heston, plus a who's who of Washington, especially once the Watergate
scandal consumed the city starting in June 1973. Jacomo ticks off a list of regulars
whose names were linked to the era in one way or another: Kissinger, White House special
counsel Charles Colson, Senate Watergate chairman Sam Ervin, judge John Sirica, top
Nixon aides Bob Haldeman and John Ehrlichman. "Carl Bernstein and Bob Woodward would
come in and sit all the way in the back, working on
All the President's Men," he recalls. Nixon, famous for dining at Trader Vic's in the Capitol Hilton, never
came to the restaurant. Vice President Spiro Agnew, a habitué of the popular Cantina
D'Italia, visited occasionally.
But Jacomo says Watergate changed the Washington restaurant scene. "It opened up a
can of worms. It started a different kind of reporting. The press used to protect
people, but then that changed." The Palm, however, continued to protect its customers.
Jacomo recalls, "Charlie Wilson would be in here with three or four different ladies,
and we wouldn't tell anybody." Would he say he's among the first to know when someone
is having an extramarital affair? "There are people who come in with their secretaries
instead of their wives, but I'm not comfortable answering that question," he says.
He also won't talk about one of the darker episodes in the Palm's history, when the
restaurant got into an IRS mess over waiters' unreported tips. During our hour-long
conversation we also don't revisit the time management wanted to redefine Jacomo's
role, prompting a loud patron protest that quickly put the issue to rest. Jacomo remains
the "man to know" at the Palm and in Washington.
He will say that more than 1,000 people have worked at the Palm over the years; there
are waiters who've been on staff for three decades or more and a dishwasher who has
been there for 25 years. The current staff numbers 55. He says what keeps them around
is that staffers, particularly waiters, "make a good living" and that the Palm is
"family run," by founders Ganzi and Bruce Bozzi. Bozzi's daughter, Andrea Bozzi Thimm,
lives in Washington and raised her family here.
The Palm rents the space. The room has undergone three renovations "to keep it fresh,"
but a couple of elements remain the same: the booths in the back and the pictures
on the walls. Jacomo can't recall whose face went up first, but he says the first
pictures were in frames. Now they are painted "by a guy in New York." The secret to
getting one's face on the wall is patronage. "You have to be a good customer," he
says. "You have to earn it. Coming in two or three times a month helps your cause."
A lot of people lobby for the ego boost. Jacomo gets letters. People send him their
photos. Someone even offered him $1,000, which he turned down, though that person
got on the wall eventually. The walls have become so crowded he's started to use the
ceiling. But none of the pictures ever come down. "If I take down someone's picture,
inevitably a grandchild will come in and ask, 'Where's Poppy's picture?'"
Jacomo, who is married and has two grown daughters, used to work every day but has
cut his schedule back to five lunches and two dinners a week. He says Sunday night
dinner used to be one of his favorite shifts. His heir apparent is Michael Melore,
and the two work well together. They speak in a kind of cosmic shorthand.
They know who's who, their eccentricities, and where they want to sit. It's still
possible to ask for the "Larry King table," ideally situated in a key spot in the
front room; and the "Bob Strauss booth," in the middle of the action in the back,
close to the table James Carville favors, which, appropriately, is under the faces
of Bill and Hillary Clinton. Jacomo misses some customers who have moved on to the
Palm up above. "Mo Siegel—he was like a father to me. Edward Bennett Williams. Jack
Kent Cooke—he loved me, and, you know, he doesn't seem so awful in retrospect." All
these men were larger than life and, Cooke in particular, could be demanding customers.
We wondered how customers in general had changed over the restaurant's 40-year lifespan.
"People are much more sophisticated," Jacomo says. "And everybody's a food critic
now." As for the professional restaurant critics, he believes they've given a fair
shake to the Palm's food and menu, which has been edited very little over the years.
The roast duck is gone, as it is from most menus, though Jacomo doesn't know why.
He's careful about what goes and what gets redeveloped. When seven years ago they
changed the recipe for creamed spinach, it resulted in a "battle royale with the clientele.
So we kept both for a while and slowly weaned them."
Jacomo says the biggest change happened not only to the Palm but to all restaurants
and bars in Washington: the ban on cigarette smoking that went into effect in 2007.
"I think about that all the time," he says of the demise of smoking in public places.
"You used to be able to smoke in the waiting room of your doctor's office. Imagine.
For us, though, I didn't think it would hurt, and it hasn't."
Today there aren't as many Redskins coming in as before, because the team has moved
out of town and most of the players live near the practice facility in Ashburn, Virginia.
On the other hand, baseball is here. Bryce Harper has been in, and Jacomo says the
team owners, the Lerner family, are good customers.
Forty years is a notably long life for a restaurant,
in Washington or any city. Few
in DC can claim that kind of stamina. The Palm will celebrate
with a party on November
20.
After that, Jacomo assures, "we'll be here for a while."