Pumpkins are festive and good for you, and their seeds are goldmines of nutrition, too. They provide protein as well as a wide variety of essential minerals including manganese, iron, zinc, and magnesium.
Pumpkin seeds, or pepitas, typically come out of your Halloween pumpkin in thick shells, but you can also buy them hulled from health-food or bulk-foods stores. (Hulling them yourself can be a pretty involved process, but you can try it by following these directions.)
We found three recipes from local health experts and the Web that showcase the tasty and nutritious seed. You can also toss the seeds into salads, add them to granola, or sprinkle them on top of sautéed vegetables.
Honey-Glazed Pumpkin Pie Pepitas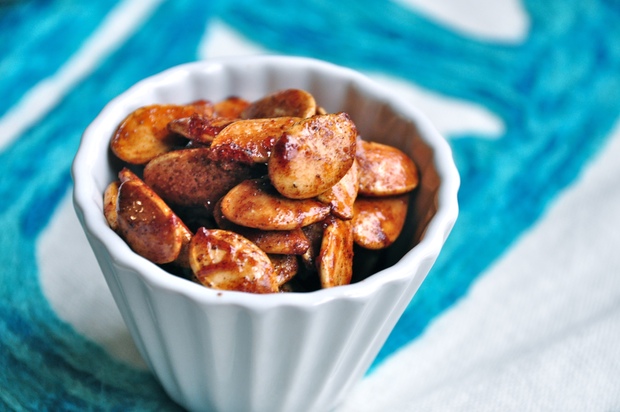 Yield: 8 one-quarter cup servings
Per-serving nutrition: 113 calories, 4.2 grams fat, 0.7 grams saturated fat, 17.3 grams carbohydrates, 2.3 grams fiber, 8.6 grams sugar, and 3 grams protein.
This snack, adapted from registered dietitian Cheryl Harris' recipe is a welcome departure from classic salted pepitas.
Ingredients
2 cups pumpkin seeds with shells (if you have hulled seeds, you could use those, too)
2 teaspoons oil (olive, canola, etc.)
2 teaspoons pumpkin pie spice
4 tablespoons honey
1 teaspoon vanilla
Pinch of sea salt
Preheat oven to 325 degrees. Toss seeds with oil, honey, and seasoning. Line baking sheet with parchment paper or aluminum foil for easy cleanup. Roast for about 20 to 30 minutes, stirring and flipping occasionally.
Pumpkin Seed Parsley Pesto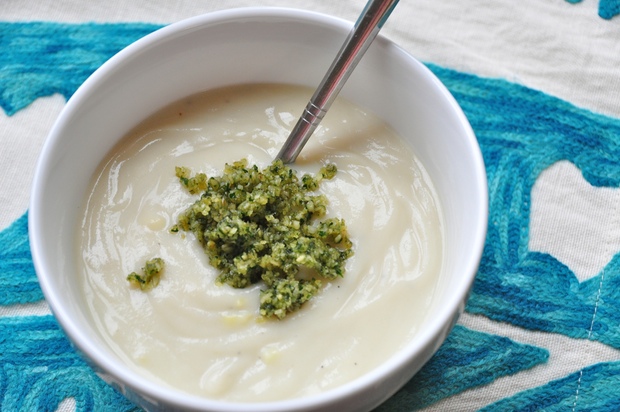 Yield: 4 servings
Per-serving nutrition: 141 calories, 13.4 grams fat, 1.9 grams saturated fat, 4.5 grams carbohydrate, 1.2 grams fiber, 0 grams sugar, and 1.6 grams protein.
This savory combination from health coaches Colleen DiPietro and Jaime Bakoss's fall detox makes a great garnish for soup and can also be served with pasta or flatbread.
Ingredients:
½ cup toasted hulled pumpkin seeds
2 cloves garlic
¼ cup parsley
¼ teaspoon sea salt
3½ teaspoons olive oil
Pulse all the ingredients in a food processor until you have a coarse mixture.
Pumpkin No-Bake Energy Bites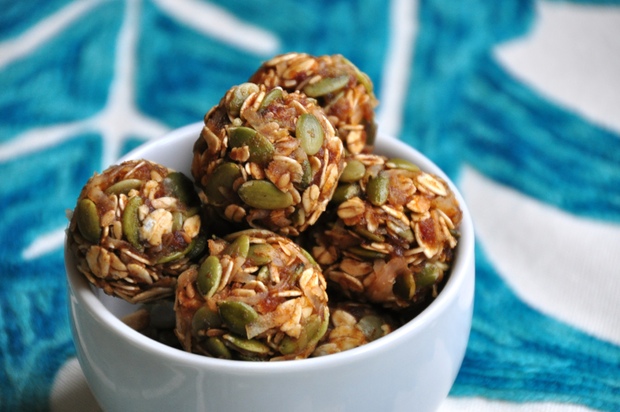 Yield: 25 bites
Per-bite nutrition: 79 calories, 2.5 grams fat, 1.6 grams saturated fat, 14 grams carbohydrate, 1.8 grams fiber, 9.1 grams sugar, and 1.2 grams protein.
These chewy, all-natural snacks from Gimme Some Oven are every bit as addictive as the peanut butter energy bites we tried last month.
Ingredients
8 ounces (about 1 packed cup) chopped dates
¼ cup honey
¼ cup pumpkin purée
1 tablespoon chia seeds or flaxseed
1 teaspoon ground cinnamon
½ teaspoon ground ginger
¼ teaspoon ground nutmeg
Pinch of salt
1 cup old-fashioned oats (uncooked)
1 cup toasted coconut flakes
1 cup toasted hulled pumpkin seeds
1) Combine the dates, honey, pumpkin purée, chia (or flax) seeds, cinnamon, ginger, nutmeg, and salt in a food processor and pulse until smooth and combined.
2) Transfer the mixture to a large bowl and stir in the oats, coconut flakes, and pepitas until evenly combined. Cover and refrigerate for at least 30 minutes.
3) Once the mixture is cool (and easier to work with), use a spoon or cookie scoop to shape it into your desired size of energy balls. (Mine were about 1 inch in diameter.) Alternatively, you can line a small baking pan with parchment paper, press the mixture evenly into the pan, let it cool, and then cut into bars.
4) Store covered in the refrigerator for up to 2 weeks to help the bites hold their shape.
For more delicious recipes, visit Well+Being's Healthy Recipes page.