One of the oft-repeated tips for avoiding holiday weight gain is to indulge in small portions of your favorite treats. That way, you can keep your cravings in check and actually enjoy holiday gatherings, all while fitting into that sparkly dress come New Year's Eve.
These adorable little bites are a case in point. They're festive and delicious, but miniature, so you can have a satisfying treat without overdoing it. Registered dietitian Carlene Thomas also lightened up the recipe, adding whole-wheat flour and Greek yogurt, reducing the sugar, and using lighter Neufchatel cheese instead of cream cheese.
Yield: 30 cookies
Per-cookie nutrition: 110 calories, 7.9 grams fat, 4.8 grams saturated fat, 34.5 milligrams cholesterol, 43.8 milligrams sodium, 8.4 grams carbohydrate, .5 grams fiber, 1.7 grams sugar, 1.8 grams protein.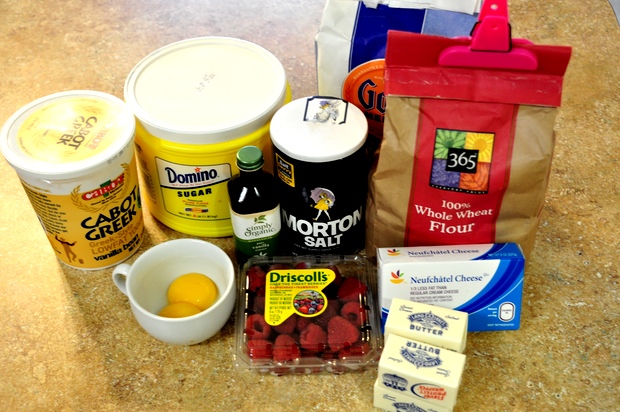 Ingredients:
6 ounces Neufchatel cheese
¼ cup sugar (batter) plus 1⁄8 cup sugar (filling)
¼ teaspoon salt
2 egg yolks, separated
2 teaspoons Greek yogurt
¼ teaspoon vanilla
2 sticks butter, room temperature
1½ cup all-purpose flour
½ cup whole-wheat flour
One package fresh raspberries
Fresh mint leaves
Directions: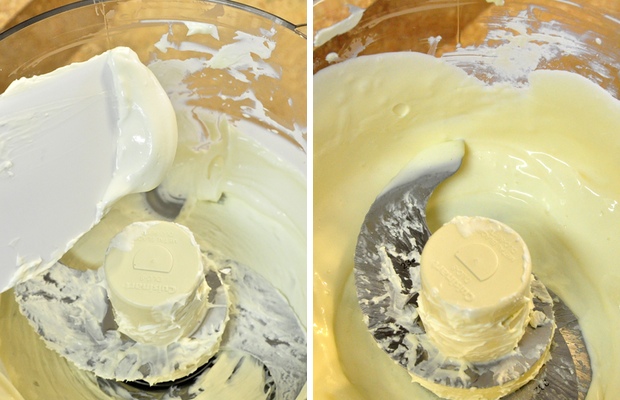 1) In a mixing bowl with a paddle attachment, beat Neufchatel cheese on medium speed until fluffy, scraping sides of the bowl as needed. (Note: I don't have a mixer, but my food processor worked just fine. I just had to scrape the sides four times and let it run for several minutes to get that fluffy texture.)
2) Add ⅛ cup sugar and a pinch of salt, and beat until smooth. Add 1 egg yolk, Greek yogurt, and vanilla. Beat until smooth and transfer to the fridge for half an hour.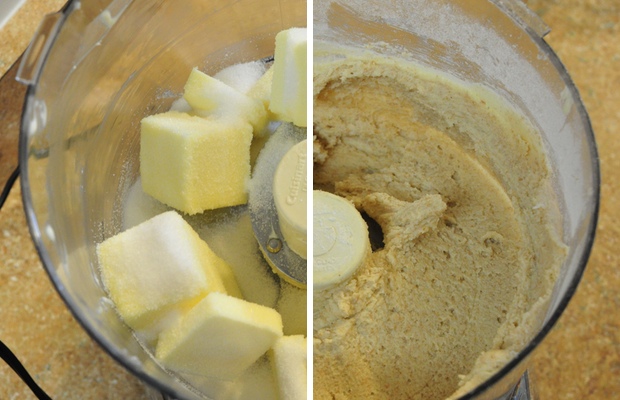 3) In the bowl of an electric mixer, beat the butter and ¼ cup sugar on medium until well combined. Add the remaining salt and egg yolk. Beat to combine.
4) With mixer on low speed, gradually add the flour, mixing until just combined. Cover or wrap in plastic wrap and chill for 10 minutes.
5) Preheat the oven to 350 degrees with the racks in the upper and lower thirds. Line two large baking sheets with parchment paper.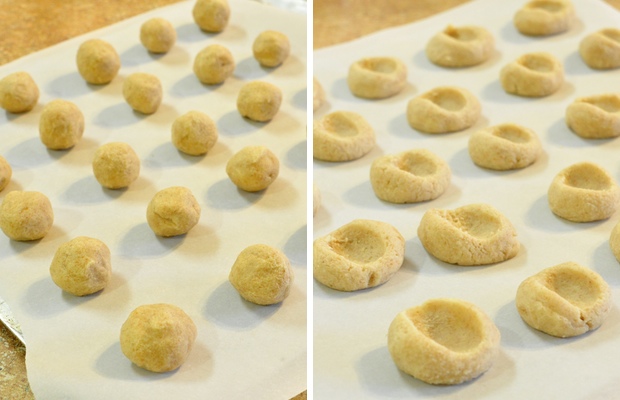 6) Roll tablespoons of dough (not rounded tablespoons!) into balls and place onto parchment-lined baking sheets.
7) Create thumbprint indentations.
8) Bake for 10 minutes and remove from oven. Let cool until the dough is safe to touch, and gently make indentations again. If a cookie cracks, gently shape back together.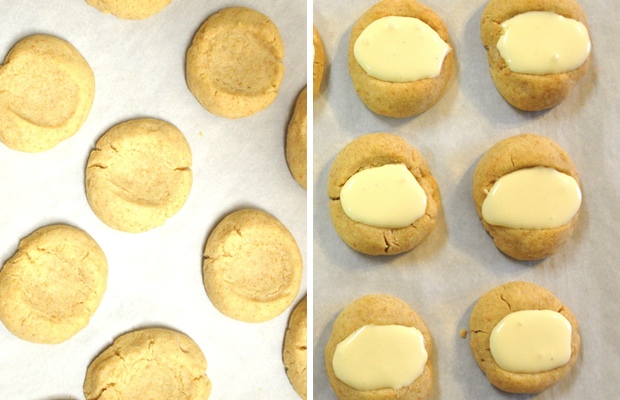 9) Return to the oven and bake until cookies are golden, 7 to 9 minutes more. Cool completely.
10) Fill the center of each cookie with cheesecake filling. Use your finger to neaten up any overflow. Return to the oven and bake until the filling is firm, about 7 minutes. Transfer and cool again.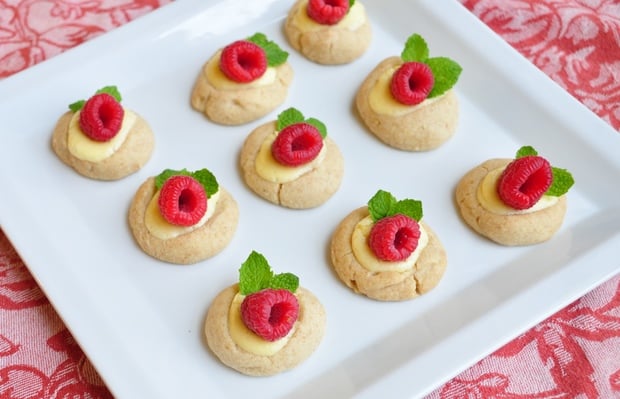 11) Top with raspberries and mint leaves. Refrigerate at least 4 hours before serving. The mint leaves will wilt, so the cookies are best served the same day.
This recipe was adapted from Martha Stewart's Baking Handbook.
Carlene Thomas is a registered dietitian in Northern Virginia who specializes in wedding wellness and healthy hosting. You can find her on her blog or follow her on Twitter @CarleneRD.