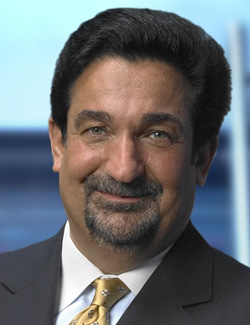 Ted Leonsis has launched a new website that is designed to provide loads of content for fans
of his teams: the NHL Capitals, the NBA Wizards, and the WNBA Mystics. It aggregates
programs from the teams' individual websites and blogs, and is the new home to Leonsis'
own popular blog, Ted's Take.
The multi-platform site, or digital network, is called Monumental Network,
after his Monumental Sports and Entertainment company, of which he is the founder
and majority owner. It will include news about the venues owned or managed by Monumental,
which include Verizon Center, Kettler Capitals Iceplex, and George Mason University's
Patriot Center.
The new network will eventually reach beyond basketball and hockey to include sites
and programming related to the Redskins, the Nationals, DC United, and Georgetown
University and University of Maryland sports, as well as the Orioles and the Ravens.
"In addition to producing its own daily content, Monumental Sports & Entertainment
recently formed a collaborative content partnership with SB Nation and its nine DC-and-Baltimore-focused
local sports sites," the company announced in a press release. It called the relationship
with SB Nation a "unique partnership."
Wednesday on Ted's Take, Leonsis boasted about the new project and said, "We hope
Monumental Network will become your hyper-local destination for sports and entertainment
news and features." His goals for expansion are clear. "Earlier in the year we also
made a significant investment in our in-house video capabilities, hiring new staff
to launch our own production facility."