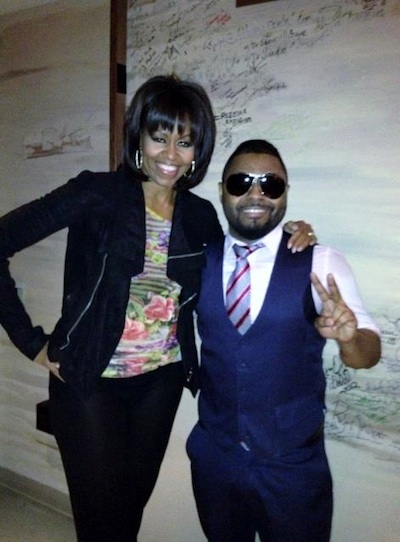 When you're FLOTUS, you have a bangin' new hairdo, and you just want to have some fun after inauguration, what do you do? If you're Michelle Obama, you go see Musiq Soulchild at the Howard Theatre.
Sporting a chic black jacket with a multicolored floral top underneath, Mrs. Obama went to the historic DC arts venue last night to celebrate a friend's birthday, according to the Howard Theatre's Facebook page, which also posted this picture of FLOTUS with the R&B singer.
According to a source, Mrs. O. showed up with seven other women, including presidential senior adviser Valerie Jarrett, to celebrate a friend's birthday. "She was seen dancing in her seat throughout the show," the source relates.