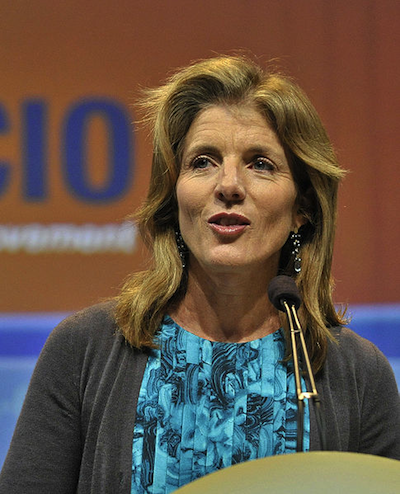 The rumors are strong that President John F. Kennedy's daughter,
Caroline Kennedy Schlossberg, could be named the next US ambassador to Japan. According to reports, the vetting
process is almost finished for the 55-year-old New Yorker, who was an early supporter
of Barack Obama in his quest for the presidency. She played significant roles in his
first and second campaigns.
While it could be days or even weeks before official confirmation of the appointment,
we thought we'd look up some background facts in advance. For example, how many Kennedys
have held diplomatic posts? Caroline Kennedy's aunt,
Jean Kennedy Smith, was ambassador to Ireland from 1993 to 1998. Her uncle,
R. Sargent Shriver, was ambassador to France from 1968 to 1970. Her grandfather,
Joseph P. Kennedy, was ambassador to Great Britain from 1938 to 1940.
If she is offered and takes the post, Kennedy will be the first woman to serve as
ambassador to Japan. The list of predecessors is interesting and reflects the prestige
of the job. It is a major "thank you" post for campaign "friends," but has also gone
to established politicians and diplomats. Apart from the decade after the attack on
Pearl Harbor, there has been an American ambassador, or "resident minister," dating
back to the Civil War.
Previous ambassadors to Japan include
Armin Meyer, a diplomat, who served from 1969 to 1972;
Robert Stephen Ingersoll, a businessman and diplomat, who was appointed in 1972 and served for less than a
year;
James D. Hodgson, a former Lockheed Martin executive and Secretary of Labor, who served from 1974
to 1977;
Mike Mansfield, best known as Senate majority leader for a record 16 years, who was appointed ambassador
by President Jimmy Carter and served for 11 years;
Michael Armacost, who has been in and out of diplomatic roles and served from 1989 to 1993; former
Vice President under Carter
Walter Mondale, who served from 1993 to 1996; and former speaker of the House
Tom Foley, who served from 1997 to 2001 and was succeeded by another notable politician, former
Senate majority leader and White House chief of staff
Howard Baker, who served from 2001 to 2005.
The last two ambassadors to Japan were Texan
Tom Schieffer (brother of the CBS News correspondent
Bob Schieffer), who earlier served as ambassador to Australia and held the position from 2005 to
2009; and the current ambassador,
John Roos, a lawyer who made a career representing the Silicon Valley elite and whom President
Obama calls "a close friend."
Kennedy has been married since 1986 to designer and author Edwin Schlossberg. They
have three children, all grown, Rose, Tatiana, and John. While the Kennedy family
is large, Caroline's father died in 1963, her mother, Jacqueline, in 1994, and her
brother, John, in 1999.
The issues before any ambassador to Japan are chiefly trade and investment, military
relations and maneuvers, and some awareness of the ongoing impact of the Fukushima
Daiichi nuclear meltdown that occurred after the Tohoku earthquake two years ago.