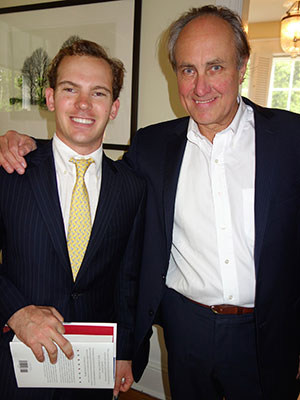 As the anchorman of the top-rated
CBS Evening News, and "the most trusted man in America,"
Walter Cronkite grew into his name. But growing up in the Midwest, he envied the boys with nicknames.
That's why, when his son,
Walter III, was born, he almost immediately started to call him "Chip." Which brings us to Chip's
son,
Walter Cronkite IV. He goes by "Walt," which would no doubt make his grandfather proud. Something else
that would make the elder Cronkite proud? The book Walt has produced,
Cronkite's War: His World War II Letters Home.
Walt is two years out of Hamilton College and, following in his grandfather's footsteps,
is beginning a career in broadcast news in Washington, DC, at CBS News. (Cronkite
first joined CBS News at then-WTOP, now WUSA, in 1950, after starting his career as
a wire service reporter and war correspondent.) Walt is an associate producer in the
Washington bureau on M Street. His boss, bureau chief
Christopher Isham, and Isham's wife,
Jennifer Maguire, hosted a book party for him Thursday evening at their Cleveland Park home.
Walt said the book was the result of a trip he made with his father to the University
of Texas in Austin. That's where the Cronkite papers are kept, spanning his early
career as a newspaper reporter and war correspondent and through to his broadcasting
career and retirement. Cronkite died in 2009.
Walt said that on this trip to Austin he began to read through his grandfather's
World War II letters, and simply got "pulled in." They were principally addressed
to Cronkite's wife, Betsy, and were equal parts observations about the war, accounts
of interesting people and derring-do, and love letters. In collaboration with his
history professor, Maurice Isserman, Walt sifted through and edited the letters into
book form. NBC anchorman
Tom Brokaw, a onetime head-to-head Cronkite competitor, wrote the gracious forward.
There's no question that Cronkite represents a bygone era of journalism. For history
buffs and news junkies the book is a ride along on the journey as a young journalist
develops his chops and ethics. Walt grasps his grandfather well. "Nothing was as sacred
to him as the importance of objective journalism in a democracy," he writes. "Everywhere
I see the high standards for television news that he set during his years as an anchor.
. . . My grandfather brought the no-nonsense, straight news mentality of the United
Press to his broadcasts." For example, Cronkite would not allow his weeknight evening
news reports to be called "shows." He felt that diminished them as a journalistic
enterprise. They were a "broadcast."
"He refused to register for a political party and tried to never insert his opinions
in his broadcasts," Walt points out. Cronkite did, however, go public with his doubts
about the Vietnam War in 1968. "For the rest of his life he agonized about whether
that had been the right thing to do."
Worth noting: Although Cronkite did not grow up with the nickname he so envied, at
the height of his career his colleagues came up with one of their own, inspired by
his professional fortitude as well as his ability to remain in the anchor chair for
long stretches of live reporting, including during the Kennedy assassination, space
shots, and Watergate. They called him Old Iron Pants.