Vice President Joe Biden is a familiar and exuberant presence at a lot of events in Washington, and when he appears he typically bounds onto the stage. But that was not the case on Sunday evening at the annual Ford's Theatre gala. Biden was remarkably subdued, speaking in a quiet near-monotone during his opening remarks to an audience of corporate power players and members of Congress and the Cabinet. Rather than stay for the show, which is typical, he departed immediately after his remarks. A short time later, the evening's host, actor Richard Thomas, gave some explanation: "We got a call about an hour ago letting us know that Vice President Biden wouldn't be able to stay for the show." Then he cracked that for half of the audience "that's a disappointment and for the other half a sigh of relief." When the comment prompted weak chuckles, he said, "That was in the script!," earning a much bigger laugh.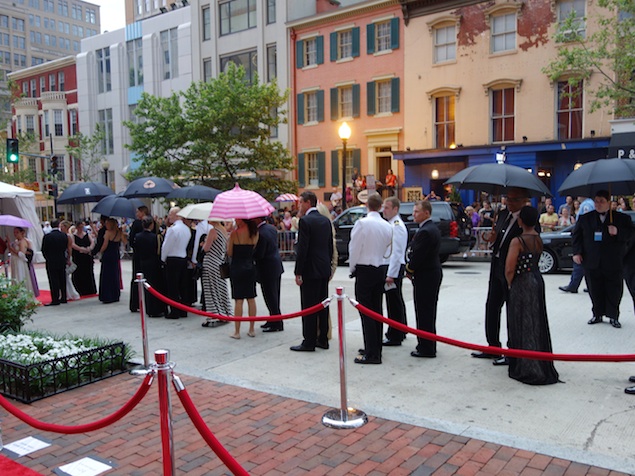 After the show, when guests gathered for a buffet dinner at the National Portrait Gallery, members of the cast said they, too, were surprised by Biden's brief drop-by. In years past the Vice President or President stays for the full show. What the cast members said they'd heard backstage was that Biden was tired from a trip—he'd just returned from a six-day Latin American and Caribbean swing—and was not feeling well. He did not do a backstage meet-and-greet with the cast, but he did spend a few moments with a group of first responders who were among the evening's honorees. (We have a call into his office to learn the official reason for his early departure.)
In his remarks, in which he called Ford's a "hallowed hall of American history," Biden mentioned the first responders he'd met backstage. They included Sergeant David Kullgren* of the Newtown, Connecticut, Police Department and Douglas S. Fuchs of the Redding, Connecticut, Police Department, who both responded to the December Sandy Hook Elementary School shootings; Matt Patterson of the Lynn, Massachusetts, Fire Department, who was on the scene and responded to the April 15 Boston Marathon bombings; and Robert Payne, of the West, Texas, Volunteer Fire Department, who responded to the April 17 fertilizer plant explosion. They "lost some of their brothers and sisters [and] saw some of the most horrible things anyone has ever seen," Biden said. "They continue to rebound. To them I say, 'God bless you.'" Later the men were introduced onstage.
Inspiration was the evening's theme, and it threaded through the program, which was heavier on talk than on musical performances and with a strong emphasis on how Americans respond to issues of tolerance, equality, and acceptance. For example, a focus on the Matthew Shepard Foundation in a moving tribute from sitcom star Eric Stonestreet. In October 1998 Shepard, a gay University of Wyoming student living in Laramie, Wyoming, was beaten to death, the victim of a hate crime. Stonestreet brought on to the stage Shepard's parents, who started the foundation. This fall, Ford's Lincoln Legacy Project will stage a new production of a play about how the Laramie community reacted to Shepard's murder. In addition to producing The Laramie Project, Ford's will host panel discussions on related issues.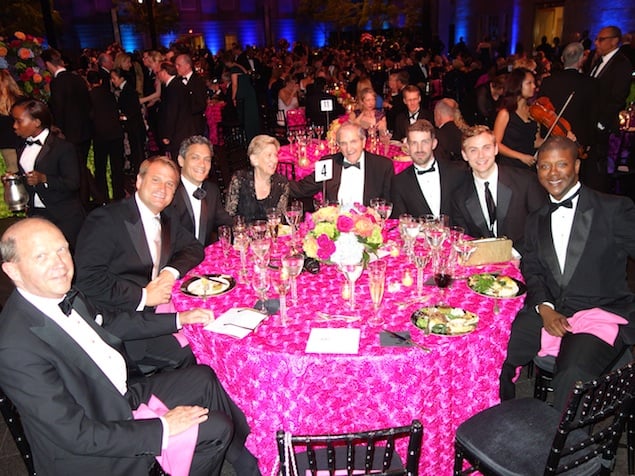 The musical interludes included performances by Broadway star Brian Stokes Mitchell, opera star Denyce Graves, and Clare Bowen and Sam Palladio of the ABC-TV program Nashville. The songs performed returned to the theme of inspiration, including "Before the Parade Passes By" from Hello, Dolly! and "You'll Never Walk Alone" from Carousel. The full cast and ensemble singers closed with "Make Our Garden Grow" from Candide.
The formally dressed audience was packed with corporate money, which helps Ford's Theatre sustain itself, especially at a time of sequester, as it is managed as a national historic site by the National Park Service. More than 30 corporations had representatives in attendance—all of them introduced through the course of the evening, and thanked for their generosity—including CEOs and other executives from General Dynamics, AT&T, Fidelity Investments, Deloitte, Liberty Mutual Insurance, Siemens, Exxon, ConocoPhillips, Chevron, Home Depot, Kraft Foods, Raytheon, and BET Networks. They were seated among other donors as well as White House senior adviser Valerie Jarrett, attorney general Eric Holder, House minority leader Nancy Pelosi, Interior Secretary Sally Jewell, National Park Service director Jonathan Jarvis, and a long list of members of Congress.
Because he had to leave early, Biden missed one of his heroes, basketball legend Bill Russell. Russell and former Secretary of State Condoleezza Rice were each presented with the 2013 Lincoln Medal. Both of their personal stories of accomplishment related to the theme of inspiration and succeeding in an era of intolerance and inequality, in particular Russell for the civil rights positions he took during his time with the NBA Boston Celtics.
Russell, however, said his inspiration was his late father, who raised him as a single parent. "All I ever aspired to was to make my father proud," he said. "Every time something good happens to me I go sit for an hour by my father's grave and tell him what's going on in my life." He said he would be doing just that with the honor from Ford's Theatre.
*This post has been updated from a previous version.