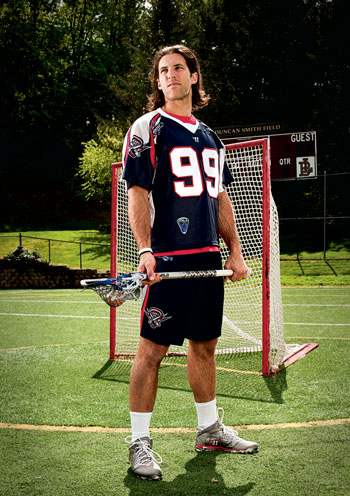 ➼ He grew up in Montgomery Village and commuted 30 miles each
way to DeMatha High in Hyattsville. "Brutal," he recalls.
➼ Thanks in large part to an 111-mph shot, he's the first person
to turn pro lacrosse into a $1-million-plus career. When he joined the pro
ranks five years ago, he played part-time and worked in finance during the
week.
➼ Only about $70,000 of his income comes from playing
lacrosse—January through May in the National Lacrosse League, April
through August in Major League Lacrosse. The rest is from sponsors such as
Warrior Sports, Red Bull, and high-end gadget brands.
➼ What industries does he want to break into next? Video games à
la Tony Hawk's Pro Skater, though he didn't completely
shoot down our "hair products" suggestion.
➼ In 2011, he switched equipment sponsors to Warrior, where he
helps tweak the Rabil Collection. Why? "When I'm done playing, my brand
will only be sustainable if the equipment is the best. Jordans wouldn't be
around this long after Michael Jordan's retirement if
they weren't really good shoes—not that I'm comparing myself to
Jordan."
➼ His foundation awards small scholarships to DC's Lab School
and funds its lacrosse program. Rabil picked the school because it serves
kids with learning differences; he says the level of individuality
encouraged in lacrosse makes the sport a good fit for them.
➼ He sometimes challenges coworkers to dunking contests. Spoiler
alert: The six-foot-three superhuman can dunk. Past victims include former
colleagues at Cassidy & Pinkard and his Philadelphia Wings
teammates.
➼ He calls his high school one of his best networking tools,
possibly better than his university, Johns Hopkins: "People slight that
level of education and want to hear more about your college and postgrad
experience, but when you mention DeMatha, they perk up."
This article appears in the July 2013 issue of The Washingtonian.