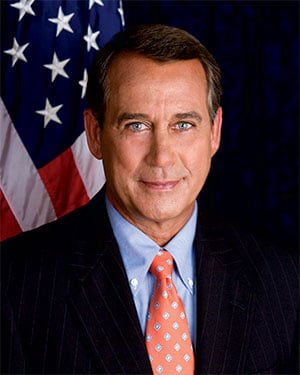 The era of Speaker John Boehner appears to be on the wane as he struggles with an unruly—and unhappy—GOP conference. While the race to replace him someday will come down in part to good luck and good timing, the candidates and their nascent efforts are already clear. Here's a guide to the shadow campaign to be the next speaker.
Majority Leader Eric Cantor
Virginia
First elected: 2000.
Why he could be speaker: Cantor has long had his sights on the top spot, but he's less a rival to Boehner than the heir apparent. The majority leader has spent considerable money (more than $300,000 last year on fundraisers at BLT Steak and Bobby Van's Grill, according to OpenSecrets.org) to boost his campaign committee and, ultimately, his colleagues in their reelection bids. That generosity will pay dividends if he seeks the speakership. "He's measured, deliberate, and in control," a Republican strategist says. "I put his odds of becoming speaker at 90 percent."
Budget Committee Chair Paul Ryan
Wisconsin
First elected: 1998.
Why he could be speaker: Best known as Mitt Romney's energetic running mate, Ryan has spent years in the House solidifying his reputation as a popular, respected GOP member and a formidable authority on budget matters. His greatest obstacle to becoming speaker might simply be other ambitions: If he doesn't seek the presidency in 2016, he could aim to put his wonkery to use as chair of the House Ways and Means Committee, which frames tax policy—a slot his allies say holds great appeal for him.
Rules Committee Chair Pete Sessions
Texas
First elected: 1996.
Why he could be speaker: Earlier this year, Sessions rose to the chairmanship of the Rules Committee. The post was seen in part as a reward for his work as head of the National Republican Congressional Committee for two terms, during which he led his party to its astounding victory in 2010 and helped Republicans keep control of the House in 2012. Many GOP members owe their seats in part to Sessions's work. If he were to seek the speakership, he'd likely remind them of that fact.
Majority Whip Kevin McCarthy
California
First elected: 2006.
Why he could be speaker: If Cantor has built goodwill through fundraising, McCarthy has built relationships. As whip, McCarthy must track members' votes and often persuade colleagues to compromise. While he's had mixed success (his vote counts have been accurate, but some tough votes have failed by narrow margins), the job has enabled him to establish a rapport with a wide swath of GOP lawmakers. "He's incredibly well liked and likable," an aide to a member of McCarthy's whip team notes. And often the race for speaker is little more than a popularity contest.
Deputy Majority Whip Peter Roskam
Illinois
First elected: 2006.
Why he could be speaker: Roskam might be the most obvious rising star of the next class of Republican leader-ship. Indeed, such an ascension is a transparent goal within his operation. "The reason Eric Cantor is Eric Cantor is because he does a lot of stuff for the team," Steven Moore, who will be heading Roskam's leadership PAC, told National Journal."We want to get into the Cantorsphere." But Roskam's large-scale fundraising efforts are just beginning.
Tom Price
Georgia
First elected: 2004.
Why he could be speaker: At the start of the 113th Congress, Price had a close and dispiriting defeat in the race for the number-four leadership slot, losing to Representative Cathy McMorris Rodgers. Since then, he has carved out a niche as a mediator between conservatives and moderates, fueling speculation that he could try to parlay that role into a larger one—the speakership. But he might have his eye trained on a different post for now: If Ryan vacates his Budget Committee chairmanship, Price might be tempted to fill that slot.
This article appears in the August 2013 issue of The Washingtonian.