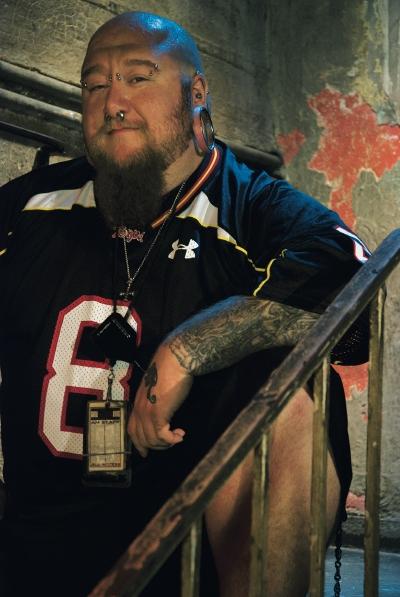 A scholarship fund is being created at the University of Maryland in honor of Josh Burdette, the longtime bouncer and manager at DC's famed 9:30 Club who died last weekend at the age of 36. The Josh Burdette Student Entertainment Events Scholarship will be awarded annually to a Maryland student involved in the College Park campus's events planning organization.
Burdette, who graduated from Maryland's honors program in 1998 with a psychology degree, was active in the Student Entertainment Events program, commonly known as SEE. Befitting his future at the 9:30 Club, he was SEE's security director, a gig that grew out of sideline jobs working the doors at frat parties.
Unmissable with his six-foot-three, 340-pound frame covered in tattoos and body piercings, including saucer-sized ear gauges, Burdette was perhaps better known as "That Guy from the 9:30 Club," a moniker he proudly adopted. But despite the intimidating appearance, he was beloved by 9:30 patrons for a calm, gentle demeanor. To everyone but the most disruptive guests, he was generous and welcoming, and quicker to talk to people than hoist them out the door.
"I know I can be an intimidating presence," Burdette said in the February 2009 issue of Washingtonian, "but I don't try to carry myself that way."
Burdette stayed active with SEE after graduation, volunteering his services and acting as a mentor to his successors. Donations can be made on the scholarship's Web page.