Former Washington Post executive editor Leonard Downie
Jr. was driving on Monday, August 5, when he got a call from the paper's
owner, Donald Graham. In several hours, Graham would tell the staff he was
selling the Post—his family's crown jewel for 80 years—to Amazon
founder Jeff Bezos for $250 million.
Graham didn't have answers to the questions the newspaper
industry posed. Neither he nor his niece, publisher Katharine Weymouth—the
fifth family member to run the paper since her great-grandfather Eugene
Meyer bought it in a bankruptcy sale—could see a way to combat
internet-driven pressures without more budget and staff cuts. The phone
call was Don Graham's admission of defeat. "I didn't know anything about
this," says Downie, who has worked with Graham for 42 years. "I was
speechless. I had to pull over."
Downie drove home, changed clothes, and went into the office.
He stopped by Graham's office to thank him. "We know each other so well
that we can sense each other's feelings," Downie says. "He didn't have to
tell me it was a tense, difficult decision."
Downie's replacement as executive editor, Marcus Brauchli—who
stepped down last year to become a vice president of the Post's
parent company—walked into Graham's weekly Monday 3 pm staff meeting. The
owner shut the door, then said to the group: "I have shocking
news."
• • •
The entire staff needed to be told. Management sent out an
e-mail at 4:15 announcing a 4:30 meeting that day. But Post media
reporter Paul Farhi worried that even that was too much time.
Farhi had been on vacation in the Dominican Republic when
executive editor Marty Baron called. Baron needed him back home to write a
story, but he wouldn't give Farhi any details other than telling him he'd
call him on Sunday, August 4. They spoke for 45 minutes that day, and
Farhi was told about the sale but sworn to silence. After crafting his
story in a Word document at home, he arrived at work around 3 on August 5
in a daze, knowing a secret that would turn the Post inside out
but unable to tell anyone.
Farhi's biggest fear—and that of the few people at the paper
who knew—was that another media organization would break the news. The day
before, the New York Times had profiled Weymouth without any hint
of what was to come. Times reporter Sheryl Gay Stolberg had asked
Graham if his niece would inherit his job running the Post Company. "[H]e
ducks the question," Stolberg wrote, quoting him as saying, "I'm not
expecting her to go anyplace."
That's correct—for now. Under the sale terms, Weymouth and her
management team, Baron and editorial-page editor Fred Hiatt, will stay on
for at least a year.
At 4:30 pm, most of the paper's 2,000 employees appeared in the
auditorium. Many believed they were going to learn that the Post
building had been sold—a widely reported possibility.
It had not.
Bezos had bought the Post, its printing presses, the
Express newspaper, the Gazette Newspapers, Southern Maryland
Newspapers, the Fairfax County Times, El Tiempo Latino, and
Greater Washington Publishing—basically everything needed to produce the
Washington Post and its website.
• • •
Graham—the 68-year-old son of legendary Post publisher
Katharine Graham—read a brief speech.
"I was surprised he'd written down what he wanted to say," says
Downie, who joined the Post in 1964. "He's a good extemporaneous
speaker. He may have done it for legal reasons, but I think it was more so
he could get through it."
Some in the auditorium cried at the announcement.
Graham soldiered on, his voice quivering: "To say the very
obvious, I've loved working with you. Not just those who write the
stories, but those who run the presses, sell the ads, deliver the papers.
. . . I understand there is also, and necessarily, a sense of
disappointment on my side. The only person I feel even a slight sense of
disappointment with would be me. But not you. No one had a better bunch of
people to work with."
The next day he reiterated that sentiment, telling
Post media blogger Erik Wemple, "I disappointed
myself."
• • •
For Don Graham, selling the Post is like putting a
baby up for adoption. The biological parent knows the child will have a
better life than he or she can provide. But giving up that baby is still
painful. It's an admission that you can't provide what the child
needs.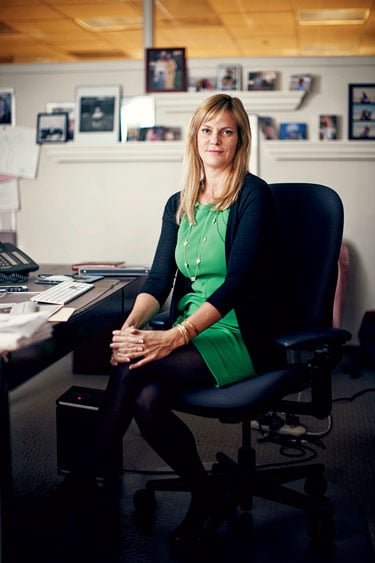 Brauchli says putting the Post before his own feelings
is what Graham is about: "He takes the greatest pride in doing the right
thing, however difficult. He is immensely dedicated to his people and the
history and legacy of the institution. He felt he was doing what was right
for the institution. The pain was secondary."
Robert Kaiser, who has worked with Graham since 1971, recalls a
line that Graham's grandfather Eugene Meyer said in 1954 after he bought a
competitor, the Washington Times-Herald, for $8.5
million. Don Graham was eight; his grandfather was 78. Purchasing the
Times-Herald while owning the Post meant Meyer had
secured the future for the next generation.
"The real significance of this event," Meyer said, "is that it
makes the paper safe for Donnie."
It did for decades—until a perfect storm fueled by the web,
technology, and a recession brought the paper to its knees.
"On some level, Don must feel now that he has let the family
down," says Kaiser, an associate editor who joined the paper in 1964. "He
didn't live up to their expectations to keep the Post going. It
was an extremely difficult decision and at the same time
courageous.
"I think Don faced up to the fact that the only strategy
Katharine [Weymouth] and he had wasn't really a strategy. They were
waiting for something to produce more revenue, and it never happened. He
understood it was a long, downward glide involving more cuts."
• • •
This month, Post ownership will legally be handed over to Jeff
Bezos. A bash for current and former Posties is planned at the paper to
celebrate Graham and his family.
Graham—who will still be chairman of the board of the
not-yet-renamed Post Company—is a deeply private man. A week after the
sale, he told Washingtonian he was "interviewed out." But he
wasn't likely to be that forthcoming anyway. That's not who he
is.
Post veteran Dave Kindred's 2010 book, Morning
Miracle: Inside the Washington Post, noted that Graham is a dream
owner but also "every inquiring reporter's idea of a frustrating interview
(so much there, so little said) . . . ."
Peter Perl, who worked at the Post for 32 years, was
assigned to write an advance obituary about Graham as he nears his eighth
decade—standard news procedure for prominent figures. Perl interviewed
dozens of people in Graham's life."Nobody knows Don on a deeply personal
level," Perl says, "even people who are friends. He just got married [to
his second wife] and recently had a grandchild—I can see him saying, 'I
want to leave this thing in good shape and want the newspaper to always be
there.' "
Graham has an elder sister, Lally Weymouth, and two younger
brothers, Bill and Steve. None works day to day for the Post Company,
though Weymouth writes occasionally. Graham's daughter Laura O'Shaughnessy
is general manager of SocialCode, a Post Company start-up that helps
businesses develop their brand on Facebook. Her husband, Tim, is CEO of
LivingSocial. Graham's daughter Molly went to work for Facebook in
2008.
I reached two of his close friends, Boisfeuillet "Bo" Jones
Jr., who worked at the Post for 32 years, and Nick Friendly. They
had gone to St. Albans School with Graham and have remained close. Both
offered to talk about what the sale meant to him, but only with Graham's
approval. He didn't give it.
Lally Weymouth and her daughter Katharine also declined to be
interviewed, as did Graham's daughter Laura.
• • •
Kindred's book says Graham once told a staffer that he started
each day by looking in a bathroom mirror and saying, "Don't screw it
up."
Some may say Graham screwed it up. Forbes ran a
February 2012 article titled nice guy, finishing last: HOW DON GRAHAM
FUMBLED THE WASHINGTON POST CO. A Vanity Fair story last year was
equally harsh, while describing how much everyone at the Post
loved him.
The reality is the Post has tried many things in the
last two decades. Some worked, but none was the holy grail. The internet
robbed the Post of lucrative print advertising as readers moved
online and circulation dwindled from a high of 830,000 in 1994 to today's
474,767. Craigslist ate away at the once reliable cash cow, classified
ads. During the last seven years, the Post Company's newspaper division
has seen a 39-percent drop in operating revenues. The future isn't looking
any better.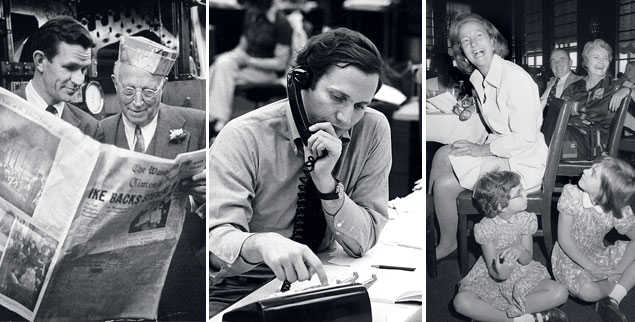 Twenty-one years ago, Bob Kaiser attended an Apple-organized
conference in Japan on the "future of multimedia." No one at that
gathering predicted the demise of newspapers. But on August 6, 1992,
Kaiser sent a memo to Post higher-ups.
"All saw an important place for us," Kaiser wrote about the
conference attendees. ". . . But if newspapers are not about to become
extinct, I came away convinced that inevitably, more and more people will
want to use their computers to consume our products. As the number of such
people grows, so do our business opportunities."
One suggestion he pushed was electronic classifieds: "Would
someone looking for a reliable car for a kid going to college prefer our
current [print] listings, or a list of all small cars with less than
60,000 miles selling for $5-7,000?"
He got nowhere. "The business side showed no interest in what I
said about classified ads," he says. "They didn't want to cannibalize our
own product. Tragic mistake. We might have been Monster.com."
Kaiser had some success. He recommended creating an electronic
version of the paper, which the Post did; that eventually evolved
into Washingtonpost.com.
Steve Coll, who worked at the paper for 20 years, including as
managing editor from 1998 to 2004, insisted the Post should
capitalize on its national brand—about 80 percent of online readers came
from outside the Washington area, a figure that's risen to 90
percent—rather than focus all its energies on the local franchise. Graham
disagreed. Coll left the Post, later telling Vanity Fair
he didn't want to be "managing decline."
"Don worked that problem with greater patience and creativity
than most publishers," Coll says today. "He invested in web and digital
strategies. He brought in experts from Silicon Valley. He brought [media
executive] Barry Diller onto the board. He put technologists on the
problem. He tried to think outside the lines about advertising
models."
The truth is that no newspaper has figured out how to monetize
the internet.
"I appreciate why he called time on his own effort," Coll says.
"He felt he had done as much as he could."
• • •
It's easy to second-guess. If only Graham had been more
hard-nosed in 2005. That's when Facebook founder Mark Zuckerberg, after
receiving a higher offer, asked to get out of a handshake deal with Graham
for the Post Company to invest $6 million in Facebook. Graham released
him. If he hadn't, the Post's stake might be worth $7 billion,
according to PrivCo, a firm that researches private companies. The
agreement would have given the Post Company the deep pockets it
needed.
If only Graham had bought more Berkshire Hathaway stock when he
met Warren Buffett in 1974. The stock was selling for $50 a share; at
press time it's $170,500. "That was a much bigger miss than Facebook,"
Graham said in an interview on WAMU.
But the real problem the Post had—and why it had to be
sold—was that its owners failed to find a business model that would
satisfy their shareholders.
In 1971, the Graham family took the company public. The stock
opened at $26 a share. The paper did well financially until the digital
revolution. Owning Kaplan, the highly profitable education company, helped
the Post through the tough times until Kaplan started to lose
money in 2010 when government regulators cracked down on the for-profit
education industry.
Graham and other executives and editors experimented. But
quarter after quarter, the board and shareholders wanted to see their
stock rise, not lose value. They were looking at the seventh year of
declining revenues.
"How many public failures you can have is affected by
shareholder reaction," says Jim Brady, executive editor at the
Post's website from 2004 to 2009 and now editor-in-chief of the
privately held Digital First Media. "At a private company, you can
reorganize, restructure, try some things. If it doesn't work, you live for
another day." A private company, depending on the owners, can afford to
make mistakes without shareholder pressure.
The Post, according to media analyst Ken Doctor, ran
out of three key commodities: time, money, and ideas. "They didn't have to
sell immediately," Doctor says, "but depending on family and board
pressures, they knew there would be more cutting coming, given the
downturn in print advertising."
Doctor says the 11-member Post Company board helped force the
reckoning.
"I knew there were some rumblings, especially through the board
of directors," says longtime Post reporter and editor Bob
Woodward of the sale. "Directors have to represent the stockholders. They
are looking at this asset dwindling in value. If you look at it strictly
as a business issue, you've got to do it."
• • •
According to a Post insider, the idea of selling began about
two years ago when Katharine Weymouth went to her uncle, who replied,
"Absolutely not."
"Katharine flew to Omaha sometime last year to see Warren
Buffett," this person says. "The thing she and Don agreed on was they
needed to find out what Buffett had to say. You have to understand the
extent that he is a guru to Don."
Buffett owns 28 percent of Post Company stock. He was a friend
and mentor to Katharine Graham and is a father figure to Don, who at age
18 lost his dad, Philip Graham, to suicide.
"Katharine [Weymouth] lays out the situation financially and
asks Buffett for his advice," the insider explains. "Buffett said to her,
'If you were my daughter, I would tell you to get out.' "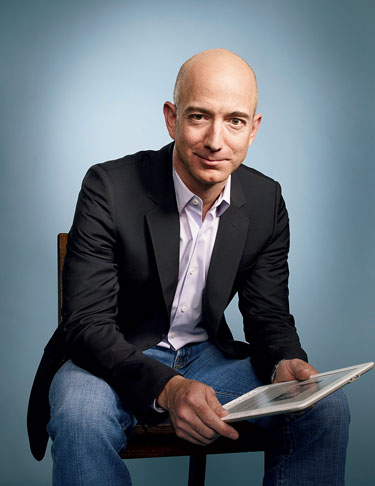 Weymouth presented the idea at a lunch with Graham at DC's
Bombay Club in late 2012, according to a Post account. "That
meeting triggered months of remarkably quiet maneuvering for a company
that ordinarily prides itself in dragging other people's secrets into the
light," wrote Craig Timberg and Jia Lynn Yang in an August 6 Post
article.
"The Post is [Don Graham's] baby," Weymouth said in
the story. "He was not going to give his baby to anybody who he thought
would not care for it properly."
Leslie Hill understands such a decision. Hill is a member of
the Bancroft family that held more than half of the voting stock for Dow
Jones, which owned the Wall Street Journal. "For me it was very
emotional," Hill says of the Journal's 2007 sale to Rupert
Murdoch. "Your family has had this asset for 105 years, and it's being
sold on your watch."
Hill says she knew for a number of years that the
Journal had to be sold because it wasn't going in a direction
that could be sustainable, let alone profitable: "That said, it's very
difficult to say the time to sell is right now." It was especially hard
because Hill didn't want to sell to Murdoch.
Sarah Ellison covered the Journal's sale as a reporter
for the same paper, and she wrote a book about it. Last year, Ellison
profiled the Post for Vanity Fair. "With every sale of a
family paper, there comes a moment when the family believes the paper will
be better off under someone else's ownership," Ellison says. "That's what
they believe to get themselves over this hump. That's what the Bancrofts
did. I imagine that's what Don was thinking. It's a pretty startling thing
to come to grips with if you are born into the paper with all the
expectations that Don had."
Allen & Co., an investment firm, was hired to help find a
buyer. Graham said on PostTV, the paper's video arm, that there were fewer
than a dozen prospective buyers. Allen & Co. contacted Jeff Bezos in
March or April, but the discussion didn't seem to go anywhere. Then in
July, Graham attended Allen & Co.'s media conference in Sun Valley,
Idaho, and met with Bezos twice. Eventually, they reached a
deal.
It's poignant that the moguls came to an initial agreement in
Sun Valley, where Graham's mother, Katharine, died in 2001 after falling
while attending the same conference.
• • •
Don Graham, many say, likely spoke to few about selling his
baby.
"When I asked him to talk about past decisions in his life, he
very often literally would talk to no one before doing something," Peter
Perl says. "He didn't tell anybody until he made the decision [in 1967] to
go to Vietnam and had already signed up. He didn't tell his wife. It's not
a chatty family."
On August 5, Post Company directors approved the sale in a
conference call. Director Dave Goldberg, CEO of SurveyMonkey, said in an
e-mail that the directors weren't allowed to talk about the details.
Because the company is publicly held, under SEC rules it had to make the
sale public immediately. So Graham and Weymouth hastily convened their
employees.
It has all the tragedy of a 19th-century novel, says New
Yorker editor and former Postie David Remnick. Graham tried to do
everything right, and for years he succeeded. "And then along comes a
technological revolution that throws it all into chaos," Remnick says by
e-mail. "And then, because he sees no good future for his company or for
the paper, he sells it—to a leader of that revolution."
Adds Steve Coll: "Selling the paper doesn't diminish the
achievements of his lifetime, but it's not the way Don wanted it to
end."
Alicia Shepard (aliciacshepard@gmail.com) is a media writer
and the author of Woodward & Bernstein: Life in the Shadow of
Watergate.
This article appears in the October 2013 issue of The Washingtonian.