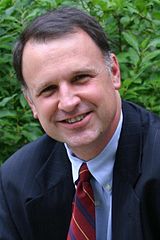 Virginia State Senator Creigh Deeds is in critical condition after he was stabbed inside his home, and his son, Gus, was found dead from a gunshot wound inside the Bath County residence, the Richmond Times-Dispatch reported.
Deeds, according to Virginia State Police, was flown to the University of Virginia Medical Center in Charlottesville after being discovered about 7:25 AM. Police are still trying to determine the sequence of events that led to Deeds's stabbing and his son's death. A press conference is scheduled for noon.
Deeds, 55, has served in the Virginia state legislature since 1991, the last 12 years as a state senator. He was the Democratic Party's nominee for governor in 2009, when he lost by a wide margin to current Governor Bob McDonnell.
Gus Deeds attended the College of William and Mary. In 2009, at the age of 20, he was arrested for underage possession of alcohol.
UPDATE, 1:22 PM: Creigh Deeds suffered multiple stab wounds to his head and torso in this morning's attack, Virginia State Police spokeswoman Corrine Geller said at a news conference Tuesday afternoon. Deeds is recovering from "serious injuries" at the University of Virginia Hospital, but he has been able to speak with investigators, Geller said.
Geller also said that when police responded to Deeds's home, his son, 24-year-old Gus, was suffering from a life-threatening gunshot wound and died on scene. Police are not looking for a suspect, but have said little else about what led to the violence at the one-time gubernatorial candidate's residence.
"There is still a lot of work to be done," Geller said.
UPDATE, 4:30 PM: "We are looking at this as an attempted murder and suicide," Geller said at another news conference this afternoon. Police investigating the case are still determining the course of events that led to Tuesday morning's incident. Creigh Deeds's condition has improved from "critical" to "fair," authorities said.
The Times-Dispatch also reports that Gus Deeds was released from a hospital Monday following a mental-health evaluation he was ordered to undergo as part of an emergency custody order. The order allowed mental health officials to hold him for up to 48 hours, but he was released because there were no available psychiatric beds in western Virginia.