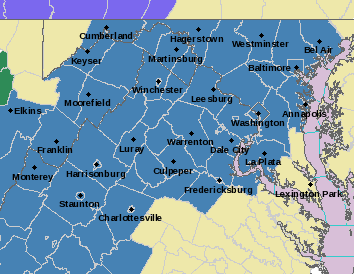 Get ready for a Sunday full of snow, ice, and other frosty unpleasantness. The National Weather Service is putting the entire Washington area on a winter storm watch this weekend, and based on the latest forecast, it's going to be a perfect mess of every kind of wintry precipitation.
A winter storm front will move into area Sunday morning, delivering between one and two inches of snow and sleet, along with another quarter-inch of ice, according to the NWS. The storm is expected to transition to freezing rain on Sunday evening, and then regular rain by Monday morning. (Though with a forecasted high of 44 degrees on Monday, it'll still feel pretty cold.)
The slow-moving storm means that football fans headed to FedEx Field to see Washington play the Baltimore RavensKansas City Chiefs could tailgate in the snow and watch the second half in the sleet and freezing rain. But the Washington Post's Capital Weather Gang predicts that the worst of it will fall to the north and west of the city, with some parts of Maryland bracing for as much as four inches of snow, ice, sleet, and other cold muck.
The DC Department of Public Works says it will deploy more than 200 snow plows on Sunday morning, and is asking residents to stay home rather than attempt to drive in freezing rain.
The winter storm watch begins Sunday at 9 AM and continues through Monday at 7 AM.