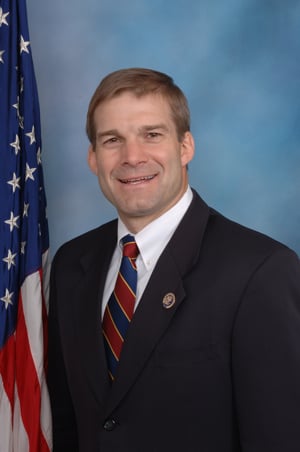 What the District really needs is more guns for all of its residents, according to Representative Jim Jordan. The Ohio Republican introduced a bill this week that would repeal DC's gun laws, which are among the strictest in the nation, but leave the gun laws of the states untouched.
Jordan pulled this stunt before in February 2011, shortly after the Republicans took over the House of Representatives. His bill, "To restore Second Amendment rights in the District of Columbia," would remove just about every firearm restriction DC has on the books, from the types of weapons allowed to waiting periods to background checks.
A press release from the 2011 version of the bill stated that it "would repeal the DC semiautomatic gun ban, restore the right of self defense in the home, authorize D.C. residents to purchase firearms and ammunition, repeal overly-restrictive registration requirements and ensure that firearms may be transported and carried for legitimate purposes."
Jordan's bill was referred to the House Oversight Committee, which has jursidiction over the District's internal affairs. If it's anything like it's predecessor, it will die a quiet, legislative death. Still, DC officials aren't taking it lightly.
"The timing of this bill, as we remember the victims of the tragic Newtown shooting and their families, is especially insulting and out of line," Delegate Eleanor Holmes Norton said in a statement.
Mayor Vince Gray's spokesman Pedro Ribeiro says Jordan is distracting himself from more pertinent issues. "Rep. Jordan's time would be better spent working to solve the federal government's budget impasse," he writes in an email. "I very much doubt that the 38,100 unemployed Ohioans who will lose their unemployment benefits on December 28 if a deal is not passed are interested in the District's local gun laws."
Jordan's office did not respond to requests for comment.
But Jordan, who chairs the arch-conservative Republican Study Committee, could become a more familiar name to District residents in the future. His staff has been telling newspapers back in Ohio that he wants to take over the House Oversight Committee when current chairman Darrell Issa—who shows interest in the District beyond turning it into the OK Corral—steps down.