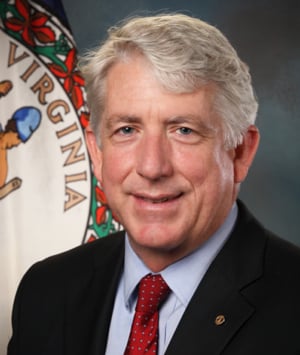 A federal judge on Thursday struck down Virginia's ban on same-sex marriage, writing that the state constitution amendment adopted by voters in 2006 violates the 14th Amendment of the US Constitution.
The ruling issued by Judge Arenda Wright Allen of US District Court in Norfolk, is the latest federal rebuke of a state-level prohibition on same-sex marriage and is certain to push marriage equality toward the Supreme Court again. Wright Allen stayed her ruling pending an appeal, meaning that gay and lesbian couples in Virginia cannot start marrying just yet.
Although her ruling cannot take effect, Wright Allen's opinion was particularly strong, opening with a long quote from Mildred Loving, a plaintiff in the 1967 Supreme Court case that overturned Virginia's ban on mixed-race marriages.
"Justice has often been forged from fires of indignities and prejudices suffered," Wright Allen wrote. "Our triumphs that celebrate the freedom of choice are hallowed. We have arrived upon another moment in history when We the People becomes more inclusive, and our freedom more perfect."
The case, Bostic v. Rainey, was filed last year by a gay couple in Norfolk whose request for a marriage license was turned down. Virgina's new attorney general, Mark Herring, said on January 23 that the state would no longer defend the marriage amendment, a reversal from his predecessor, Ken Cuccinelli. The plaintiffs are being represented by David Boies and former Solicitor General Ted Olson, who also represented the California couples in last year's Supreme Court case that brought down that state's same-sex marriage ban.
"This decision is a victory for the Constitution and for treating everyone equally under the law," said Herring, who filed a brief in support of the plaintiffs after switching the state's position. "The legal process will continue to play out in the months to come, but this decision shows that Virginia, like America, is coming to a better place in recognizing that every Virginian deserves to be treated equally and fairly."
Bostic Opinion by Benjamin Freed