Just how water-logged did Washington become from Wednesday's torrential rains? More than it has in 50 years, according to the US Geological Survey.
A USGS water monitoring station at Little Falls on the Potomac River recorded the volume of water rushing by at 85,700 cubic feet per second yesterday evening, more than five times the average rate of 16,400 cubic feet per second. Yesterday's levels are the biggest deluge on the Potomac since 1964, when the USGS measured the discharge rate at 86,200 cubic feet per second.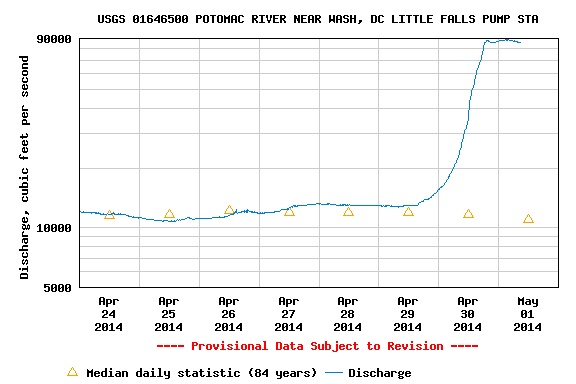 The storm caused flooding throughout Washington, especially in Prince George's County and Alexandria. Rock Creek swelled to historic levels, too, with a water monitoring station in Rock Creek Park observing a flow of 1,810 cubic feet per second, compared to an average of 41.
But the inundation seen this week is nothing compared to March 19, 1936, when the USGS charted 484,000 cubic feet of water per second at Little Falls, caused by a late-winter snow melt in the Allegheny Mountains that flooded Pittsburgh and wreaked havoc downstream.