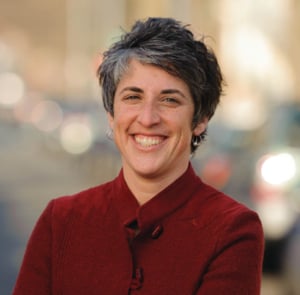 With David Catania seemingly ready to abandon his seat on the DC Council to run for mayor, it turns a once-secure position into a free-for-all, with former Washington City Paper reporter Elissa Silverman entering the race.
Silverman telegraphed her entry into the race last month when she left her job at the DC Fiscal Policy Institute, a lefty think tank, and made her intentions official on Monday. It'll be her second run for the Council, after she came in second in a special election last year to Anita Bonds.

But this run is a bit different. Catania, a Republican-turned-independent, occupies one of the Council's two at-large seats reserved for members who don't belong to the majority party. Silverman, a former Democrat, dropped her party affiliation last month, further signaling her intention to go after Catania's current job.
Although she's now a registered independent, Silverman's progressive bona fides appear to be intact: as she did last year, she plans to refuse corporate contributions, a tactic that should endear her to followers of Tommy Wells, the Ward 6 Council member who ran for mayor on a similar plank. Some of Wells's followers had wanted him to quit the Democratic Party in order to pursue Catania's at-large seat but Wells, whose term expires at the end of the year, told Greater Greater Washington yesterday his time as a local legislator is done.
"The Council needs an infusion of fresh leadership, and I need to apply my Council experience to new challenges," Wells said.
Wells standing down gives Silverman an opportunity to consolidate the city's progressive voters, but the race is still crowded with would-be Council rookies. Besides Silverman, the field also includes Robert White, a former staffer to Delegate Eleanor Holmes Norton; Khalid Pitts, the owner of Logan Circle's Cork Wine Bar; Brian Hart, an advisory neighborhood commissioner in Adams Morgan; Eugene Puryear, the Statehood Green Party's nominee; and the Rev. Graylan Hagler, who led an unsuccessful campaign last year to force Walmart and other large retailers to pay increased minimum wages.
And if the at-large contest isn't busy enough, it may also get the entry of Yvette Alexander, who represents Ward 7, but expressed interest last month in campaigning citywide.