Despite weeks of toned, flexible protestors jamming Freedom Plaza and even a stipple portrait of a woman in a power vinyasa position on the front page of the Wall Street Journal, the District's so-called "yoga tax" survives.
Starting October 1, gym memberships, fitness classes, tanning salons, car washes, water deliveries, carpet cleaners, storage lockers, and bowling alleys will start adding a 5.75 percent sales tax to their services, under a fiscal 2015 budget the DC Council is set to approve Tuesday. Although the sales tax expansion clearly covers much more than personal wellness regimens, all the public opposition came from the fit set. A group of several dozen gym rats attended today's Council session, dressed in neon green T-shirts reading "Don't Tax Wellness."
Council member David Catania tried to derail the sales tax with a last-minute amendment that even got the support of his mayoral rival, Muriel Bowser. Only two other members voted for the amendment, meaning that, with the budget's passage, gym memberships and carpet cleanings will cost a bit more starting next year. Here's what it means for you:
Why is the Council doing this? Is this a war on the physically fit?
Uh, no. A tax-revision commission last year led by former Mayor Anthony Williams suggested numerous changes to the District's tax code. Williams, who liked to show off his beach body when kicking off public pool season while he was in office, recommended lowering income taxes for most individuals and businesses, but the lost revenue would need to be offset by other taxes. The new sales taxes are expected to put $67 million back into city coffers.
Income tax cut? That sounds good.
District residents who earn up to $1 million will start seeing local income tax cuts in 2015. The rate for workers who earn between $40,001 and $60,000 will decline to 6.5 percent, residents who make between $60,001 and $350,000 will pay 8.5 percent. Currently, anyone earning between $40,001 and $350,000 pays 8.5 percent. People who make between $350,000 and $1 million will pay 8.75 percent, a .2 percent drop, while incomes over $1 million will stay taxed at 8.95 percent.
The tax cuts will phase in over a five-year period. When they take full effect, someone making about $75,000 a year, for instance, will see about $800 additional in their bank accounts. That's a nice chunk of extra cash you can spend on things like gym memberships.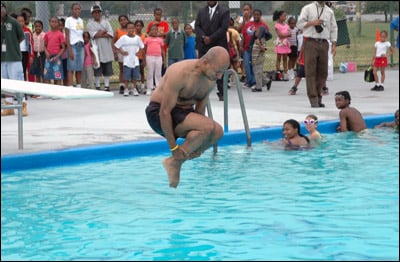 Seriously, though. Isn't taxing gym membership going to turn DC residents into a bunch of fat slobs?
Probably not. For starters, the District is relatively healthy compared to the rest of the country, with an adult obesity rate of 21.9 percent, according to the Robert Wood Johnson Foundation. (Only Colorado is trimmer.) But even adding a slight sales tax to gym memberships and fitness classes does not constitute a full-scale attack on the wellness industry, says Jenny Reed, the policy director for the DC Fiscal Policy Institute, which supports the tax revisions.
"If gym membership is $70 a month, we're talking about adding no more than $4 a month," Reed says. "What we're talking about is broadening the base of the sales tax so we can lower the overall tax base."
Under the full tax rewrite, the effective tax rate for all DC taxpayers drops from 4.9 percent to 4.5 percent.
Reed also notes that in the bigger picture, there's not really any such thing as a free workout. People running on the Mall still pay the taxman when they buy their gear.
"When you buy those running shoes, you pay sales tax," she says. "And that hasn't deterred people from running."
What does Mayor Vince Gray think?
Gray is pretty down on the Council's budget overall. He's steamed that it slashes long-term funding for the streetcar, but Council Chairman Phil Mendelson has said the streetcar has been overfunded for years. Gray's no fan of the "fitness tax" either.
"I do not support a tax on healthier living," Gray writes in a letter to Mendelson. "Whatever modest amount of additional revenue we take in in the short term, we will end up paying far more in the long run if we tax fitness."
Council member Jack Evans says the sales tax expansion is "making us a joke." Is he right?
He should look for better sources of humor. Twenty-two states tax gym memberships, including Minnesota, Connecticut, New Mexico, and Hawaii, which all rank in the top ten of least obese states. But a national paper like, say, the Wall Street Journal, putting DC's "fitness tax" debate on A1 makes for good fodder. You know which city already applies sales taxes to gym memberships? New York, home of the Wall Street Journal.
What about gym owners who say a sales tax will thin their membership rolls?
Hey, if it does, at least you won't have to wait in line for the Nautilus machine. But Reed says that's unlikely. Besides, gyms are businesses, too, and they're getting a tax cut as well. Along with the sales tax expansion and personal income tax cut, the District's new budget also reduces the business income tax from 9.975 percent to 8.25 percent.
The tax revisions are supported by DCFPI, a left-wing think tank, and the DC Chamber of Commerce, two groups that rarely agree on anything. Council members received a letter Monday signed by Williams, DCFPI executive director Ed Lazere, and Chamber of Commerce CEO Harry Wingo urging them to keep the rewrites intact, "fitness tax" and all.
"I'm not sure there's ever been a joint letter," Reed says.
So is the debate over?
Eh, maybe not. As soon as his amendment failed, Catania pumped out a statement saying that if he's elected mayor, his first budget will remove the sales tax on gyms. "As mayor I will submit an FY16 budget that will repeal the Wellness Tax," he writes on Twitter.