Erika Elko is a coach and VP of business development at Adams Morgan's Solidcore studio, as well as a yoga teacher and an avid proponent of healthy living. But she wasn't always so health-focused. At age 11 she was diagnosed with Crohn's disease, which affects the gastrointestinal tract, and struggled for a long time with her diet and medications. "I used to eat a ton of sugar, dairy, and processed, out-of-the-box foods. I was constantly sick with stomach issues, tired, moody, and never felt my best," she says. "I was so sick for so long I actually forgot what it felt like to feel good."
Eventually, Erika figured out how to use food to help, not hurt her. She now sticks to a diet full of whole, unprocessed foods that helps her manage her Crohn's disease without medication—but she still indulges in the occasional square of dark chocolate to curb her once insatiable cravings for sweets.
Those natural foods give her the energy to keep up with her busy lifestyle, which includes a tough personal workout regimen. "I do everything from running, biking, and swimming to yoga and lots of Solidcore," she says. "I love to mix it up and keep my body challenged."
Read on for a look at Erika's typical routine and diet.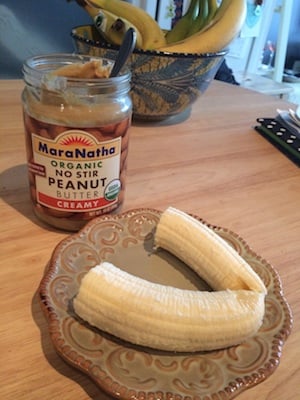 Pre-workout snack (5:45 AM): "I wake up every day starving. This morning, I swam 2,500 meters, so I fueled myself with a banana and a spoonful of peanut butter. This is my all-time favorite snack—it's easy, it tastes good, and the natural sugars from the banana and fat and protein in the peanut butter are enough to keep me going during my workout. If I do not have at least two dozen bananas in my kitchen at all times, something is seriously wrong."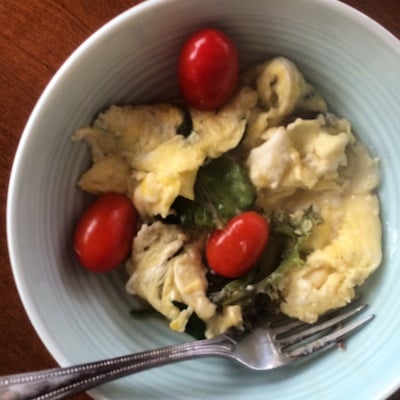 Breakfast (7:30 AM): "After my workout, I scrambled two whole eggs and added spinach and grape tomatoes. Something else I always have in my fridge: lots of greens and veggies. Adding them here and there throughout the day makes it easier to get in all your daily servings."
Coffee (not pictured): "Every day I get a Starbucks Venti blonde roast. Today I ordered mine black and added almond milk when I got to the office. Crohn's patients typically should stay away from coffee, as it is highly acidic, but it never has given me issues."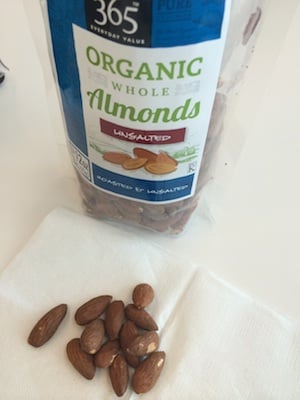 Snack (10 AM): "I can never make it to lunch without a snack, especially with a morning workout. My other go-to snack is roasted, unsalted almonds. I go through about a bag a week. They are easy to grab and, again, taste delicious!"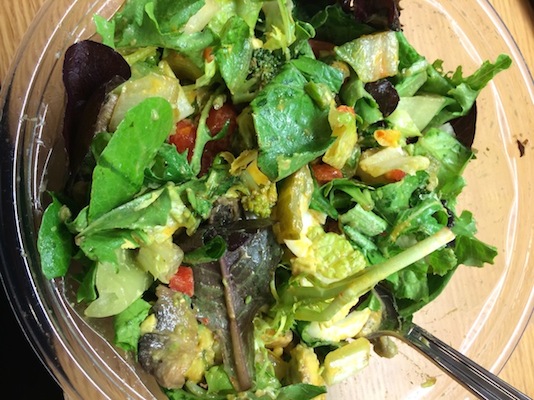 Lunch (11:30 AM): "Okay, I made it to 11:30 for lunch. Today I had a Sweetgreen salad. They are filling, fresh, and use local and organic ingredients. I create my own with mesclun mix greens, tomatoes, avocado, a hardboiled egg, mushrooms, broccoli, green and red peppers, spicy pickles, and carrot-chili vinaigrette."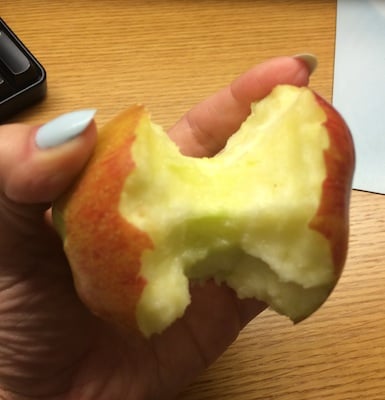 Afternoon snack (4 PM): "For mid-afternoon nourishment, I usually reach for an apple. My favorites are Honeycrisp, but I had a fresh Braeburn on hand today. Since quitting sugar, fruits now are enough to satisfy my sweet tooth, plus they're high in fiber, which means filling and great for the digestive system."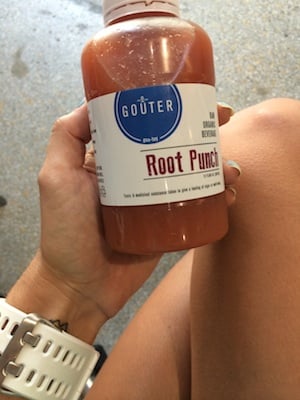 Post-workout snack (7:30 PM): Goûter Tonic in root punch flavor. "I worked out at Solidcore after work. It's one of the hardest workouts, so I like to hydrate and supplement my body immediately afterwards. I drink at least one of these tonics a day, to help refuel, refresh, and revitalize myself."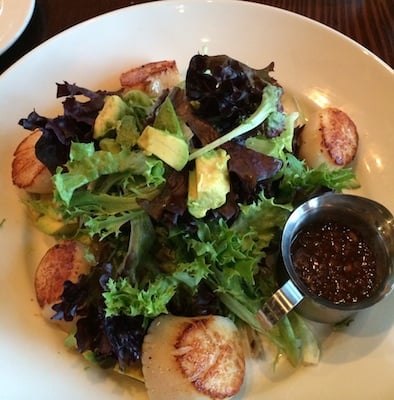 Dinner (8:15 PM): "I had dinner plans tonight, so I went out—a rarity on weeknights for me, since I usually get home late and make myself something quick. I treated myself to a green salad with seared scallops and extra avocado. The dressing used on the side was made from yuzu—delicious!"
Disclaimer: The Food Diaries series is intended to be inspirational and is not an endorsement of each individual's diet.
Are you a local health, nutrition, or fitness expert with a love of food? Keep a food diary for us! E-mail wellbeing@washingtonian.com for details.