Are you a local health, nutrition, or fitness expert with a love of food? Keep a food diary for us! E-mail wellbeing@washingtonian.com for details.
If you ever find yourself lacking motivation to work out, Danny Metcalf has a solution. This recent Cornell University grad, swimmer, and two-time Ironman triathlete is one of the founders of the November Project DC, a grassroots fitness movement that aims to keep adults on their fitness track through a team-sports mindset. The local "tribe" started in 2013 with five people and has grown to attract some 350 participants to its early morning workouts. (For more information, read Well+Being's review of the November Project.) And that's not his only fitness endeavor—since moving to DC, Danny was selected for the Collegiate Recruitment Program of the USA Triathlon Team, an incubator for Olympic triathletes.
He is also the cofounder of a local nutrition bar startup called PravAha Vita (soon to be Mission Bar), based out of Union Kitchen. The concept is to provide athletes with natural alternatives to the highly processed, additive-laden foods athletes are sometimes forced to rely on—think bars made with ingredients such as quinoa, dehydrated coconut water, and chia seeds.
Danny believes nutrition, like fitness, should be for everyone: "I don't make it out to be rocket science; I eat natural and listen to what my body tells me," he says. Read on to see how that philosophy translates to his diet—even when he starts his day at 4:15 AM.
Pre-November Project snack: A banana and a cup of coffee before running to the Lincoln Memorial to lead a tough stair workout, to "start the engines and flush the oil."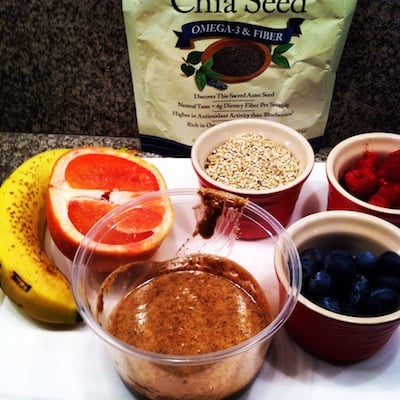 Breakfast: Steel-cut oats, fresh fruit, and chia seeds with almond butter, and a grapefruit on the side. "I believe in consistency in my meals—I always know what I'm putting in and how my system will react. I have been eating the same breakfast for years. As for java, I'm a Portland native, so Stumptown is the way to do it. Since it's summertime, blueberries and raspberries are going in with the banana."
Pre-swim snack: "Before completing a 5K swim, I eat a Mission Bar. Made with quinoa, almond butter, and dehydrated coconut water, it contributes sodium, potassium, and the right amount of complex carbs and protein, and doesn't 'sit heavy' the way other bars do."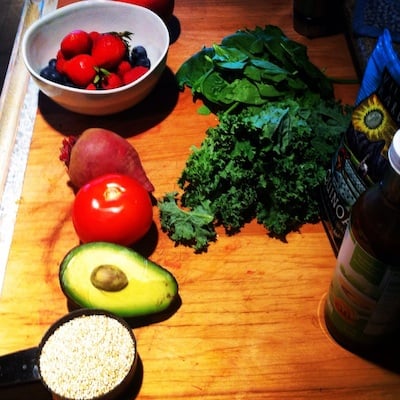 Lunch: Summer salad. "Since my fridge was stocked with summer berries, I went with a summer salad, another college staple. I added beets to quinoa and let them cook together—it saves a pot, and you get red quinoa when you're done! After refrigerating the cooked quinoa and beets, I added blueberries, apple, strawberries, kale, spinach, avocado, chia seeds, olive oil, balsamic vinegar, and salt and pepper. I ate it out of the pot, because plates are overrated."
Midday snack: "Today I went with muesli, almond butter, and an apple—simple, filling, quick, sustaining. I gulped it down with a Trilogy Kombucha."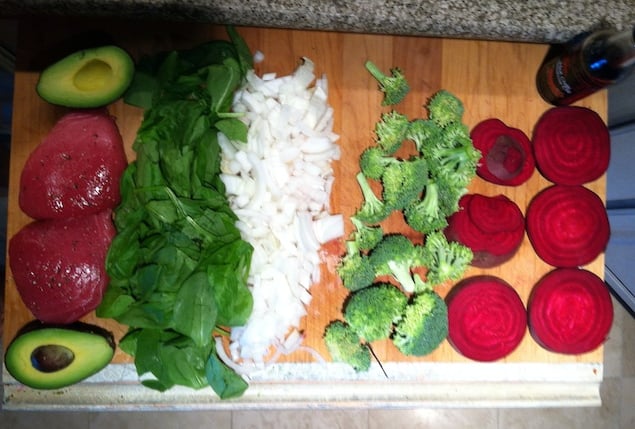 Dinner: Seared tuna and vegetables. "After a round of yoga, for dinner I like to eat more proteins and fats to give my body what it needs to recover overnight. Tonight was seared (more like raw) tuna in sesame oil, garlic, all the veggies in the house, wasabi, Sriracha, snap peas, edamame, avocado, and some almond slices. Carbs, fats, and proteins, balanced and easy. (I eat out of pots and bowls exclusively.)"
Dessert: Ice cream. "After a day of training and working, my girlfriend and I split a pint of Ben & Jerry's."
Disclaimer: The Food Diaries series is intended to be inspirational and is not an endorsement of each individual's diet.