Are you a local health, nutrition, or fitness expert with a love of food? Keep a food diary for us! E-mail tpai@washingtonian.com for details.
On busy days, feeding yourself can be challenge enough—but throw in toddler taste preferences and prenatal nutrition concerns, and a simple meal can turn into quite the headache. As a holistic health coach and mom of two-year-old Jack, Cathy Fenwick has developed some strategies to ease the process, which she teaches to other moms through her business, Umami Health. Says Fenwick, "I don't believe in fad diets, deprivation, or counting calories—none of those are fun! I believe in real, delicious, and nutrient-dense foods." She and her husband have made unprocessed foods the focus of their son's diet from day one, and while he still shows "some of those unavoidable picky toddler tendencies," he also loves snacks such as chickpeas and sauerkraut. Because Cathy is also six months pregnant with her second child, she tries to incorporate plenty of healthy fats and nutrient-dense foods, plus "tons of water" every day.
Running after an energetic toddler keeps her active, but Cathy also makes sure to walk at least half an hour each day, incorporate family activities such as hiking into her family's weekend schedule, and fit in yoga and swimming sessions when she has time. Read on for a look at how she feeds herself—and her son—on a typical day.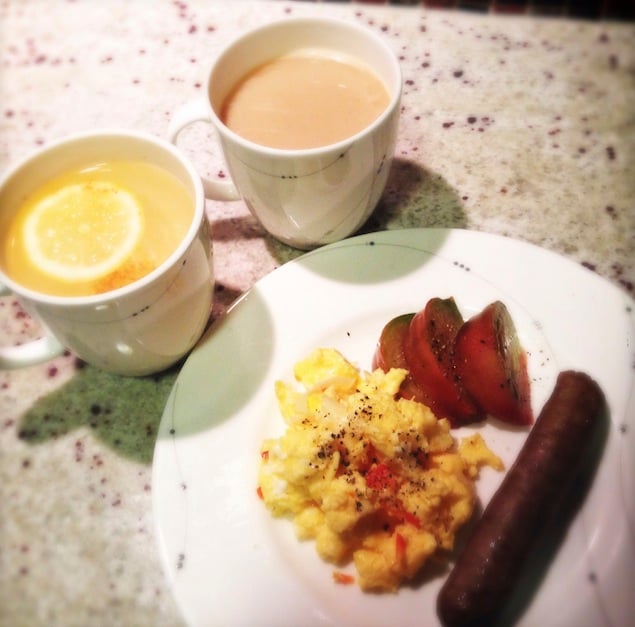 Breakfast: "When I wake up, I drink a cup of warm water with honey and lemon—it's a great way to rehydrate your body after a night of sleep, as well as kick-start your liver and digestive system. My husband, son, and I eat breakfast together at home, and it's a rotation among eggs, oatmeal, or yogurt; today was scrambled eggs with red pepper, cheese, turkey sausage, and some sliced tomatoes. I also love a cup of decaf black tea with honey and milk in the morning."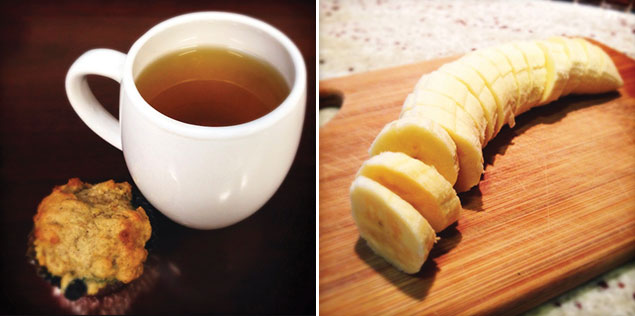 Snack: "I usually get hungry mid-morning, especially now that I'm pregnant. I snacked on a home-baked blueberry muffin made with whole wheat flour, honey, coconut oil, and Greek yogurt. I always like to have a cup of green tea, too. Since Jack eats breakfast fairly early (usually by 7), a banana around 9 keeps him going through lunchtime. He's obsessed with 'nanas,' so it's a banana each day—why mess with a good thing?"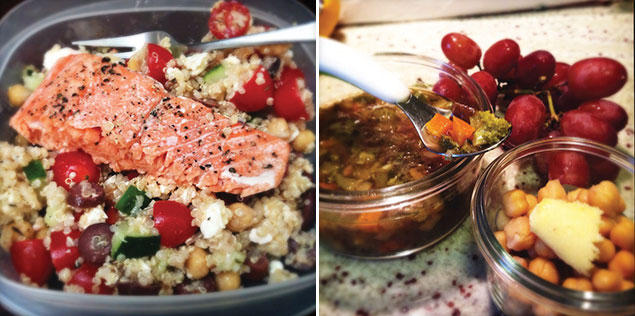 Lunch: "I typically have a salad for lunch. It's easy to make a bunch in advance so I have it ready to go throughout the week, and salads are a great way to get in your leafy greens and veggies. I added some salmon left over from last night's dinner. My go-to dressing is olive oil, lemon juice, and Dijon mustard—I don't use store-bought dressing because of all the additives and unpronounceable ingredients.
"I make soup at least once a week, and that increases significantly in the fall and winter. I use a homemade bone broth as the base for most—it's easy to make in a crockpot (but takes about two days of cooking), and has a ton of minerals and vitamins that are great for our digestive system, immune system, and bones. I'm not too scientific about soups; I just chop whatever veggies I have on hand and simmer them in the bone broth, and sometimes add some chopped meat or little pasta. Chickpeas are a fun finger food and make a great protein-rich snack for kids. I add grass-fed butter and/or sea salt for extra nutrients and flavor—I don't think kids need to eat bland foods."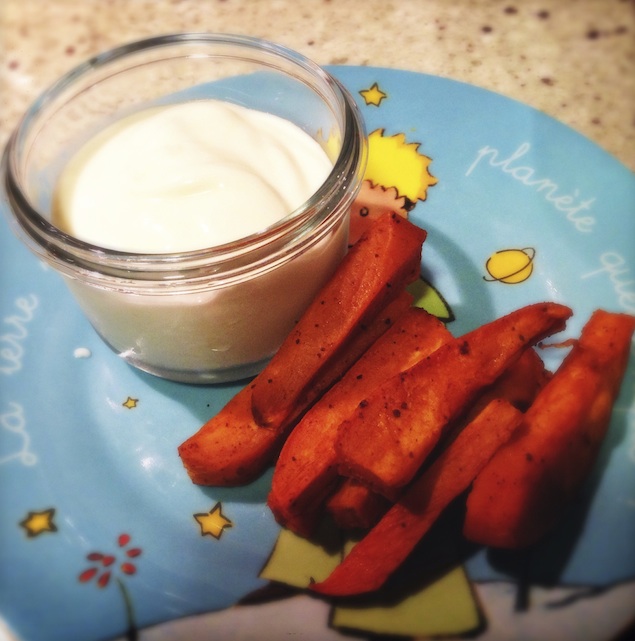 Snack: "I can't make it to dinner without a pretty substantial snack. Sweet potato fries baked with coconut oil and cinnamon are chock-full of nutrients and almost like eating dessert, and smoothies are an excellent way to sneak in leafy greens and other fruits and veggies. I made this one with kale, banana, blueberries, pineapple, and coconut water, with ground flaxseed for omega-3s and coconut oil for healthy fat. Jack had a yogurt—I don't buy the flavored kind, since it's full of sugar, additives, and other flavorings. We buy full-fat, plain yogurt (ideally from grass-fed cows) and eat it plain or top it with fruit and nuts."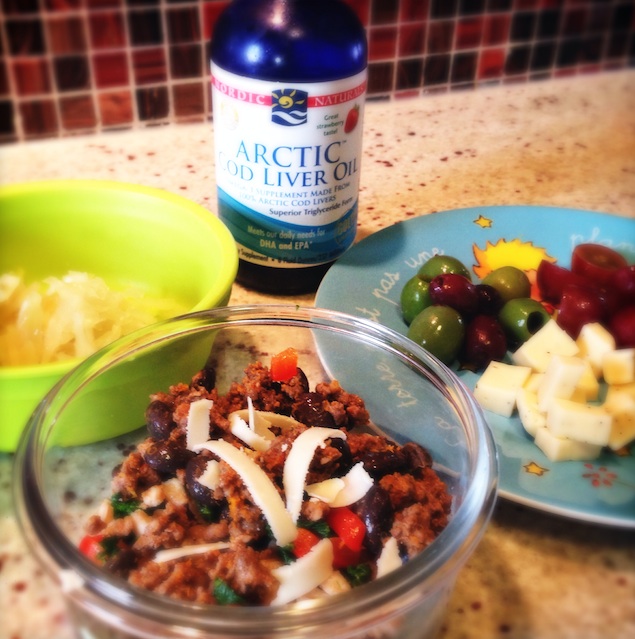 Dinner: "We try to eat dinner together each night, but that can be hard given that my son eats early and often we're not all home for his dinner time. If I plan simple meals that are easy to reheat, it's more likely to happen. We eat a variation on a Mexican rice bowl each week—this time I used farro and included ground beef and black beans for protein. Toppings included avocado, salsa, sautéed onions and peppers, and mustard greens. I never get tired of this meal, and it's great for lunch, too. I like to drink kombucha with dinner—it's a fermented tea so helps with digestion, and it's fizzy, so it's almost like drinking a wine spritzer. I also take some liquid cod liver oil for extra omega-3s and vitamins A and D, which are particularly important in pregnancy. Fortunately, my son's a good eater, but I feed him in courses or else he'll eat only his favorite food. He's loved sauerkraut ever since he first tasted it at eight months, and it's great for boosting his good gut bacteria and immune system.
"We don't eat dessert unless we go out to dinner for a special occasion, but I do like something sweet, so fruit or some dark chocolate is my go-to. Jack likes to finish off his meal with some fruit, cheese, and olives. He also gets a teaspoon of cod liver oil—I buy the strawberry flavor, and usually he asks for more!"