Leave it to Septime Webre to turn the ghostly tale about a decapitated equestrian into a ballet about "karmic guilt." On February 19, the Washington Ballet artistic director presents the world premiere of Sleepy Hollow, an adaptation of Washington Irving's 1820 short story. It's the third in the company's American Experience Project, which translates American literary works into dance. Previous productions have included The Great Gatsby and Hemingway: The Sun Also Rises. " 'The Legend of Sleepy Hollow' is America's first great ghost story," says Webre, who's celebrating 15 years with the ballet. "It's a riveting and very efficient story with fodder for great theatricality."
Webre beefed up Irving's slender tale with what he calls "a grown-up backstory" to explain how the Headless Horseman came to haunt Ichabod Crane (hence that karmic retribution). He then partnered with New York composer Matthew Pierce and costume designer Liz Vandal—both of whom also collaborated on 2012's Alice in Wonderland, which returns to the KenCen in May—to bring his vision to life. (In the hands of Vandal, who has designed for Cirque du Soleil, the Headless Horseman costume involves a flying cloak and a life-size horse operated by seven puppeteers.) After more than a year of long workdays ending in "Ambien washed down with a glass of red wine," Webre jokes, Sleepy Hollow will become part of his legacy in a season that also includes the company's first production of Swan Lake. The latter, which he calls "one of the greatest and most challenging ballets ever created," will feature African-American dancers Misty Copeland and Brooklyn Mack as the leads in selected performances—a milestone for a ballet that has "remained lily-white in many ways," according to Webre. It's yet another sign of the Washington Ballet's continuing artistic growth. As Webre boasts, "We're ready for prime time on a classical level."
Read on for a look behind the scenes as the Washington Ballet prepares to debut Sleepy Hollow.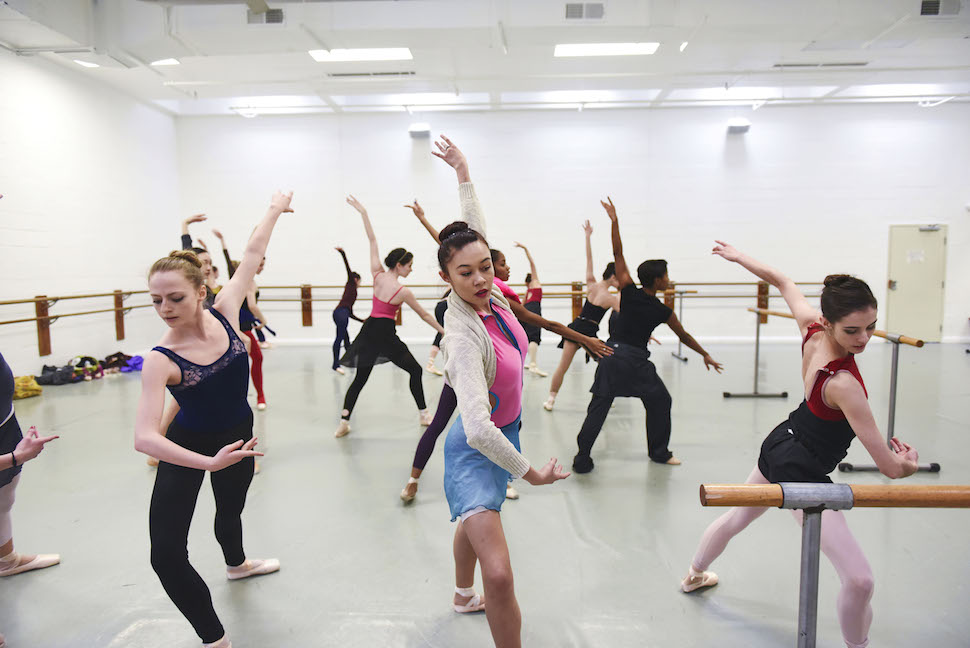 Studio company dancers practice with ballet master Elaine Kudo.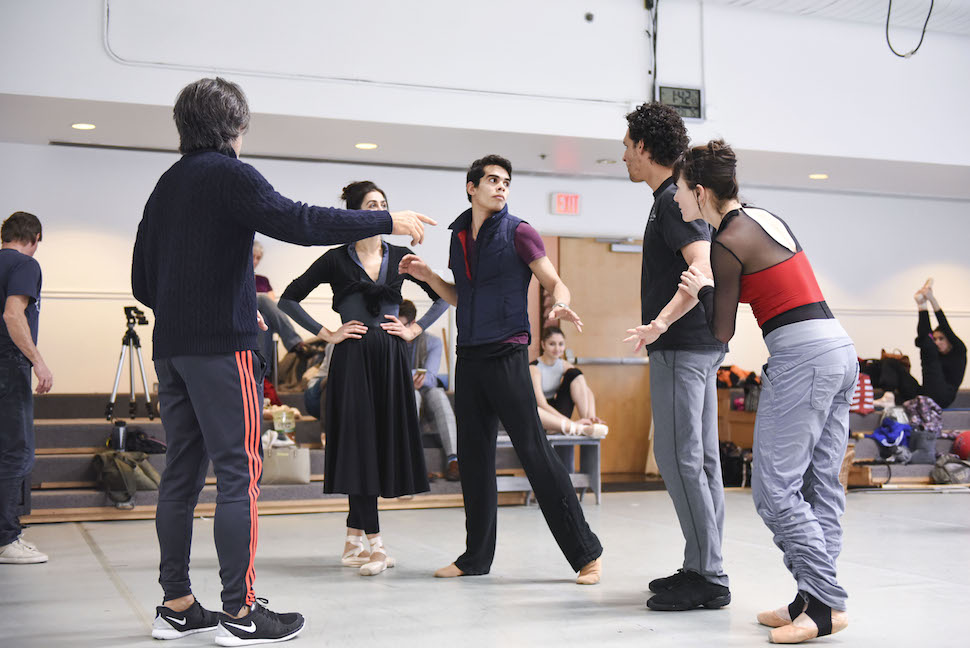 The Washington Ballet artistic director Septime Webre (left) leads performers through a scene in which they are supposed to be frightened by company dancer Miguel Anaya (center) who plays the town lunatic. (Anaya also plays a British soldier and Brom "Bones" Van Brunt.) From left: Septime Webre, TWB dancer Sona Kharatian, who plays Katrina Van Tassel; TWB dancer Miguel Anaya; studio company ballet master Luis R. Torres, who plays the Cotton Mather and Baltus Van Tassel; and TWB dancer Morgann Rose, who plays Katrina's sister and the ghost of a war widow.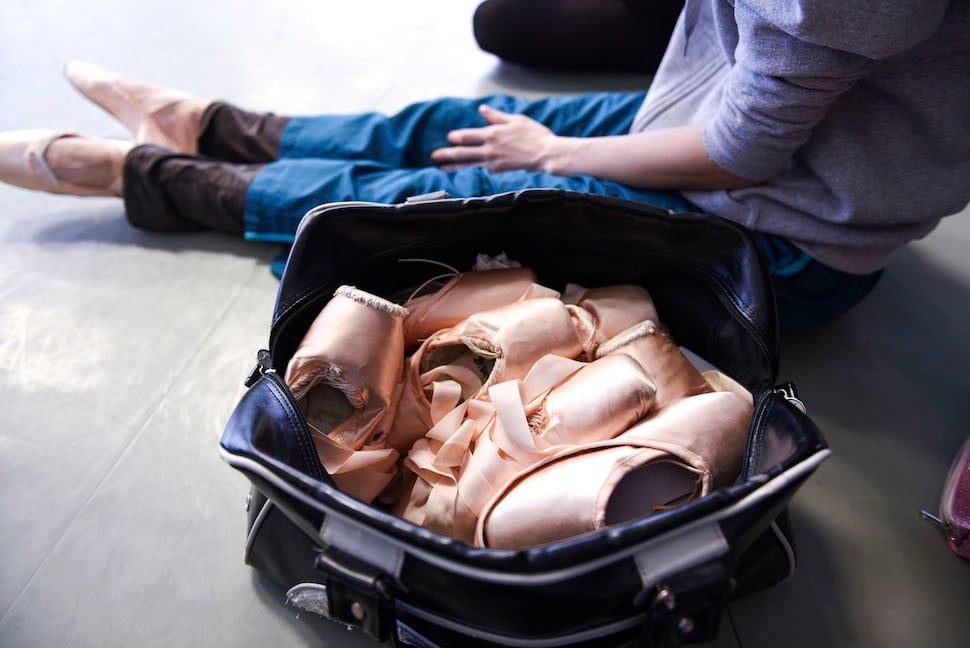 Aurora Dickie sits next to a bag filled with pointe shoes she needs for various dances throughout the day. Dancers' shoes are vital to their performance: They need comfort, tactile sensitivity with the floor, support, and at times, softness, all of which is determined by the technical demands of the roles they play. A dancer can go through a pair of shoes up to every three days.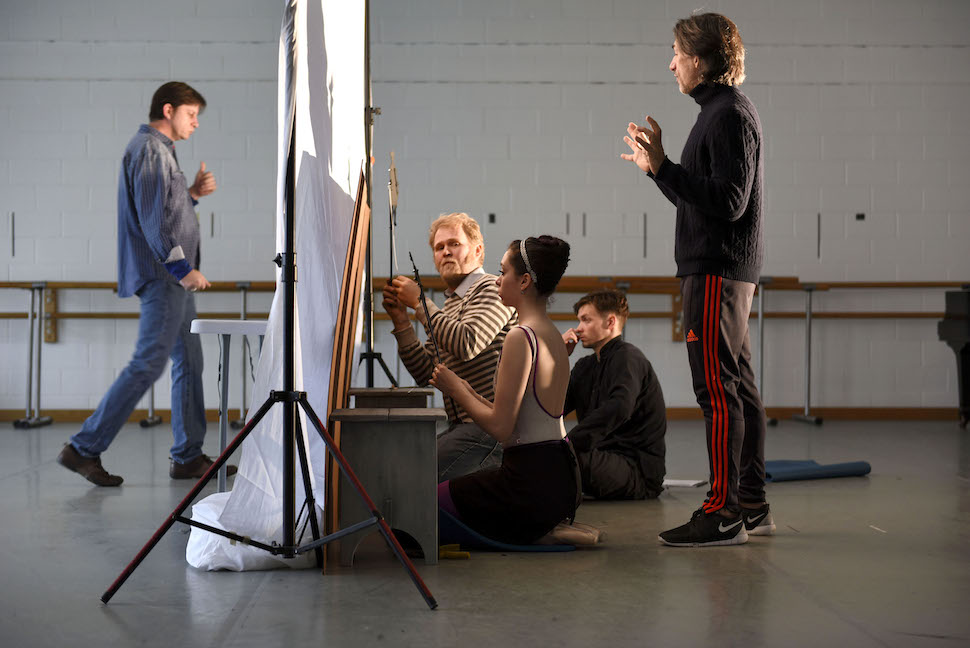 Performers use a multimedia set to make a video of shadow puppets using projection design. Puppeteer Eric J. Van Wyk shows studio company dancer Olivia Lipnick and TWB dancer Jonathan Jordan how to move each piece of the puppets to convey movements such as a handshake. Webre conveys his vision to both the dancers and the puppeteer through eight-counts to make it easier for the dancers to understand the movements, and projectionist Clint Allen (left) captures everything with his camera. Associate artistic director David Palmer also assists.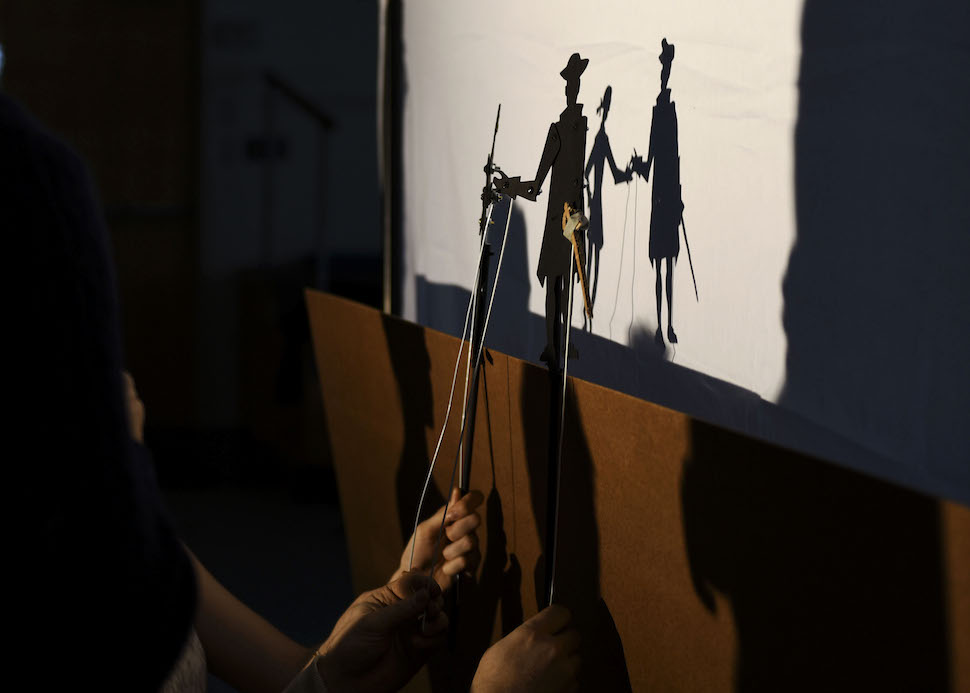 The shadow puppets in action.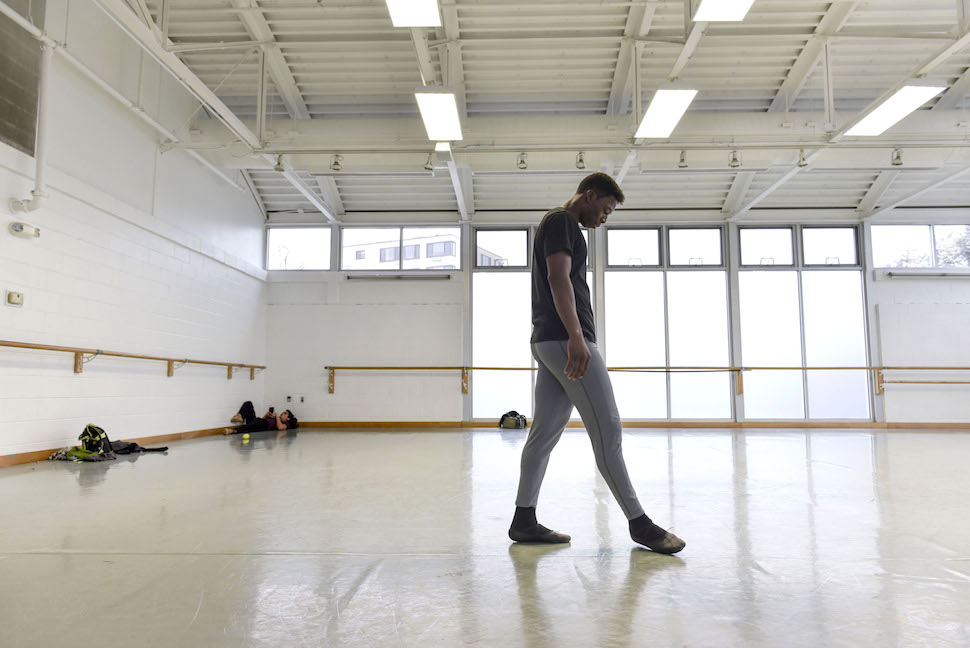 Brooklyn Mack takes a quiet moment during a solo practice. Each role requires incredible mental and physical commitment; artistic director Septime Webre encouraged dancers to read "Sleepy Hollow" and watch the movie version to get a better sense of the atmosphere and emotion for when they rehearse.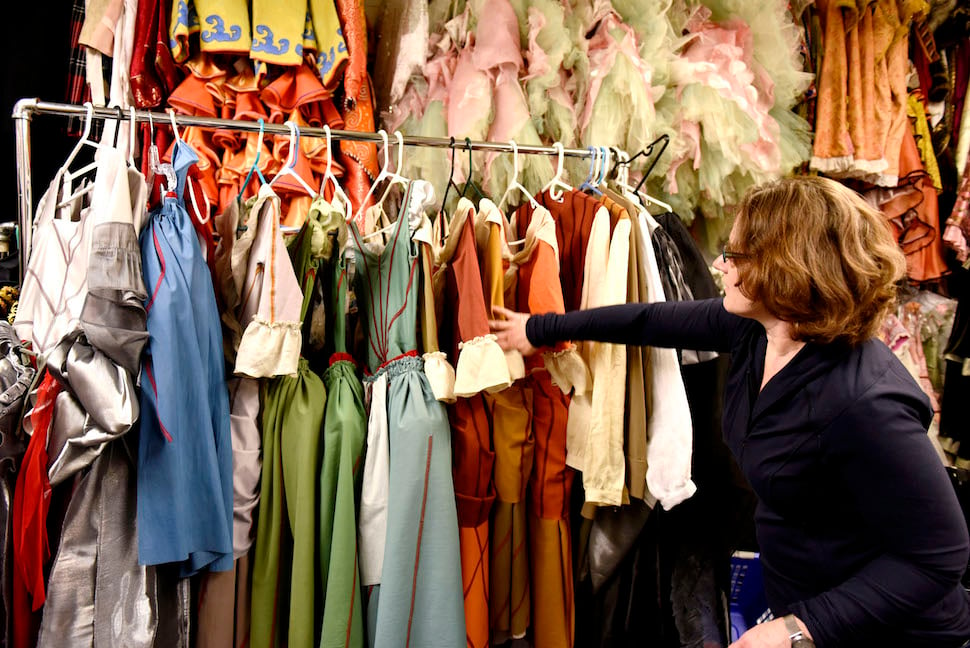 Wardrobe supervisor Monica Leland goes through a rack of costumes for Sleepy Hollow. Costume designer Liz Vandal, who created all the ensembles, has worked with Cirque du Soleil and is known for her ability to combine costume and body movement. Each costume is made from breathable, stretchy fabric and is adjustable to fit a variety of dancers' bodies.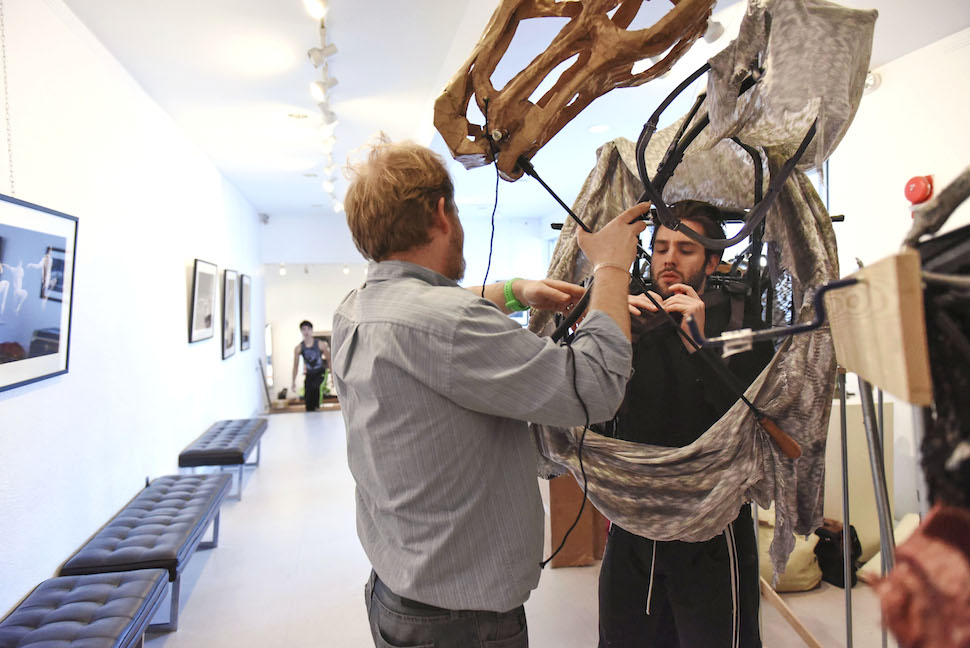 Eric J. Van Wyk helps TWB dancer Daniel Roberge don a life-size skeletal horse puppet to practice a scene. The puppets are inspired by the large-scale contemporary equine sculptures of Deborah Butterfield; each has three parachute backpacks (with the parachutes ripped out) that the dancers buckle themselves into, and the top middle of the horse has a "saddle" for one dancer to ride on top of. The dancer at the front of the horse controls the head.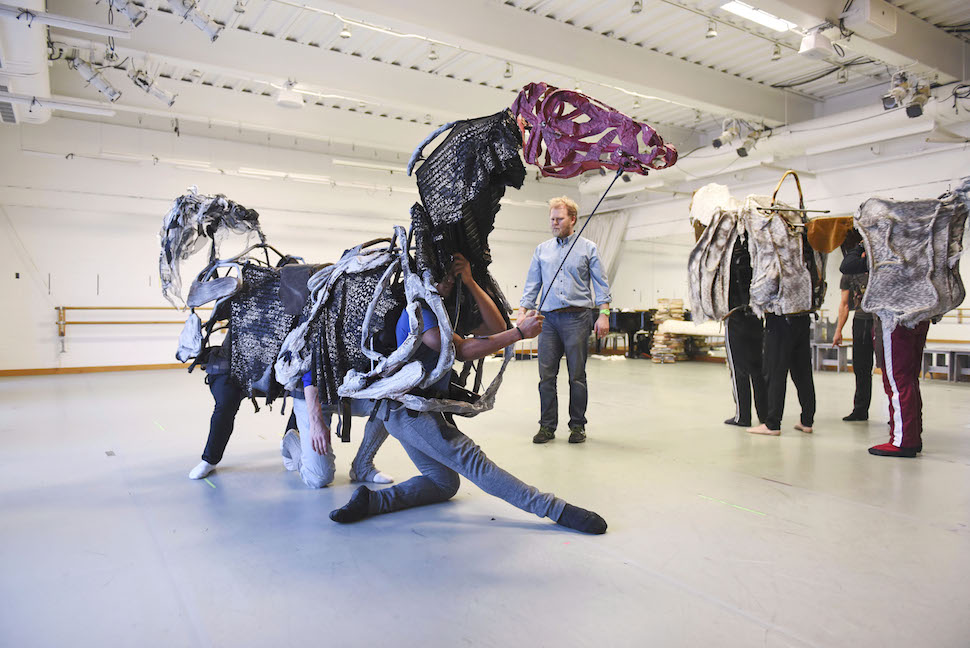 Eric J. Van Wyk works closely with the dancers to make sure the horse puppets fit them as comfortably as possible during their performance. They practice different movements across the studio making sure all parts are working, comfortable, and safe.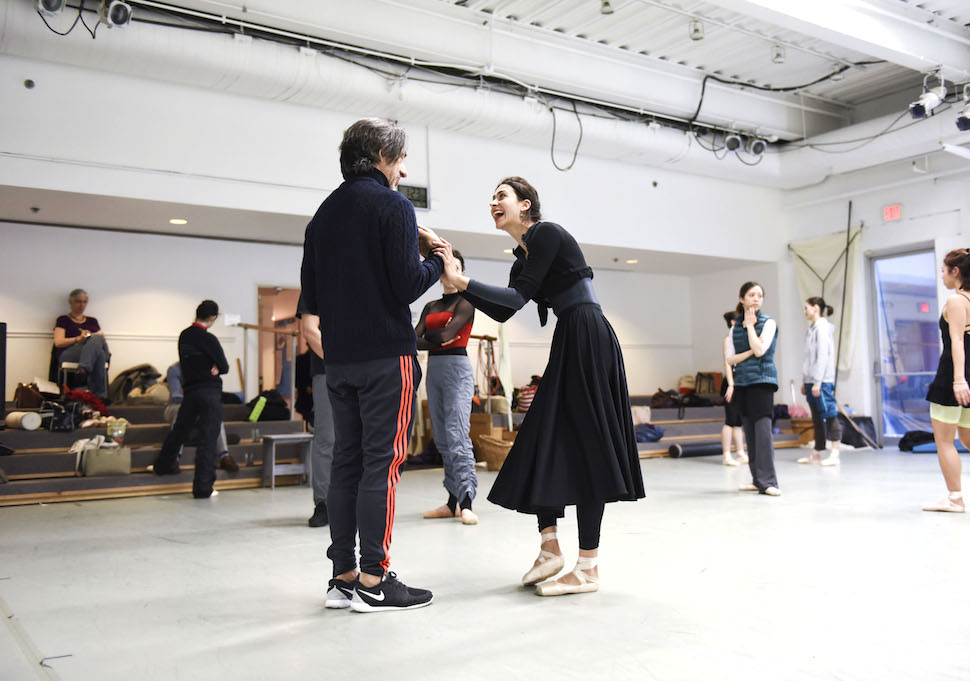 Septime Webre and Sona Kharatian, who plays Katrina Van Tassel, share a laugh during rehearsal. Both celebrate their 15th season with the Washington Ballet this year.