Landing at the airport in Jackson Hole in 1996 was a breathless experience: I was immediately transformed by the cool, crisp mountain air and clear sky that was devoid of Washington, DC's congestion, honking horns, and tall buildings. I was in Jackson scouting for the perfect place to start a summer camp for under-resourced DC youth, and when I found Broken Arrow Ranch nestled between the Hoback River and the mountains, I knew that I had found just the right place.
I grew up in Chevy Chase, Maryland, and struggled all throughout school—learning the conventional way was challenging for me, and the lack of support and positive reinforcement affected my confidence. Because learning the traditional way wasn't working for me, my parents and I looked for a school that offered a more empirical experience. So at 16, I headed west to a school that had an outdoor leadership program and something clicked when my learning environment changed. I was exposed to group discussions, learning through overcoming outdoor challenges, and self-discovery. I was no longer struggling and feeling alone in my challenges like I had been in the classroom—I had uncovered skills within myself that I never knew existed and I finally found something that I could relate to.
The confidence that I found in the mountains is what propelled me and got me through the darker times, and it was this experience that inspired me to start City Kids Wilderness Project, a nonprofit founded on the belief that providing enriching life experiences for underserved and at-risk D.C. children can enhance their lives, the lives of their families and the greater community. I felt that I had been given a second chance when I discovered that I could thrive in a different environment, and I wanted to connect similar students with the chance to learn, grow and find inner strength in an environment completely different from their own.
During our first year of running City Kids Wilderness Project, we had 16 campers. Now we have close to 90 youth each summer. What I noticed during the first few months of running the program was the gradual transformation that occurs when you embrace two simple priorities: positive reinforcement and team building.
Since our first summer running camp in 1997, City Kids Wilderness Project has grown exponentially and we've expanded our program to include year-round support for our youth in Washington, DC. We have also expanded the length of our program and when a child enters as a 6th grader, we are now able to offer programming and support throughout their middle school and high school years. 


This long-term engagement allows us to have a significant impact on the futures of each of our participants, and in the past three years, more than 95 percent of the students who have gone through our program have graduated from high school. In comparison, the high school graduation rate in DC is currently 61 percent. Whether they are climbing the Grand Teton, taking an AP course in high school, or embarking on their first internship or job experience, our kids witness and grow through the transformative power of the outdoors and learn skills that stick with them through life.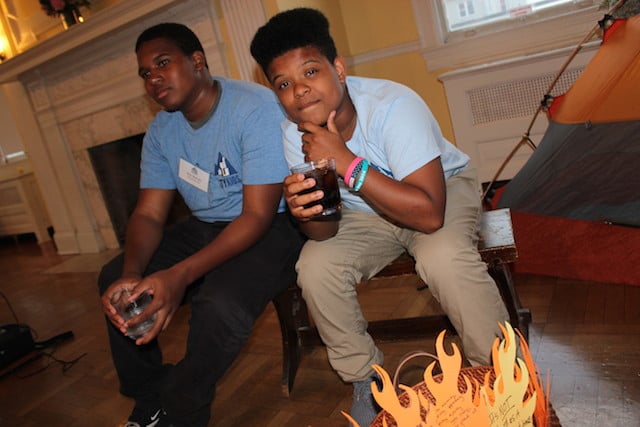 The continued success of City Kids Wilderness Project would not be possible without the youth themselves and what they do to pass on the legacy of outdoor leaders: we've created a cohort of high school leaders who invest their time and energy into younger youth who have just started the program, and many alumni come back as Camp Counselors. This internal leadership development program not only provides participants with clear growth opportunities, it successfully provides our younger participants with leaders and mentors that youth can relate to, that have walked in their shoes, and that can help transform the ideas of what they think is possible for themselves.
Our campers have become first-generation college graduates and first generation outdoor adventurers; they have gone on to become firefighters, teachers, and even chemists. They are active members of their community and continue to pass on the values of teamwork and positive reinforcement in all that they do. They continue to set examples for minority urban youth in their communities, and serve as a model for successful youth engagement in our National Parks and urban outdoor spaces. One of our alumni, Tyrhee Moore, recently represented City Kids as a part of the first African American climb of Denali. Tyrhee was one of the youngest climbers selected by the National Outdoor Leadership School (NOLS) to join the climb, and he met the challenge head on, preparing, training, and ultimately taking on the climb. Tyrhee's success is inspiration to all of us at City Kids, and he came back as a Camp Counselor last summer to help pave the way for younger youth to follow in his footsteps. I'm so proud of his accomplishments, and couldn't be more excited to share that he will be graduating from West Virginia University this spring.
So what does success look like for us in the next decade of City Kids? We want to continue to serve more kids while being careful not to lose any of the quality of our program. We want to utilize and leverage our connections with many of the other individuals and nonprofits doing great work in our city, and form partnerships with youth serving organizations and scholarship programs to expand our participants' access to opportunities. Through building a network of committed organizations dedicated to transformative change at the individual and community level, we believe we can create a ripple effect of positive change in our city and greater community.
Let's continue to spread the potential of this model and show the transformative power of the mountains. This is an effective way to serve kids: we take the average student from an under-resourced community and provide them with outdoor challenges, positive adult mentors, and a consistent peer cohort, where they can find their own strength and take that newfound confidence back to their home, school, and daily life.
I found my strength in the outdoors and have committed the last 20 years of my life to building an organization that would connect youth with the same opportunity that I had. I am moved every day by this work, but I am really shaken to my core in how deeply this work has impacted the lives of the youth that we serve when I meet with our alumni. Five of our alumni from our first two cohorts of the program attended our spring benefit on April 30. Seeing them now as 30-year-olds, and having known them as 11-year-olds—seeing how successful they are, and learning how they are working to raise their kids with many of the values and skills that City Kids Wilderness Project helped instill in them—this is what makes me confident that I've invested my life in something truly worthwhile. This is what makes me believe that each of us as individuals and all of us together as a community can work together to create something truly spectacular.
I started all of this with a dream and an idea that the transformative wilderness experience that I had growing up could be just as transformational for our city's youth. Little did I know that this idea would grow into the strong community-based organization that City Kids Wilderness Project is today, and that the impact would extend so deeply beyond our youth and into our broader community.
Randy Luskey is the Founder and Board Chair of City Kids Wilderness Project. Randy lived in Chevy Chase, Maryland, for many years, and is deeply committed to creating positive opportunities for our city's youth. Randy now lives in Denver with his wife and two children, and spends the summer exploring and growing with City Kids youth in Jackson, Wyoming.