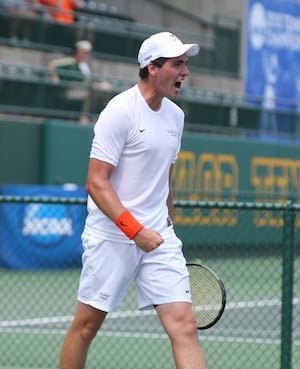 On August 1, Ryan Shane will play his first qualifying match at D.C.'s annual major tennis tournament, the Citi Open. Just two days before the match, he keeps bringing up examples of his relative naïveté when it comes to professional tennis.
READ ALSO: Citi Open 2015: What to Watch For
For example, there was the time, six months before he would take the NCAA men's tennis singles title and lead the University of Virginia to a team championship as a junior, that he managed to play a tournament despite not signing up.
It was late October 2014, and Shane thought he was all set to play in an ATP Challenger Tour event–a lower level professional tournament–in Charlottesville. Shane and many of his teammates, along with his older brother and former Cavalier Justin, had all planned to enter into the qualifying rounds to gain some valuable, high-quality match experience outside of the normally scant college tennis schedules in the fall.
From 7 to 9 p.m. on Oct. 24, according to the event's Facebook page, players interested in entering the qualifying draw had to check in.
Shane never did.
"I didn't know I had to," he says with a smirk as he sits on a folding chair inside a half-made media center at the Citi Open in Rock Creek Park. "Luckily they had a wild card for me. Otherwise, I wouldn't have been able to play at all."
Shane went on to win a match in both singles and doubles (partnering with his brother) in Charlottesville before losing in the second round of both draws.
"For me," he continues as heavy rain pounds against the makeshift glass windows and canvas tent, "I didn't play a lot of pro events, so I'm new to this whole thing. My coaches have been around. They've worked with a lot of the top guys so they've traveled with them. So when they come to tournaments they do all that for me, but when I'm on my own I've messed up a lot in that aspect. A not-knowing-where-to-be-at-the-right-time kind of thing."
Take the 2014 Citi Open, in which Shane, like he did this year, received a wild-card entry into the qualifying rounds.
The Falls Church, Virginia, native was placed on the tournament's stadium court, which holds a maximum of 7,500 people, for his first-round match against fellow American Alex Kuznetsov.
In barely over an hour on court, Shane lost 6-2, 6-2.
"It was pretty nerveracking," he says of the experience, "I had never played on a stadium court like that, so I kind of came out [slow]. Even though there weren't many people, just to be on a court like that was new for me. I'm the kind of player that needs to be in situations to learn."
Following the loss, he packed up his stuff and headed home. But being a collegiate athlete, Shane was supposed to consult with the tournament on matters of prize money.
"I didn't know you had to go to the desk and tell them you're an amateur and not take the money and do all that stuff and I just left not knowing that," he says.
Even if he doesn't always act like it, Shane, 21, looks the part of someone who's about to turn professional. He's a solidly built six-foot-four with wide shoulders and skin permanently tanned from too many hours spent on the court his father built at his childhood home.
On the day we spoke, Shane was taking the day off, not wanting to push his body so close to the tournament. He reserved a practice court anyway–it went unused due to a rainstorm–and asked tournament director Jeff Newman how he could get a practice court the next day, something he–you guessed it–hadn't known to do in the past.
Earlier in the week, Shane drove six hours alone each way to and from Lexington, Kentucky, to play in a Challenger tournament. He made it there and played in the tournament with no hiccups, no missed deadlines, no "rookie" mistakes.
"This year, now that I've been around [professional tournaments] more, I've kind of been on point with all that stuff but it took me a while to get used to it all," he says about his maturity and personal growth.
The two matches he played in Lexington were his first competitive sets since defeating Wake Forest's Noah Rubin 3-6, 7-6(4), 6-1 in the NCAA championship. He took around a month off to heal hip, ankle and wrist injuries he suffered during his extended college season.
"After NCAAs, even last year I took a week off, so you always take a week or two off. I think three weeks was a little too much of not being able to do anything," he jokes. "But I think for me it helped a lot physically and mentally."
The break allowed Shane to refocus his attention on navigating the stark contrast between college tennis's team format and the lonely pressure of professional tennis he faces during the summer.
But unlike other summers, there's a particular reward waiting for him at the end of this one.
As is custom, the US Open gives a main draw wild card to the NCAA men's and women's singles and doubles champions, meaning Shane will have a spot among the 128-player field in New York this September.
He admits that during the NCAA final this year, he let the appeal of a US Open berth distract him as he drew closer to the finish line.
Now, two months removed from his title and one month until the biggest match of his life, he insists his focus lies only on the task at hand.
"I don't think about it too much," he says. "I've spent this summer trying not to have the US Open be the main thought. I'm not playing these tournaments to prepare for the US Open. I'm playing these tournaments to prepare for a professional career down the road. It's not hard for me right now. Like, at first when I won it, all I could think about was the US Open. But now as I'm getting into more tournaments, I've kind of pushed it off to focus more on where I am playing now."
He pauses.
"In the back of my head I know I'm training for that," referring to the US Open.
He catches himself, finding the attention to detail he lacked in October when he failed to sign up for the qualifier in Charlottesville or last summer when he didn't know he had to decline his prize money.
"But I'm also training for these tournaments," he says. "These are big tournaments, too."