The pawpaw fruit may sound like an exotic, jungle native, and although it's tropical, it only grows in temperate climates. The pawpaw fruits in the DMV area, so we visited Common Good City Farm—where you can currently find pawpaws through the end of this week—to check out the pawpaw and sample some smoothie recipes. Try the smoothie recipe from program outreach coordinator Josephine Chu, and check out some of the more interesting pawpaw recipes we found.
Josephine's Pawpaw Smoothie
Serves: 4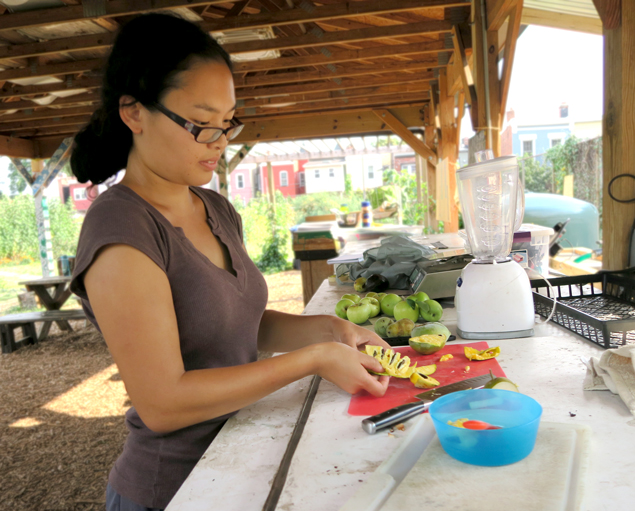 You will need:
3 pawpaws
1 avocado
2 frozen ripe bananas (the browner, the better)
1/2 cup milk (can be substituted with almond, coconut, or soy milk)
Optional: try adding honey and pineapple as sweeteners, as found in this 5+ A Day recipe
Directions:
Freeze peeled, ripe bananas ahead of time
Peel and de-seed the pawpaws
Blend ingredients in blender until smooth
Serve immediately
• • •
Pawpaw Ice Cream
Blend pawpaw puree with milk, cream, and sugar for a dessert original. View the original recipe and more at post-gazette.com.
Pawpaw Jam
This recipe combines the pawpaw with warm spices, like ginger, cinnamon, and brown sugar. Add some bourbon and pectin for a hearty jam. View the original recipe at Friends Drift Inn.
Pawpaw Pie
Mix a peeled and seeded pawpaw with your usual pie ingredients—sugar, milk, and eggs—then bake into a pie crust. Check out the original recipe, and a variety of other pawpaw originals, from Kentucky State University.