Attention the New York Times, the Huffington Post, BuzzFeed, and Donald Trump: You blew a once-in-a-lifetime opportunity Wednesday night. The entire Washington Post national politics team was munching on Caesar salad and expertly carved ham at Sally Quinn's Georgetown house for hours, and not a thing got filed. "I was a little worried that there was going to be a major story breaking while the entire Post national staff was gathering and drinking wine," says Matea Gold.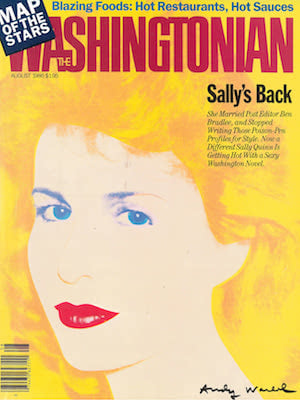 "Who knows what Donald Trump was saying?" says Philip Rucker, who reports that missing a few hours of presidential-race coverage was worth it: Quinn served "really good brownies" and "very good wine—you would expect nothing less" to the 60 or so people in attendance.
The event, which involved drinks on the porch and eats in the "Quinn Rose"-hued drawing room (she mixes the color herself) was a chance for the national politics crew to take a breath after an unexpectedly busy summer and look ahead at the next 14 months, but really, it was a chance to fête the good fortune of Jeff Bezos buying their employer and flooding it with the resources to staff up. "We were trying very hard not to spill on her beautiful furniture," Gold says.
Appropriately for campaign coverage in 2016, the idea for the party began with a tweet. "I got the idea because the Huffington Post did a story about [senior politics editor] Steven Ginsberg and the team," Quinn says. "I tweeted the story, about how it was the hottest political team in America." Things snowballed from there. (Alas, the ostensible subject of that story, Dave Weigel, was in Anaheim, covering Ben Carson. "I think Sally would have loved to have Weigel there," Gold says.)
Quinn is part of the politics team: The founding editor of the Post's old On Faith project plans to interview the candidates on video about their faith. "I've got many requests out," she says.
She's not the only connection to the Post of yore who's working on 2016 coverage: Ginsberg says Bob Woodward will pitch in, too. Quinn especially wanted to connect the younger journalists with some of their forebears. "There was this wonderful moment where Bob Costa was sitting between Bob Woodward and Dan Balz, and they were having a great conversation," she says. "It just really makes me pleased that all these people are getting to know each other."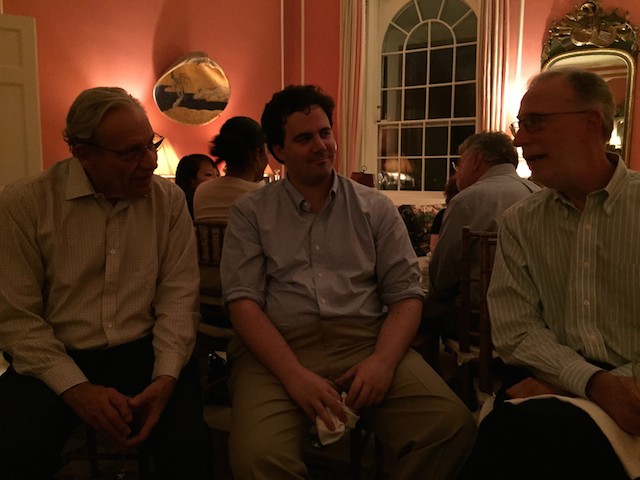 Managing editor Kevin Merida and Executive Editor Marty Baron were there, and Baron gave what Quinn calls a "rousing pep talk" saluting the group's breadth of coverage—"One thing Marty pointed out when he was talking was that we're even covering Jim Gilmore," Rucker says. Gold remembers him saying something to the effect of "When Sally says you're hot, you're hot, and you are hot."
Quinn, too, gave a toast, saying the group was the strongest political team the Post has ever had. "I've never been in a newsroom with such high morale," Gold says. The political team does get together from time to time for happy hours at less fancy digs, Ginsberg says. But: "When Sally invites you, you go."