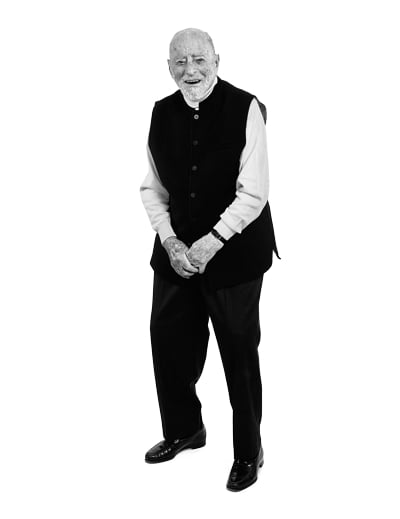 Robert E. Simon, the developer whose founding of Reston in 1964 is credited with revolutionizing suburban development, died Monday in his home in the Lake Anne neighborhood, the Reston Association announced. Simon was 101.
Simon envisioned Reston—the first three letters of which were borrowed from his initials—as a new kind of suburban community composed of clusters of high-rise apartments, single-family homes, and commercial space with cultural and retail amenities built at the outset. Using funds from his family company's sale of New York's Carnegie Hall, Simon purchased a 6,750-acre tract of Fairfax County farmland with the intent of turning it into a self-contained community in which residents could live, work, and play without traveling very far.
Simon marketed Reston as a destination for residents of all backgrounds—an uncommon practice in the early 1960s, especially in Virginia which at the time still banned mixed-race marriages. Reston's relative openness for the period wound up inhibiting some of its early growth, Simon recounted in a 2009 interview with Washingtonian:
We sought an investment from General Electric, which had announced that it was going to build 20 "new towns." We negotiated a deal, and their planners brought their wives here and put holds on houses. Then the decision went to the powers that be at GE, where one of the guys said, "You can't do that. They've got blacks living there." And the deal was canceled.
Simon bought the land at the right time. Dulles International Airport had just opened, and the Capital Beltway was under construction, along with a highway connecting the interstate with the airport. Lake Anne Village, the first of Reston's seven villages—and the only one to be built fully to Simon's specifications—opened in 1964 as something of architectural marvel in an era of extensive sprawl.
"Village centers will provide stores, churches and other civic facilities," Washington Post architecture critic Fredrick Gutheim wrote shortly before Fairfax County officials approved Simon's plan. "More intimate in scale, they will be a refreshing change from the auto-dominant shopping centers, with their huge parking lots, now rising throughout Fairfax."
Even though Lake Anne Village was a critical success with its Scandinavian-inspired homes laid out like a Mediterranean piazza, Reston struggled to stay afloat financially. By 1967, after selling much of the project to Gulf Oil, Simon was forced out. Years later, he told Washingtonian he put up a fight before getting tossed.
"This new president [of Gulf] was determined to make me look like a jackass," Simon said. "At the end of the first meeting with the board, my friend, one of the vice presidents—said, 'Bob, you're going to have to resign.' I said, 'You're going to have to fire me.' So he did."
Reston continued to grow after Simon's ousting, gaining tens of thousands of residents and a heavy concentration of government-contracting and technology firms in the 1980s when the Dulles Toll Road finally opened.
After getting kicked out of Reston, Simon relocated to New York and established other planned communities, but moved back in 1993 to an apartment on the 13th floor of Heron House, one of the town's original buildings. Simon never really retired, though. After returning, Simon formed the Reston Association, a residents' group that took over town management from development firms. He continued to advise Reston's leadership for the rest of his life, especially as the town prepared for another boom period with the arrival of Metro's Silver Line. In his 2009 interview with Washingtonian, Simon warned that officials had better sell air rights over the Dulles Toll Road at the Wiehle-Reston East station sooner rather than later.
Simon was born in 1914 in New York, and attended Horace Mann School and Harvard University. He joined his family's real-estate firm in the 1930s, and served as a equipment-procurement officer during World War II. Active until the end, he credited his longevity to "one martini every evening."
"Bob was a man ahead of his time," Ellen Graves, the president of the Reston Association's board, said in a press release. "His wisdom throughout the years is what still guides us today. His passion for this community was evident in everything he did, whether in advising the board or in just having a friendly conversation with a neighbor at Lake Anne."
Simon, though, was quick to put his "visionary" status in perspective.
"I always say there's nothing new in Reston—it's the collection of good ideas from other people that made it so successful on its opening in 1965," he told Washingtonian in April. " I took a yellow pad and wrote down all the things I'd seen or heard about in the world that would fit into a new community. The idea of 'new community' came from England. I'd seen a fountain at Lake Geneva, so the fountain in Lake Anne came from that. The idea of starting the construction with a high-rise came from Tapiola, outside of Helsinki."