Yet another delivery app is trying to make inroads in Washington's convenience-app-saturated market with the appearance this week of Favor. The Austin, Texas-based outfit launched in DC on Monday, offering deliveries from restaurants, convenience stores, any other retail its users request.
If Favor's business model sounds similar to Postmates, that's because it's exactly like Postmates, which entered DC in late 2013 and has become a go-to for people seeking deliveries of anything from high-end restaurant takeout to small kitchen appliances to shirts from Macy's. The people making the deliveries are all contractors working on their own time—yet another example of the so-called "gig economy," a service sector that includes Uber, Lyft, TaskRabbit, and other companies that offer on-demand services performed by freelancers.
Favor spokeswoman Tina Heileman insists there are a few differences between Favor and Postmates, though the biggest one is the kind of difference usually reserved for competing pizzerias. While Postmates promises its users their orders will arrive within an hour, Favor claims a 40-minute delivery guarantee. Its couriers run out to the chosen restaurant or store, put in the order, and attach a $6 delivery fee and tip.
"The way we're launching is focusing on being the fastest," says Heileman.
As with Postmates, Instacart, and other delivery apps, Favor is launching in just a sliver of the District. Its initial coverage map includes all of downtown DC, Southwest, Capitol Hill, the closer-in parts of Northwest DC, and a few strips of Northeast. The company's Washington operation is being managed by Yohan Ferdinando, who previously did the same job for Postmates.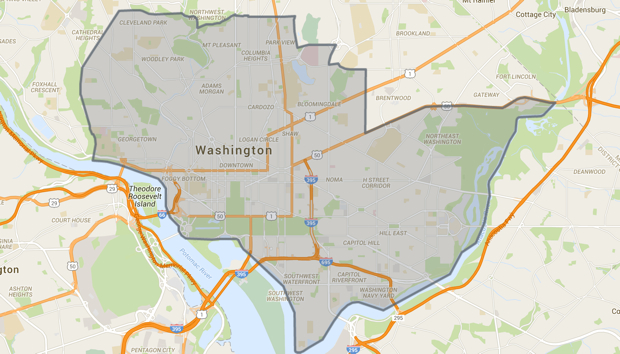 For a trial run, Washingtonian made an order at 12:29 PM for one cheeseburger and two servings of fries from Shake Shack. The food came 33 minutes later, delivered by Terri Slaughter, who arrived wearing one of Favor's bright-blue tuxedo T-shirts.
Oh, that's the other distinguishing thing about Favor—the shirts. While Postmates lets its couriers wear civilian clothes, Favor's are decked out in apparel that suggests thatwhile the company is trying to be formal, it's also here to party. It's the Cal Naughton, Jr. of the on-demand marketplace.