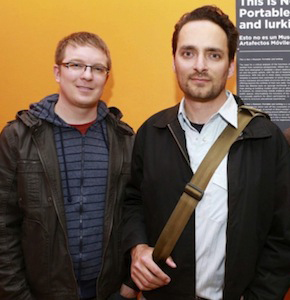 Billy Friebele and Mike Iacovone have been working as an art collective for about eight years, so when they heard about the DC Public Library's new Maker-in-Residence Program, they decided to apply together.
As part of the program, the DC Library Foundation grants a resident artist, maker, or designer a budget of $25,000–including a stipend and extra cash for materials, outreach, and travel expenses–plus other perks, like the chance to host workshops and community classes at local libraries.
In August, Friebele and Iacovone became the one-year program's inaugural "makers." The local artists can work from the Martin Luther King, Jr. Memorial Library's Fabrication Lab–or Fab Lab–to "make" projects using laser cutters, wire benders, 3D printers, robotics, and more. At the end of the residency, in the fall of 2016, the program culminates with an exhibition at the DC Public Library.
The duo first started working together on video projects during graduate school at the Maryland Institute College of Art in Baltimore. For years, they collaborated on DC Photo Grid, a photo archive that used publicly submitted photographs of outdoor spaces to create collage-like city maps. Iacovone says most of their work involves public space and how that space can change.
Operating under the moniker of the FreeSpace Collective, Friebele and Iacovone create video- and map-based works that call for engagement and community collaboration. "We're always trying to interact with viewers," Friebele says.
Both artists are also teachers. Friebele teaches digital art and three-dimensional art at Loyola University; Iacovone teaches digital media at McKinley Technology High School in Northeast and a studio class on installation art at the Corcoran School of the Arts and Design.
Right now, the duo is busy tinkering with the Fab Lab's equipment and documenting the process online. Friebele is working with robotics, while Iacovone experiments with laser cutting. Though their final exhibition is still months away, they're currently part of the DC Public Library's show, Uncensored: Information Antics, through October 22.
Friebele's piece, "Ultrasonic Reflector," is a drawing machine that translates sonar data into musical sounds. Iacovone created a plywood DC map called "2015 Murder Map," plugged with holes that mark where murders have occurred.