Getting more than 5,000 animals to cooperate for portraits is no easy task, but for National Geographic photographer and wildlife conservationist Joel Sartore, it was a worthy cause.
His hard work will be featured in Photo Ark, a new exhibition opening Thursday at the National Geographic Museum. Centered around Sartore's efforts to photograph captive and endangered species before they disappear, the exhibition symbolizes the photographer's desire to preserve biodiversity. "We're on track to lose half of all species [at] the turn of the next century if we don't start being more responsible and better stewards of our planet," he says.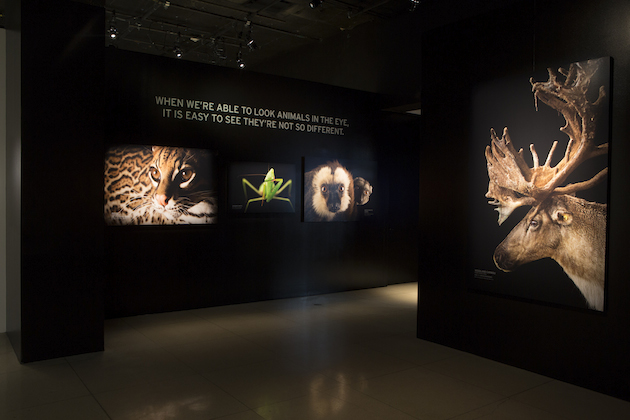 Sartore began curating Photo Ark to quell the pain of a personal struggle: his wife's cancer diagnosis. When Sartore, a frequent world-traveler, got the news around 10 years ago, he decided to settle down for awhile and take care of his three children. In his spare time, he traveled to local zoos and shot portraits of animals. Before long, National Geographic began assigning him portrait stories on endangered species, and after a decade of work, Sartore has successfully shot 5,002 captive species in zoos around the globe.
He hopes to photograph every captive species in the world—12,000—within the next ten or 15 years. "The goal is to show what biodiversity looks like at this point in time," he says. (His wife thankfully recovered.)
Despite his consistency in medium, Photo Ark feels multi-faceted. There's a somber-looking wing, featuring prints of now-extinct or nearly-extinct animals flanked by flowing, white curtains. It looks, Sartore says, like they've already gone to heaven.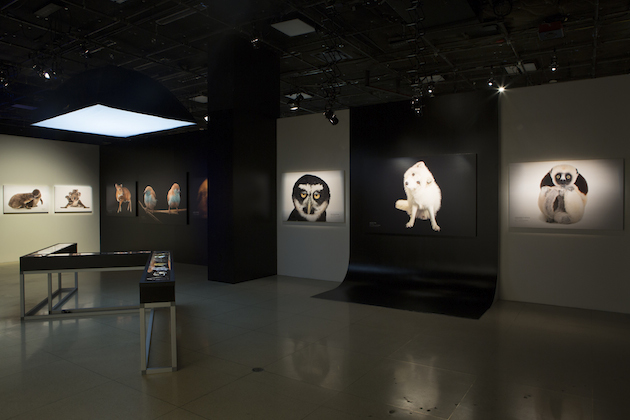 There's also a section dedicated to the sometimes humorous challenges associated with getting animals to stay still for portraits. Miniature photo tents used for small creatures are on display, as well as stop motion footage from actual zoo shoots, showing, for example, a chimpanzee destroying a meticulously designed set.
Sartore shot every photo with black-and-white backgrounds. His reasoning? This equal treatment helps eliminate a visual size difference among the animals. "We never pay attention to the small stuff," he says. "It seems these days anything but a tiger and a polar bear and a gorilla are all considered the things we look at. Have you ever heard of a weeper capuchin monkey?
"Most of the animals can be saved. We just have to pay attention."