As with fee-only advisers, these fee-based advisers may charge an annual fee of about 1 percent to manage a client's portfolio, but they also may have other revenue streams—such as referral fees for sending a client to a certain mortgage specialist or commissions on mutual funds. Although some people argue that advisers who earn commissions can't be free of bias, those listed here are said to work in a client's interest. Advisers who are registered investment advisers are also subject to oversight, from the Securities and Exchange Commission and the Financial Industry Regulatory Authority.
---
FEATURED: Michael Egan
At Egan, Berger & Weiner, the vision is uniquely yours, the strategies are uniquely ours. An independent financial planning firm, EBW provides unbiased guidance to assist clients in the safekeeping of their and their family's financial future. Following the six step Financial Planning Process, we will help you articulate your vision for the future, create thoughtful and appropriate strategies and put the plan into action. Maintaining close relationships with our clients is of paramount importance at EBW and together we will monitor your progress towards your goals and make adjustments as appropriate to help you achieve your unique vision. Registered Representative of ING Financial Partners, Securities and Investment Advisory Services offered through ING Financial Partners, member SIPC. Egan, Berger & Weiner, LLC is not a subsidiary of nor controlled by ING Financial Partners.
Egan, Berger & Weiner Independent Financial Planning
1919 Gallows Road
Vienna, VA 22182
703-506-0030
www.ebwllc.com
megan@ebwllc.com
---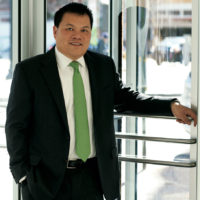 FEATURED: John D. Nguyen, CFP® CIMA® AIF®
Clarendon Wealth Management believes in a focused and disciplined wealth management approach to help our clients pursue their passions. An independent financial planning firm, we make it our priority to work closely with our clients to understand their values, needs, goals and attitudes toward money and investing to develop a wealth plan that is comprehensive, customized, and actionable. With almost two decades of financial planning experience, we take great pride in the long term trusting relationships that we share with our clients. We welcome the opportunity to share with you our boutique approach to comprehensive wealth management.
Specialization: Comprehensive Wealth Management, Estate Planning, Retirement Income Strategies
Designations, Affiliations, Awards: Top Wealth Advisors 2016 – Washingtonian, Best Financial Planner/Advisor 2015 – Arlington Magazine, Best Practices Award 2015 Investment News
Clarendon Wealth Management
3033 Wilson Blvd, #430
Arlington, VA 22201
571-257-3252
www.clarendonwealth.com
john@clarendonwealth.com
---
Matthew Anderson. CFP, CPWA, CLU, the Wise Investor Group, Reston; 571-203-1600
---
Alexandra Armstrong. CFP, Armstrong, Fleming & Moore, downtown DC; 202-887-8135
---
Gregory Baker. CIMA, Merrill Lynch, Bethesda; 301-215-4424
---
Joseph Brodecki. AB Bernstein, downtown DC; 202-261-6730
---
Ilene Brostrom. CFP, Gurtz, Yurachek, Brostrom & Associates, Bethesda; 301-320-1465
---
Stephan Cassaday. CFP, CFS, Cassaday & Company, McLean; 703-506-8200
---
Marguerita (Rita) Cheng. CFP, CRPC, Blue Ocean Global Wealth, Rockville; 301-502-5306
---
Michael Egan. CFP, Egan, Berger & Weiner, Vienna; 703-506-0030
---
Jeffrey Eveland. CFP, CRPC, Merrill Lynch, Leesburg; 703-779-2130
---
Ryan Fleming. CFP, Armstrong, Fleming & Moore, downtown DC; 202-887-8135
---
Donald Irwin. J.P. Morgan Private Bank, downtown DC; 202-533-2111
---
Michael Kalas. CFP, AIF, Potomac Financial Private Client Group, McLean; 703-891-9960
---
James King. Merrill Lynch, downtown DC; 202-659-6055
---
Michael Kitces. CFP, CLU, ChFC, Pinnacle Advisory Group, Columbia; 410-995-6630
---
Christopher Krell. CFP, CFS, Cassaday & Company, McLean; 703-506-8200
---
Daniel Lash. CFP, AIF, VLP Financial Advisors, Vienna; 703-356-4360
---
M. Katherine Liola. CFP, CRPC, AIF, Concentric Private Wealth, McLean; 703-891-9966
---
Terrance McGowan. Goldman Sachs, downtown DC; 202-585-6710
---
Marvin McIntyre. Morgan Stanley Private Wealth Management, downtown DC; 202-778-1381
---
John Nguyen. CFP, CIMA, AIF, Clarendon Wealth Management, Arlington and Charlottesville; 571-257-3252
---
Michael Orfini. Northern Trust, downtown DC; 202-303-1716
---
Kent Overholt. Merrill Lynch, Vienna; 703-734-8190
---
Paul Pagnato. Pagnato Karp, Reston; 703-468-2700
---
Greg Popera. Merrill Lynch, Vienna; 703-734-8914
---
Scott Pulsifer. CFP, CFA, CLU, Spire Securities, McLean; 703-980-3766
---
Thomas Rietano. Merrill Lynch, downtown DC; 202-659-7421
---
Rick Schultz. CPWA, CIMA, CEP, the Washingtonian Group, UBS Private Wealth Management, downtown DC; 202-942-2880
---
Gregory Smith. CFP, ChFC, CPWA, CTFA, the Wise Investor Group, Robert W. Baird & Co., Reston; 571-203-1623
---
Anne McCabe Triana. CFP, CRPC, Curo Private Wealth, Reston; 571-526-4581
---
Bruce Vaughn. CFP, AIF, VLP Financial Advisors, Vienna; 703-356-4360
---
Barbara Warner. CFP, Warner Financial, Bethesda; 301-961-9505
---
Eric Wightman. the Wise Investor Group, Reston; 571-203-1600
---