These experts provide guidance on and sell insurance. Most are independent agents who don't sell just one insurance brand.
---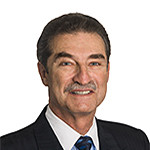 FEATURED: Robert G. Silverman
Bob brings expertise to his clients as an all lines employee benefit and property & casualty broker, offering innovative problem solving solutions to limit exposures and improve upon coverage gaps and pricing. With over 40 years of experience, his independent agency provides clients with personalized service rarely seen in today's business environment. Bob is seeking clients who desire old-fashioned service with the ability to handle "all" of their insurance needs with one phone call.
Ney Silverman Insurance Associates, LLC
1395 Piccard Drive, Suite 210
Rockville, MD 20850
240-290-7000
bob.silverman@ney-silverman.com
www.ney-silverman.com
---
Bob Crossland. Crossland Insurance, Woodbridge; 703-283-7240
---
Andrea Dykes. Howard Insurance, Chevy Chase; 301-652-2500
---
Keith Eig. CLTC, CLU, Greenberg, Wexler & Eig, Bethesda; 301-656-0660
---
Ken Fahmy. CFP, CLU, ChFC, Fahmy & Associates, Falls Church; 703-760-4630
---
Mitchell Freedman. NFP P&C,Lane McVicker, Reston; 703-437-9800
---
Matthew Friedson. Greenberg, Wexler & Eig, Bethesda; 301-656-0660
---
Scott Greenberg. CLU, ChFC, CFBS, Greenberg, Wexler & Eig, Bethesda; 301-656-0660
---
David Hillelsohn. Herndon; 571-215-0361
---
Vernon Holleman III. CLU, BCG Holleman, Chevy Chase; 301-656-9014.
---
Priscilla Hottle. Hottle and Associates, Warrenton; 540-351-0862
---
Jonathan Katz. LUTCF, Katz Insurance Group, Herndon; 888-396-2341
---
Colin Kimpel. CFP, Veritas Financial, McLean; 703-424-2407
---
Alan Meltzer. the Meltzer Group, Bethesda; 301-581-7300
---
Michael Mullen. CLU, Washington Financial, Great Falls; 703-759-1993
---
Kim Natovitz. CLU, CLTC, TriBridge Partners, Bethesda; 240-203-8018
---
Carolyn Rogers. CLU, ChFC, Greenberg, Wexler & Eig, Bethesda; 301-656-0660
---
Ian Sumner. Columbia; 301-576-4187
---
Stuart Tauber. CLTC, the Meltzer Group, Bethesda; 301-581-7353
---
David Wexler. CLU, ChFC, AEP, Greenberg, Wexler & Eig, Bethesda; 301-656-0660
---
Stuart Youngentob. JD, Arkin Youngentob Associates, Bethesda; 301-951-0070