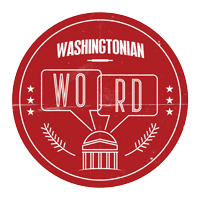 "New Columbia"/noo ko-lum-be-a/The would-be 51st state—and cause for debate.
The debate over DC statehood has gone national, as first Mayor Muriel Bowser, then comedian John Oliver, and now the presidential candidates have discussed whether the District should finally get full representation and autonomy.
The local citizenry—most of them having bought into the idea decades ago—are instead arguing over cosmetics: What should they call their home in the improbable event that the city does become a state?
When Bowser rolled out her draft state constitution in May, some in the audience pressed her on the proposed name, New Columbia—the default ever since a 1982 Statehood Constitutional Convention chose it over Anacostia (the runner-up), Potomac, Rock Creek, Capital State, and (fanciful even then) the State of Utopia.
"Somewhere along the way, New Columbia became the accepted idea for the name," says George Washington University public-policy professor Garry Young.
Since statehood's early-'80s hurrah, however, civic nomenclature has become a sensitive issue. (See: NFL teams, Washington franchise.) Americans "have sugarcoated the history of Christopher Columbus and what he did as a person," said DC resident Travis Swanson at the mayor's rollout, to scattered applause. "I don't think that we should instill an honor on Columbus that would give him a star on the US flag."
The antipathy puzzles Walter Smith of the DC Appleseed Center for Law and Justice, who is a longtime statehood advocate. "I don't think people stop to ask the question 'Well, where did Columbia come from?' " he says.
The debate points up DC's confused sense of place. Washington was once one city among others—Georgetown and Alexandria—within the District (then the Territory) of Columbia. Only in the late 19th century, after Alexandria returned to Virginia and Washington swallowed Georgetown, did the federal city become synonymous with the District. Forging a new state would create yet another layer; sticking with a version of "Columbia" at least has the advantage of simplicity. (In 1982, "New" was appended, says Smith, only to differentiate the city from the Maryland town and South Carolina's capital.)
Swanson, a Ward 7 resident, floated names honoring DC's history as a hub of black culture: State of Sojourner [Truth] or [Frederick] Douglass Commonwealth (i.e., "DC"). Julie Koczela, chair of the Historical Society of Washington, suggested Potomac and Anacostia, noting that 15 other states share names with rivers. The mayor replied: "I am personally not opposed to a discussion about the name."
But why wait for statehood? Given all these points, perhaps it's past time for the District of Anacostia.
This article appears in our July 2016 issue of Washingtonian.