Tim Regan was in his bed in Rockville when he first learned of the missing firetruck. Speaking on Thursday morning, the co-editor of the DC local-news website Borderstan couldn't remember if he found tweets about an AWOL piece of playground equipment in Lanier Heights's Walter Pierce Park before he went to bed or when he woke up (blogging is an occupation frequently compromised by sleep), but regardless, he sprang into action as soon as he escaped Morpheus' clutches.
Has anyone seen me? I went missing sometime last week (most likely Friday). I miss my home in Walter Pierce Park!!! pic.twitter.com/kv2GmKuLq4

— Mindy Moretti (@mindymoretti) August 23, 2016
Have you seen him? #walterpiercepark. @sPg09 @mindymoretti @srfrjulie pic.twitter.com/A6ntpmILWu

— Bryan Weaver (@BryanWeaverDC) August 23, 2016
Regan's first move was to visit the park, a green respite between Adams Mill Road and Calvert Street, Northwest. "I went over there to make sure the firetruck was indeed gone," he says. "I would hate to look silly and have it come back that morning." Looking around, all he saw was a "bare spot where it used to be." A poll of people in the park–moms and nannies mostly–yielded no clues. Regan phoned Mindy Moretti, the former president of the Friends of Walter Pierce Park and a central actor in the campaign to find the firetruck, which is called Freddy. Moretti tells Washingtonian that Regan was the first reporter to call.
She suspected a miscommunication between the District's Department of General Services and its Department of Parks and Recreation. Regan dug in, calling both agencies. DGS outreach coordinator Jackie Stanley told Moretti on Twitter Monday that the agency didn't know what happened to the firetruck and planned to file a police report. Regan called both agencies and says "neither of them seemed to know" what had happened. He dutifully took steps to obtain the police report. 
"It's really barebones," Regan says of the report, which called the disappearance first-degree theft and attributed the tip to the parks department. He repaired to his coworking space in Dupont Circle and published what became a popular story about Freddy's disappearance, an article that was soon followed by other local news organizations, including DCist, WTOP, the Washington Post, and WRC-TV, which conducted interviews with upset residents who were wearing a plastic firefighter's helmet.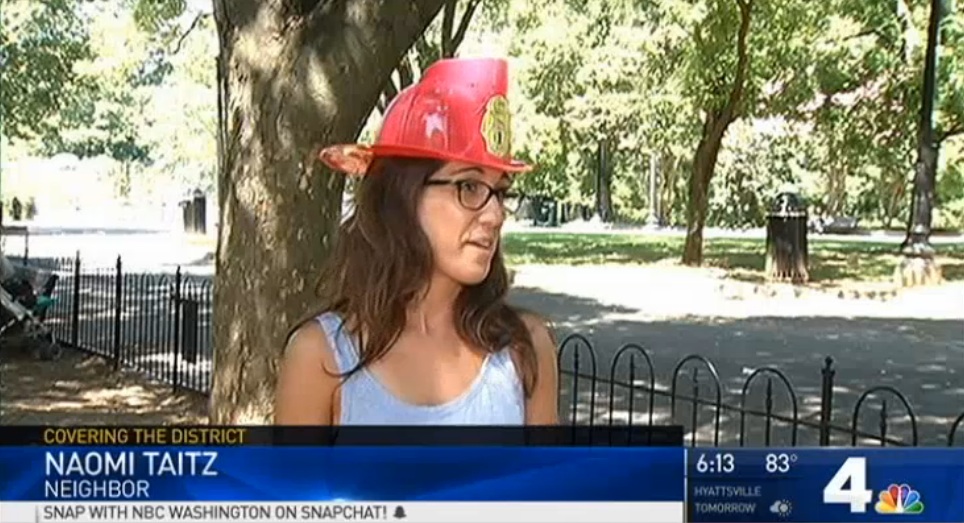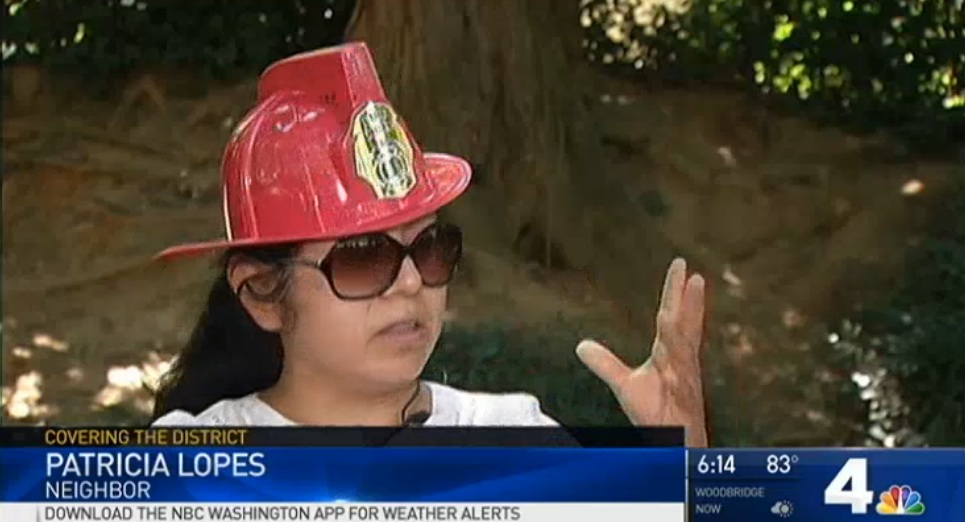 Legendary WRC reporter Pat Collins brought the hat to the playground, Moretti says.
A break in the case didn't come till Wednesday, Regan says, when Parks & Rec spokesperson Gwendolyn Crump called him and urged him to call DGS spokesperson Kenneth Diggs. Diggs told Regan DGS had found the culprit: Itself.
"I found it funny, I guess, that they were so sure they had not taken the firetruck, going so far as to file a police report, and then, whoops," Regan says. In its statement, the agency said it was responding to complaints "that children were being injured due to a broken plank" on Freddy; asked whether he intended to file a FOIA request to evaluate those complaints, Regan said, "Now that you say that, probably!"
The Freddy saga isn't the biggest Borderstan story since it relaunched last May after being purchased by Local News Now, which also publishes ArlNow and RestonNow. That would be its July 13, 2015 story about Adams Morgan bar Madams Organ fighting a fart-related fine. Stories like Freddy, he says, "are a little out of the ordinary, they're just kind of different." He and co-editor Andrew Ramonas tend to write about crime and openings and closings, and "this stuff is definitely kind of outside of our normal kind of day."
Moretti says Regan nailed the story, though it was a particular thrill to be interviewed by Collins. "I've hit peak DC now," she says. "After 23 years, I was finally interviewed by Pat Collins." She adds: "No pun intended, hats off to Pat Collins."