Producer Jennifer Schwed envisioned Jules and James as a small and intimate project–and what could be more personal than an overheard conversation between two strangers falling in love? Then it started permutating from a simple podcast to a freewheeling multi-platform affair that invites audience interaction and direction.
"I was really inspired by the conversations you have with strangers, it's that thrill of the unknown," Schwed says about the storyline. "I think most people can relate to that, and how those relationships can build into something more."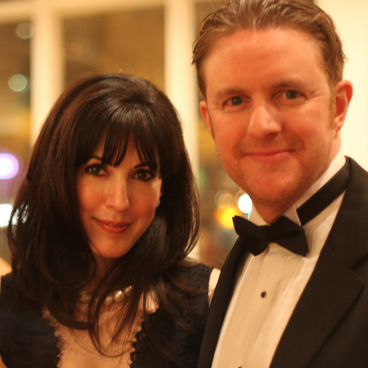 Right now producers with her DC-based Through the 4th Wall media company are creating an online presence for Jules and James, two young artists who connect accidentally over a wrong number. The characters' Facebook and LinkedIn accounts will permit fans to "not just listen, but peek into their lives a bit more" as the pair's relationship blossoms. The beginning of the second season is plotted out, but the story arc will be bent by how fans interact with Jules and James online outside of the podcast.
"I thought two artists, creative people, would be more open to fate and to unusual experiences," says Schwed about the two main characters. "The idea with Jules and James is that at first it would be more passive–you're just listening. Then for the second season the idea is that we'd incorporate them as more fully realized people, where you can follow them on social media and interact with them directly."
Currently Schwed's team is shooting film clips for the second season, and they plan live performances somewhere in the District as well. However, Schwed wouldn't disclose the identity of the actors or where the performance would take place–that would spoil the plot for next season.
Schwed says she had "a particular idea" about who would tune in, but was surprised and fascinated to see fans are equally male and female and extend to every age group. Co-author of "Beyond Heaving Bosoms" Sarah Wendell says she began reading e-books to escape "the glances and the imagined snickers from strangers on the subway, and joining the many readers who have traded the racy covers of romance novels for the discretion of digital books." Perhaps romance podcasts provide a similar discretion for those who consider romance works a guilty pleasure. Besides, the Paris-based pair have engrossing discussions ranging from philosophy and science to films and literature as they navigate their coming-of-age in modern Europe. Jules and James is absolutely a love story, but that's not to say it's shallow or lacking in intellectual fodder.
"I think it is inherently a love story because it's about two people connecting, whether it's a romantic love and they end up getting married, or they're best friends," Schwed says. "I think it's just about that love of the unknown, that love of connecting with something so unexpected that keeps drawing you back again and again. We use the word 'romance,' but it's not in the traditional sense."
The pilot and first two episodes of Jules and James are available to listen to at meetjulesandjames.com; the remainder of Season One began its weekly release schedule on May 22. Season Two will begin in January.