As a young girl in Russia, Polina Lopez ate oranges instead of cookies and cashews instead of candy—healthy habits that continued with Lopez into adulthood. So she was shocked when, at the age of 20, she was diagnosed with prediabetes, meaning her blood sugar level was much higher than normal, putting her at risk for full-blown type 2 diabetes, heart attack, and stroke. "I couldn't believe it. I've been following diet and lifestyle recommendations from my doctor my entire life—cardio and strength workouts, meals rich in fiber and protein, no ice cream, no pies, no chocolates, no cakes," she says. "It was so frustrating because I didn't know what to change and how to proceed." 
Since Russia doesn't have a requirement to report the amount of sugar in food on nutrition labels—just total carbs—Lopez's doctor advised that she simply start cooking everything for herself. Then, after moving to DC in 2016 and seeing how nutrition facts are reported on labels here, with sugars fully accounted for, Lopez discovered what was likely the culprit for her diagnosis: added sugar. While she ate healthy foods, many had sugar added to them, such as plain Greek yogurt, multigrain bread, smoked turkey, even frozen vegetables.
Now 22, Lopez has her blood sugar under control. Last summer she launched RICHbars, which are raw, no-sugar-added bars that use nuts for fat and fruits to sweeten. Flavors like espresso brownie are flavored with coffee and have walnuts for added antioxidants, while the matcha "starter kit" bar takes green tea's superior cousin and pairs it with cashews and dates for iron and potassium.
While she'll always be considered at risk for diabetes, Lopez is committed to a no-sugar-added diet. Check out her food diary below.
Breakfast #1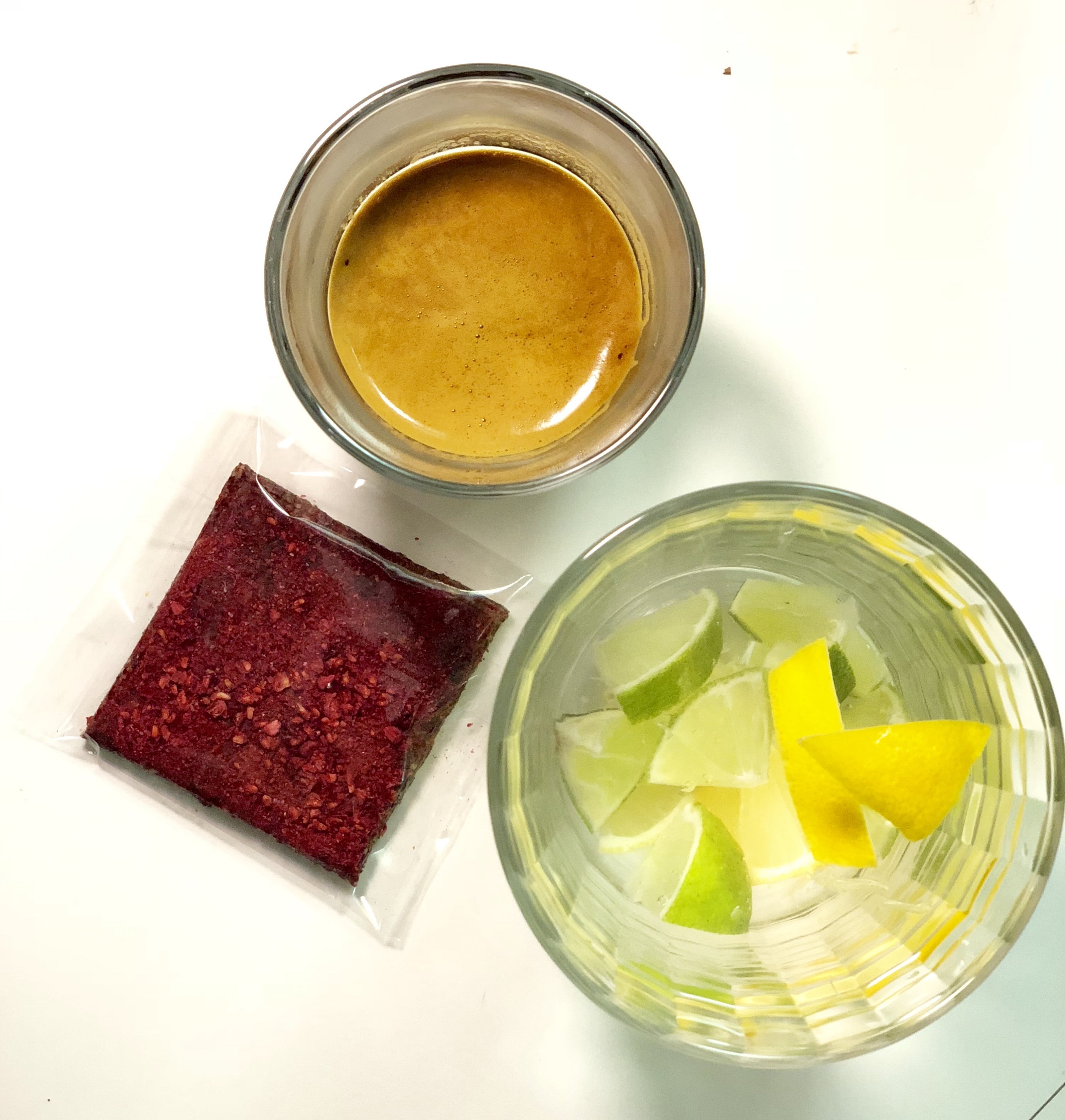 Lopez eats two breakfasts per day, one before and one after the gym. The first consists of a double shot of espresso with beans roasted by her husband, lots of water, and a Cherry Knot bar from RICHbars for a combo of carbs and unsaturated fats. "I can't work out on empty stomach, and my husband can't work out at 5:40 AM without an espresso," she says, making this a quick and easy pre-workout meal. The bar is her one "sweet treat" a day. "It doesn't make me feel heavy, but gives me energy and happiness at this dark morning hour, which only carbs can give!"

Breakfast #2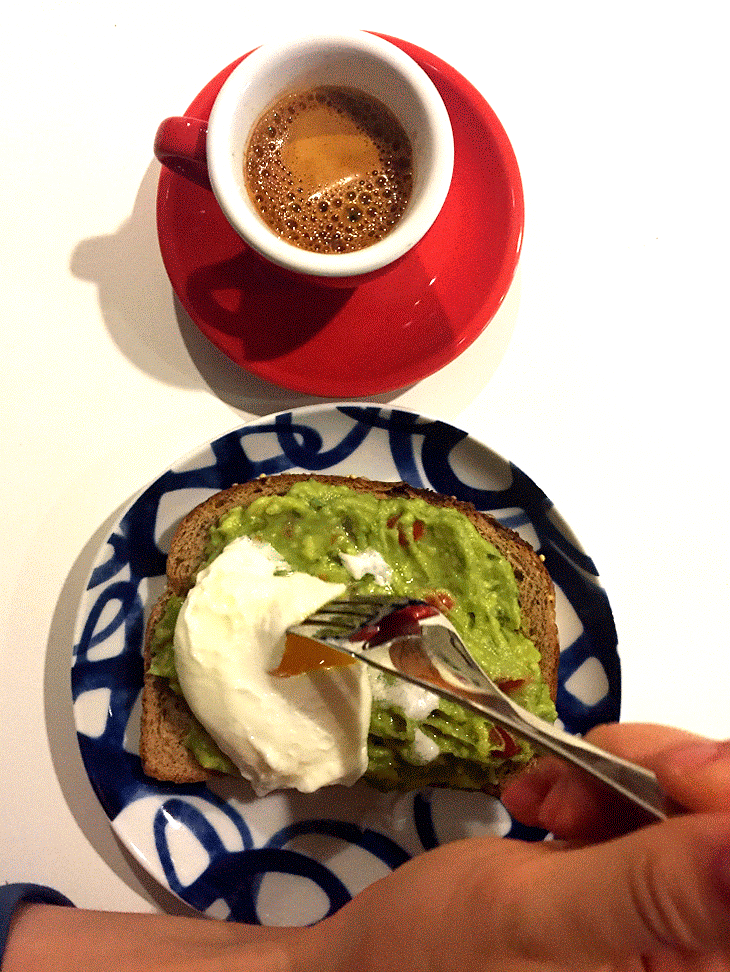 Right after the gym, Lopez has her second breakfast of toast with guacamole, a poached egg, and another double espresso shot. "I always look at the ingredients when I pick my bread and simply try to get the best option I can find at the store—a decent amount of fiber and protein, while as low as possible on sugars. Some breads have more than six grams of sugars in one slice—those I avoid." Her guacamole is made of half a smashed avocado, lime juice, cilantro, sliced tomatoes, garlic, and salt.

Lunch
Lunch is early, often around 11:30AM, and although it looks elaborate, it takes little time thanks to pre-cooked quinoa. Lopez eats a combo of protein, grains, and vegetables every day; here's it's salmon seared in avocado oil, asparagus, and a blend of quinoa with roasted carrots, bell peppers, zucchini, and red onion.
Snack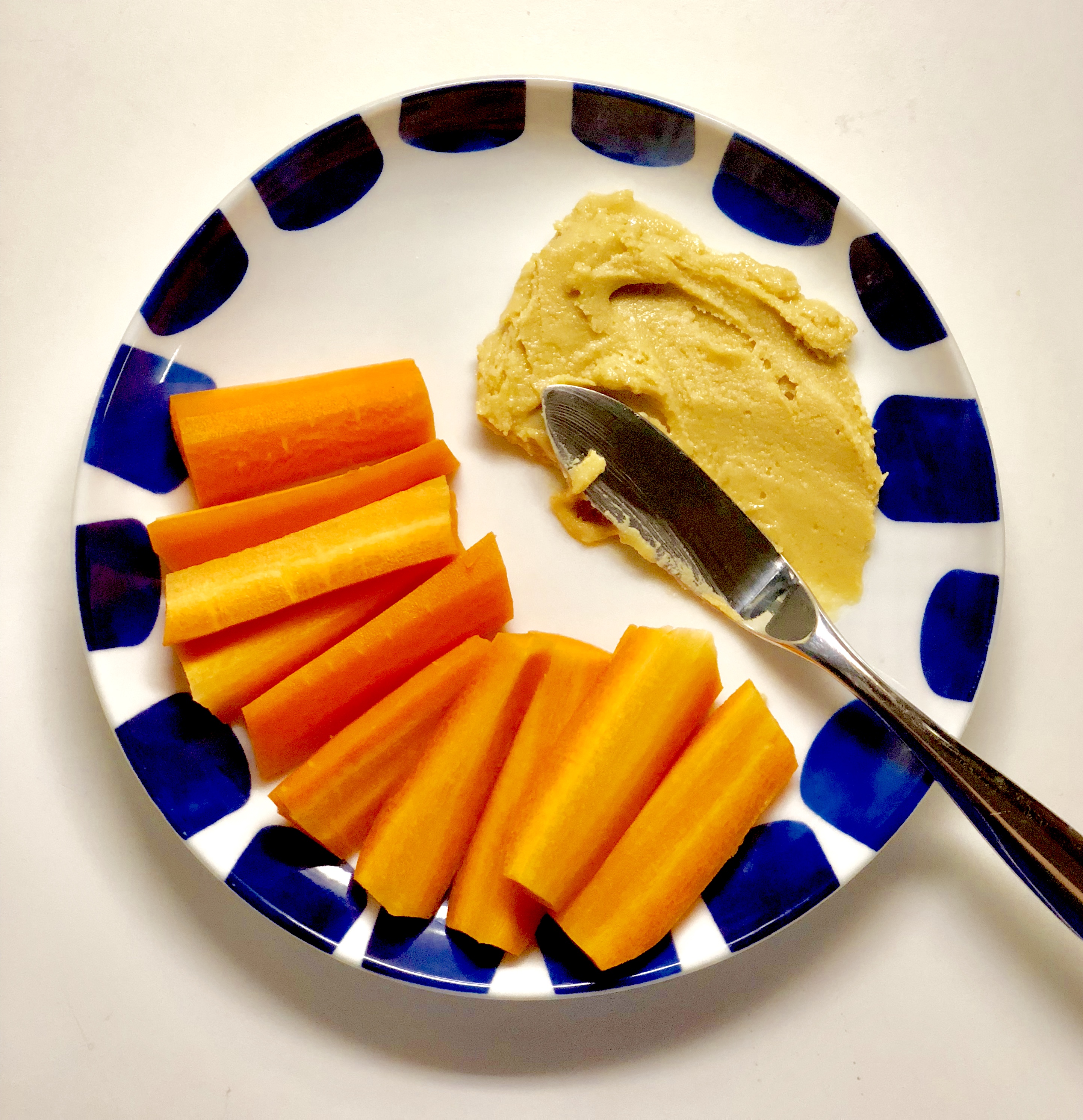 Carrots and peanut butter double as a snack as well as dessert. "When I eliminated sweets and other sugars from my diet, my taste buds changed, and I found out that carrots were actually very sweet!"
Dinner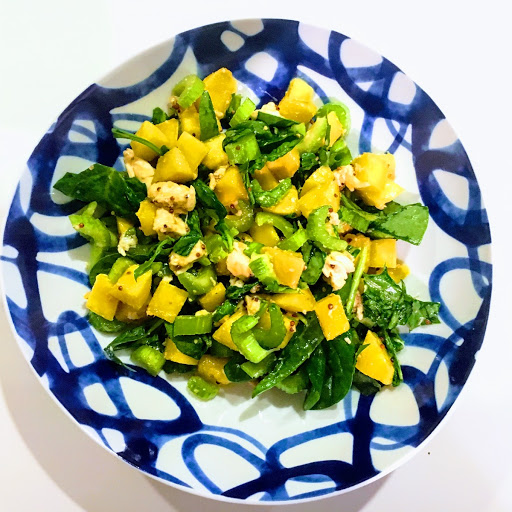 "I try not to eat too much before going to bed," says Lopez, adding that it helps her sleep better. Usually, she has salad or roasted vegetables. Here, it's a salad blend of arugula and spinach with celery, half a mango, and mozzarella, making it pleasantly "soft and crunchy at the same time." While she's used to making her own dressings, Lopez says she recently discovered the Champagne vinaigrette from local company Dress It Up Dressing, which makes various low-sugar dressings.

Have a Food Diary you'd like to share? Email kolsen@washingtonian.com.
Consult with your doctor before beginning a new diet. Washingtonian does not endorse any diet without the supervision of a medical professional.