In December 2015, Demssew Tsega Abebe was arrested in his home country of Ethiopia for peacefully protesting land grabs and human rights abuse by the government against his native Oromo people. For three days, he was tortured with lashings on his heels and feet, leaving him unable to walk. He believes he was singled out by police who recognized him. As an elite runner, he had run over 30 marathons, winning the 2011 French Reims Marathon with a time of 2 hours, nine minutes, a personal best. He was expected to join his country's 2016 Olympic team.
Instead, out of fear for his life, he fled to the United States in January 2016, leaving behind his pregnant wife, Nigat Teferi Mulat, and their toddler son, Dagmawi, whom he didn't see for two years. This Valentine's Day, he was reunited with them at Dulles International Airport after they received a grant of humanitarian parole join him, an application bolstered by letters of support from Mayor Muriel Bowser and members of Congress. He met his two-year-old daughter, Soliyana, for the first time. Dagmawi has a medical condition that has left him unable to speak, and DC doctors have offered initial testing to determine a diagnosis.
Tomorrow, Abebe will run the Lawyers Have Heart 10K race, representing the DC law firm that provided pro bono counsel for his family's entry to the country. Three Crowns LLP started working on the case last summer and was able to convince U.S. Citizenship and Immigration Services to admit his family, says associate Erin Klisch. "We were honestly pretty shocked," she says. "Generally speaking, very, very few of those requests are granted. Oftentimes, it comes down to, if it lands on that person's desk, if they have a sympathetic ear that day."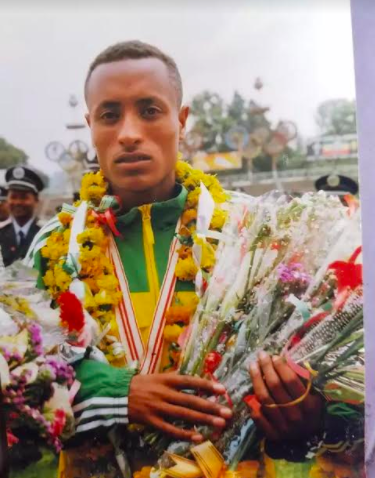 Lawyers Have Heart will be the second race appearance for Abebe since settling in Silver Spring. He also ran the Cherry Blossom 10-miler in April. Lawyers Have Heart started in DC in 1991 "as a way for [lawyers] to give back to their own community," says Roxana Hoveyda of the American Heart Association, which hosts the race and is based in Arlington. For the first time, the race will include an elite division, which Abebe will run in. There will be a special recognition ceremony for him after the race, which starts at 7 AM in Georgetown's Washington Harbour.
"It's been a long road for Demssew to get back into a position to be able to run," says Klisch. Over the past several months, Abebe has received free podiatry care while slowly increasing his mileage. Every Sunday morning, he runs with a group in Rock Creek Park.
Abebe now works in food service at St. Elizabeths Hospital. While he can't run to support himself financially, as many elite runners at his level do, Klisch says he's getting back into running shape to recapture what he lost.
"That's my pleasure to be participating," Abebe says. "Because nobody can live in life without heart."