The National Museum of the American Indian has selected the design for a memorial dedicated to Native American veterans, a project that Congress originally commissioned 24 years ago. Set to open in 2020, the memorial will honor American Indians, Alaska Natives, and Native Hawaiians, who serve in the US Military at a higher rate per capita than any other ethnic group.
The winning design was created by Harvey Pratt, a Marine Corps Vietnam veteran and member of the Cheyenne and Arapaho nations. A retired police forensic artist in Oklahoma and self-taught artist, Pratt is also a Southern Cheyenne Peace Chief, the Cheyenne Nation's highest honor.
For this design, Pratt was inspired by the circle of life, seasons, and planets, which hold sacred meanings in different tribal cultures. "Everything that we have among tribal people honors the circle," Pratt says. "Tipis and kivas are round. Earth lodges and igloos are round. A circle is timeless and enduring, and this [memorial] is going be here for a long time."
Pratt's design was selected from 120 submissions by a jury of artists, curators, and veterans-affairs specialists. It features an elevated stainless steel circle, which rests on an intricately carved stone drum to symbolize the voice of the people. He hopes visitors will reflect, pray, and find healing at the memorial.
"It's a sacred place," says Pratt. "It's amazing to think about my design being on the National Mall with the other 11 or 12 national monuments. We're going to be a part of that."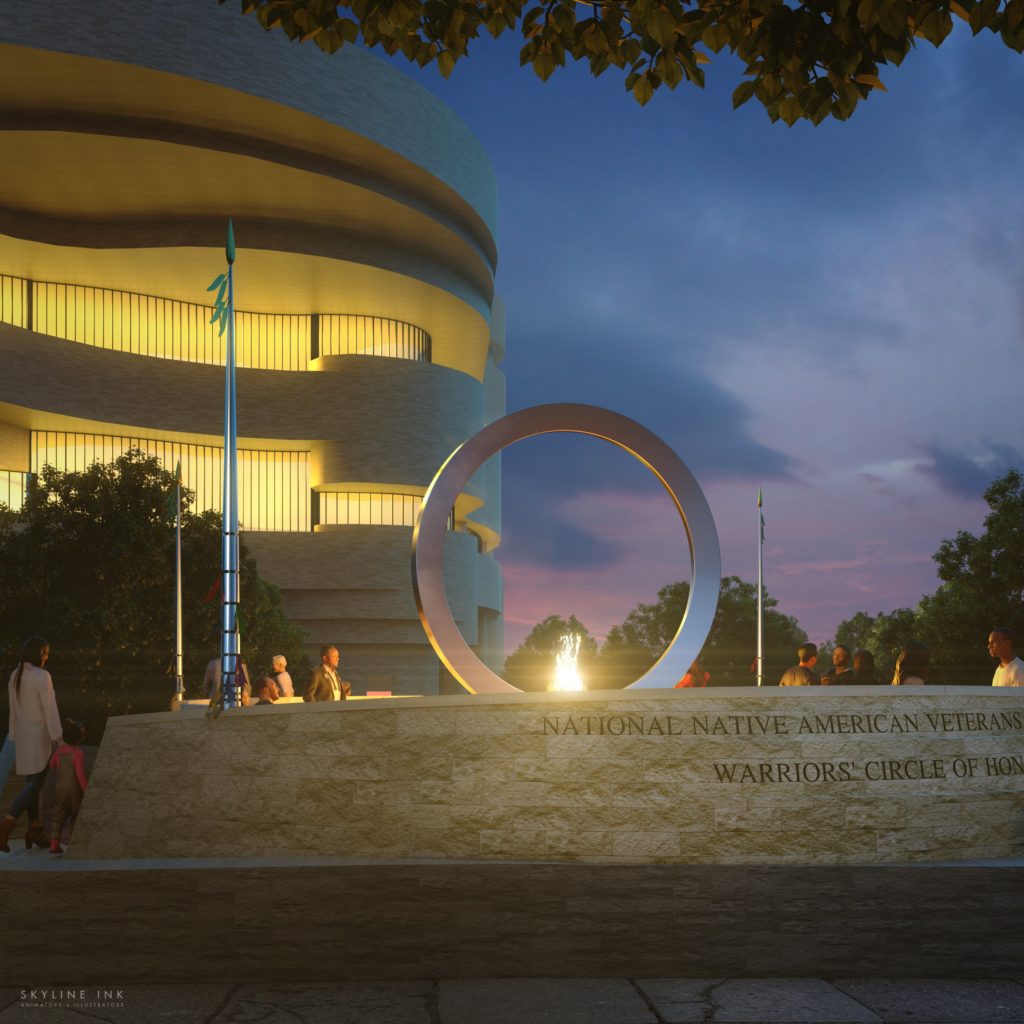 Rebecca Trautman, the project curator, says the abstract design successfully honors Native veterans who have served in every conflict since the Revolutionary War. "I think that all of us feel that this is overdue," she says. "There's been this ongoing tradition of service for so long and it hasn't been recognized until now."
"These veterans were perfectly aware that they were serving a country that had not kept its commitments to Native people, and yet they chose—and are still choosing—to serve," museum director Kevin Gover (Pawnee) said in a statement. "This reflects a very deep kind of patriotism. I can think of no finer example of service to the United States and the promise it holds."
The proposal places the memorial on the eastern side of the NMAI's grounds, in the wetlands area. Groundbreaking is scheduled for September 2019 and it's expected to open on Veterans Day 2020 with an accompanying exhibit featuring soldier stories and a procession of Native American veterans on the mall.